Training Highlights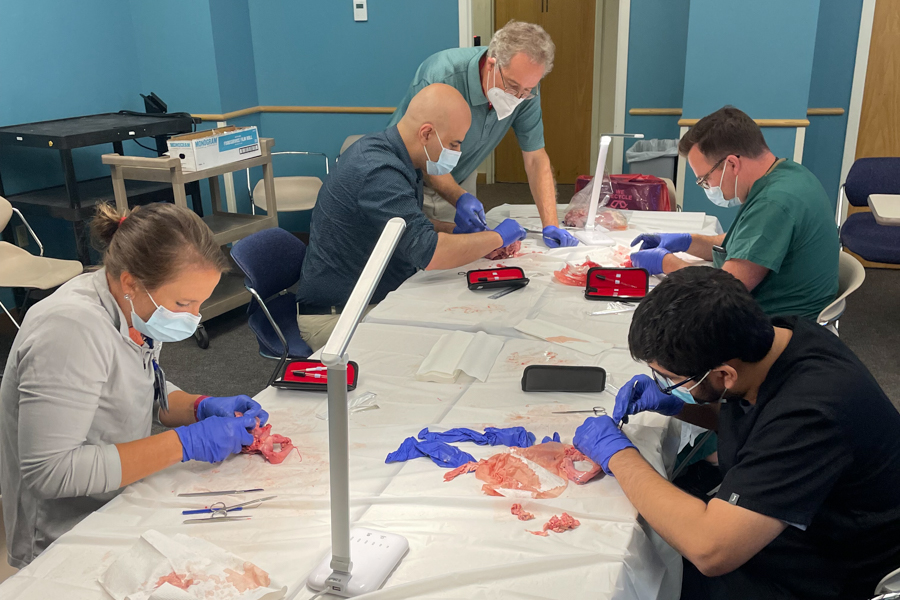 Faculty
The Joint Division (University of Nebraska College of Medicine and Creighton University School of Medicine) of Pediatric Cardiology.
General Overview:
Services
Adult congenital heart disease (Cramer, Erickson, Gonzalez, Tsai, Yetman)
Electrophysiology and Genetic Arrhythmias (Erickson, Robinson, Sorensen)
Exercise (Fletcher/Yetman)
Fetal cardiology (Foy, Jantzen, Slater, Winter)
Heart failure / transplant 
Imaging (Echo: Acheampong, Cole, Christensen, Cramer, Fletcher, Foy, Gonzalez, Jantzen, Slater, Swanson, Winter, Yetman; CT/MR: Acheampong, Christensen, Fletcher, Swanson)
Inpatient including intensive care (all faculty)
Interventional and hemodynamic cardiac catheterization (Curzon, Delaney, Fletcher, Taylor)
Preventive cardiology (Fletcher)
Pulmonary hypertension (Fletcher)
Research (Yetman; all faculty participate)
Rotations
Adobe Acrobat Reader is needed to open the links to the different rotation goals and objectives.
Additional Fellowship Details
Outpatient
Weekly one half day continuity clinic throughout all 3 years of training
Conferences
Fellows participate in several 
conferences 
which are designed to provide a thorough base of knowledge and provide each fellow the opportunity to focus on clinical and scholarly activities of interest.
Research
Each fellow training in the Division of Cardiology will have substantial opportunities to engage in research. Numerous research opportunities exist within and beyond the cardiology faculty. Research training is individualized towards a goal of meeting yet exceeding the requirements for taking the subboard of pediatric cardiology certification examination. An individualized learning plan with a mentor is developed early in the first year then facilitated and reviewed periodically to ensure achievement. Tools and personnel are available within the Cardiology Division, Department of Pediatrics, and College of Medicine to facilitate and support fellows' research.
Under the American Board of Pediatrics guidelines, a Scholarship Oversight Committee will approve the fellow's scholarly project and then monitor progress achievement. 
Quality Improvement
Opportunities exist for participation in leading edge quality improvement projects.  The Cardiac Service Line and Children's Hospital & Medical Center are active in several national QI projects and registries. Examples include:  The Joint Council for Congenital Heart Disease (JCCHD) National Pediatric Cardiology Quality Improvement Collaborative (
NPC-QIC
); the cardiac catheterization 
IMPACT
 (IMproving Pediatric and Adult Congenital Treatment) registry; MAP-IT (Multicenter Pediatric and Adult Congenital EP Quality Initiative).