Block Diagram & Rotations
UNMC Dermatology: Block Rotations
PGY-2 First Year

Block

Site

Rotation Name

%Outpatient

%Research

1
UNMC/NM
Clinic
 100%
0%
2
UNMC/NM
Clinic
 100%
0%
3
UNMC/NM
Clinic
 100%
0%
4
UNMC/NM
Clinic-R
50%
50%
5
UNMC/NM
Consults
25%
0%
6
UNMC/NM
Consults
25%
0%
7
UNMC/NM
Dermpath1
50%
0%
8
UNMC/NM
Derm Surg
 100%
0%
9
VA
VA
 100%
0%
10
VA
VA
 100%
0%
11
VA
VA
 100%
0%
12
CHMC
PEDS
90%
0%
13
—
Vacation/CME
—
—
Rotations
Wednesday and Friday mornings are protected didactic time for all resident physicians. Residents have continuity clinic every other week, starting in the first month of residency, that alternates with administrative/wellness time.
Clinic
On a typical clinic month, residents will spend seven half days in UNMC/Nebraska Medicine general dermatology clinics. This will include seeing patients at the academic health sciences center (Lauritizen Outpatient Center) as well as in our   frontline dermatology clinics with our faculty at Village Pointe, Chalco, Elkhorn, and Fontenelle ambulatory clinics. Residents will see wide range of patients with skin, hair, nails, and mucous membrane disease including the rare academic presentations as well as more "bread and butter" community dermatology. Our patient population in Omaha is diverse with exposure to patients with all Fitzpatrick Skin Types. Rotations also include teledermatology including video synchronous visits, eConsults (asynchronous store and forward physician-to-dermatologist), eVisits (asynchronous store and forward patient-to-dermatologist), and telephone visits.
Clinic-S (Specialty)
During the Clinic-S rotation, in addition to general dermatology clinics, residents will participate in all multidisciplinary and specialty clinics including multidisciplinary rheum-derm and autoimmune skin diseases, ethnic skin/skin of color clinic, multidisciplinary cutaneous lymphoma clinic at the Fred & Pamela Buffett Cancer Center, multidisciplinary HIV clinic at the Specialty Care Center, Hansen's disease clinic (currently mixed into Jennifer Adams, MD clinics), high-risk skin cancer, autoimmune blistering/bullous disease clinic, comprehensive venous diseases clinic, aesthetics & laser clinic, and wound care clinics. The residents also rotate with UNMC Plastic Surgery, Oculoplastics, PT/OT (lymphedema & wound clinic), Allergy/Immunology, Rheumatology. They also spend time with financial counselors, pharmacy benefits, and other ancillary service team members.
Clinic-R (Research)
When on research month, residents will have a mixture of general dermatology clinics with 4 half days of protected time for a research project. One of our specific program aims is to prepare residents to contribute to the field of dermatology through ongoing mentoring and by fostering their interest in presentations at national or regional meetings, clinical or basic research, clinical trials, or publication in peer reviewed journals or texts. Residents will have research months with protected time to complete these projects and will attend the weekly departmental research meeting. Because of the emphasis our residency program places on research, quality improvement, and scholarly activity, the residents are required to complete:
At least one article to a peer-reviewed journal article.These may take the form of case reports, review articles, and clinical or research studies. Publication should serve as a source of motivation for completion of specific projects and the development of critical thinking and scientific writing.
A Quality Improvement Project. The resident will work with their core mentor, PD, and/or APD on developing a QI project. The results of this project will be presented at the bi-annual M&M or Grand Rounds Conference. If appropriate, submission to a peer-reviewed journal may be suggested by the mentor.
Clinic-Peds
On a typical pediatrics rotation, residents will see patients in our Division of Pediatric Dermatology, led by Nicole Harter, MD, Chief of Pediatric Dermatology. We have formalized a partnership with
Children's Nebraska
 (
see below
) with a brand new pediatric dermatology clinic with space for medical, procedural, laser, phototherapy, and more! The department is undergoing active recruitment for an additional 3-4 fellowship-trained pediatric dermatologists over the next 3-5 years.
Consults
We have a robust inpatient consultative dermatology program with residents taking care of patients with GVHD, DRESS, pemphigus, SJS/TEN, nutritional deficiencies, calciphylaxis, panniculitis, and so much more. Consults are staffed at Nebraska Medicine Hospital (Lied Transplant Center, Clarkson Tower, University Tower), the Fred & Pamela Buffett Cancer Center, and the ED (all on one campus!). Residents maintain some general dermatology clinics in the mornings on the inpatient consultative dermatology rotation, however, are excused if the service is particularly busy. In addition to in-person consultations, the department is in the process of rapidly expanding our inpatient teledermatology platform led by Corey Georgesen, MD who completed a one-year fellowship in teledermatology with a large inpatient component. Faculty attendings on the inpatient consultative dermatology rotation include Corey Georgesen, MD, Megan Arthur, MD, and Ashley Wysong, MD, MS.
Dermatologic Surgery
Our dermatologic surgery program, led by Adam Sutton, MD, MBA provides exceptional training for resident physicians. Residents are involved in all aspects of care of skin cancer patients including excisional surgery, Mohs micrographic surgery, field therapy, IL therapy, and multidisciplinary treatment including XRT and systemics. Residents will participate in multidisciplinary melanoma/sarcoma and high-risk non-melanoma skin cancer tumor boards every other week and monthly, respectively. Mohs surgery is performed five days per week. UNMC Dermatology also has a busy comprehensive venous diseases clinic where residents are involved in consultation, duplex ultrasound evaluation, endovenous laser ablation, endovenous chemical ablation, sclerotherapy, and phlebectomy. Residents will also work with  Ashley Wysong MD, MS (Mohs, Veins, Lasers) and Ron Sulewski, MD in laser and aesthetic dermatology (Excisions, Reconstruction, Lasers, Injectibles, InstaLift, PRP, and more)! UNMC Dermatology has numerous light/laser devices including: IPL/BBL, 1550/1927 non-ablative laser (Fraxel), ablative laser, QS 532/755/1064nm, long-pulsed YAG, PDL, Vbeam PRIMA, photodynamic therapy, and more.
Dermatopathology 1
This rotation was specifically developed for the first year dermatology resident (PGY-2) to be an immersive experience in what is it like to be a dermatology-trained dermatopathologist. The Dermatopathology-1 resident will work alongside Corey Georgesen, MD in his clinics (typically 4 per week) to see general dermatology patients with a dermatopathology eye and do glass slide "sign-outs" with Dr. Georgesen in the afternoon. This will be a wonderful opportunity for residents new to dermatopathology to get true clinicopathologic correlation and a great introduction to histopathology of the skin.
Dermatopathology 2
This rotation is the typical "sign-out" rotation in dermatopathology whereby the resident will spend the majority of the time on the Nebraska Medicine Dermatopathology Service with Corey Georgesen, MD, Scott R. Lauer, MD, and Dominick J. DiMaio, MD reading glass slides in dermatopathology. The UNMC/NM Dermatopathology Service is a busy in-house and consultative service with approximately 15,000 cutaneous specimens per year.
VA
Residents on the VA rotation spend the majority of their time at the
VA Nebraska-Western Iowa Health Care System
where they see a variety of general and geriatric dermatology patients. In addition, they participate in teledermatology and some inpatient/urgent consultations. Residents also participate in a signficant number of skin cancer and other cutaneous excisions and have three dermatologic lasers: PDL, CO2 laser, long-pulsed YAG/hair removal. Patients are seen in the brand-new
Ambulatory Care Center
.
Continuity Clinic
Residents have continuity clinic every other week in the afternoon in general dermatology as PGY-2 residents and have the opportunity to specialize as they move through residency. Continuity Clinic starts in the first month of residency and is alternated weekly with admin/wellness time.
Administrative/Wellness
Residents enjoy 2-3 protected half days per month for administrative/wellness time. This is a time that is typically spent on campus reading/studying, working on research, and catching up on clinical care. Residents are also encouraged to use this time for wellness and to schedule any doctors appointments or other life necessities.
Electives
UNMC Dermatology residents have a unique opportunity to have three months of electives during their residency. They work with their personal/professional mentors and the education leadership team to design a personalized elective plan. Residents have the opportunity to use this time for local rotations (other UNMC departments —allergy/immunology, rheumatology, plastics, etc. or private practices in the area), regional/national electives particularly if applying for fellowship, as part of national mentorship programs (WDS, ASDS, others), or for professional interview experiences. Residents are also able to coordinate international electives as appropriate. The Department currently has relationships in China, Africa, Europe, and South America.
Participating Sites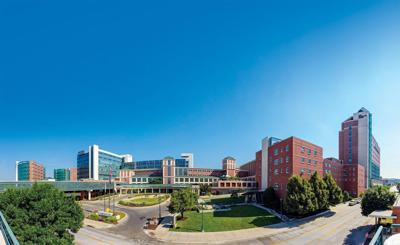 The primary clinical site (Nebraska Medical Center, 300453) is a large, tertiary and quaternary academic medical center with an extensive catchment area from Nebraska, Iowa and the larger Midwest region. Nebraska Medicine is UNMC's primary clinical partner.
On the main Omaha campus of UNMC and Nebraska Medicine, the comprehensive dermatology clinics are held in the Lauritzen Outpatient Center, a multispecialty ambulatory building. The dermatology clinics are on the third floor, and the academic department with faculty offices, administrative support and the resident library, is on the fourth floor.
The dermatology clinics have a large number of general dermatology and complex medical patients requiring systemic work-up and medications. Residents will be assigned to participate in our multidisciplinary clinics in autoimmune/connective tissue disease and HIV/ID dermatology. Dermatologic surgery education will primarily take place at this site with Mohs Surgery, excisional surgery, comprehensive vein clinics, and laser/aesthetic dermatology. We have a state-of-the-art CLIA laboratory for Mohs surgery, eight laser/light devices, phototherapy/PDT, and several microscopes in clinic with eyepieces and flat screen TVs for teaching.
Nebraska Medicine has one of the largest transplant centers in the country requiring management of complex immunosuppressed populations and our program is actively involved in transplant dermatology.
UNMC also has the new Fred and Pamela Buffett Cancer Center, where our program is developing multidisciplinary skin cancer programs. Currently there is a monthly multidisciplinary cutaneous lymphoma clinic attended by dermatology, medical oncology, and radiation oncology. Dr. Wysong serves as the Director of the Skin Cancer Program for the cancer center and is developing similar programs in melanoma, NMSC, and merkel cell carcinoma.
UNMC is a comprehensive health sciences campus with a College of Medicine, College of Pharmacy, College of Nursing, College of Allied Health, College of Public Health, and College of Dentistry, allowing for phenomenal academic and research collaborations.
Residents will participate in monthly Grand Rounds with complex patient presentations, quarterly Morbidity & Mortality Conferences, Tumor Boards (melanoma/sarcoma and high-risk cutaneous NMSC), and will participate in the annual RAIN symposium to learn multidisciplinary management of rheum-derm patients.
VA Nebraska-Western Iowa Health Care System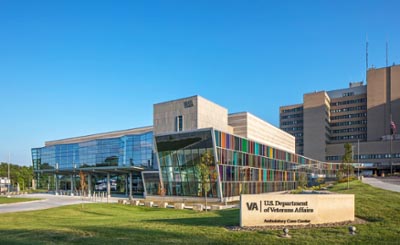 The VA Nebraska-Western Iowa Health Care System is an accredited regional medical center for adult patients with a total of 100 in-patient beds. This facility serves the eastern two-thirds of Nebraska as well as western Iowa, providing acute and emergent care for the adult veteran patient.
The VA dermatology clinic is located in the outpatient clinic building. The residents see a wide variety of dermatology cases at the VA which enhances their education and clinical and operative skills. Residents will see general dermatology patients, perform excisional and laser surgery (CO2 laser, PDL laser, hair removal laser). In addition, the residents will get exposure to store-and-forward teledermatology.
There is secretarial and nursing support at the VA as well as educational support in the form of conference rooms and projection/viewing equipment and on-site educational support staff.
Children's Nebraska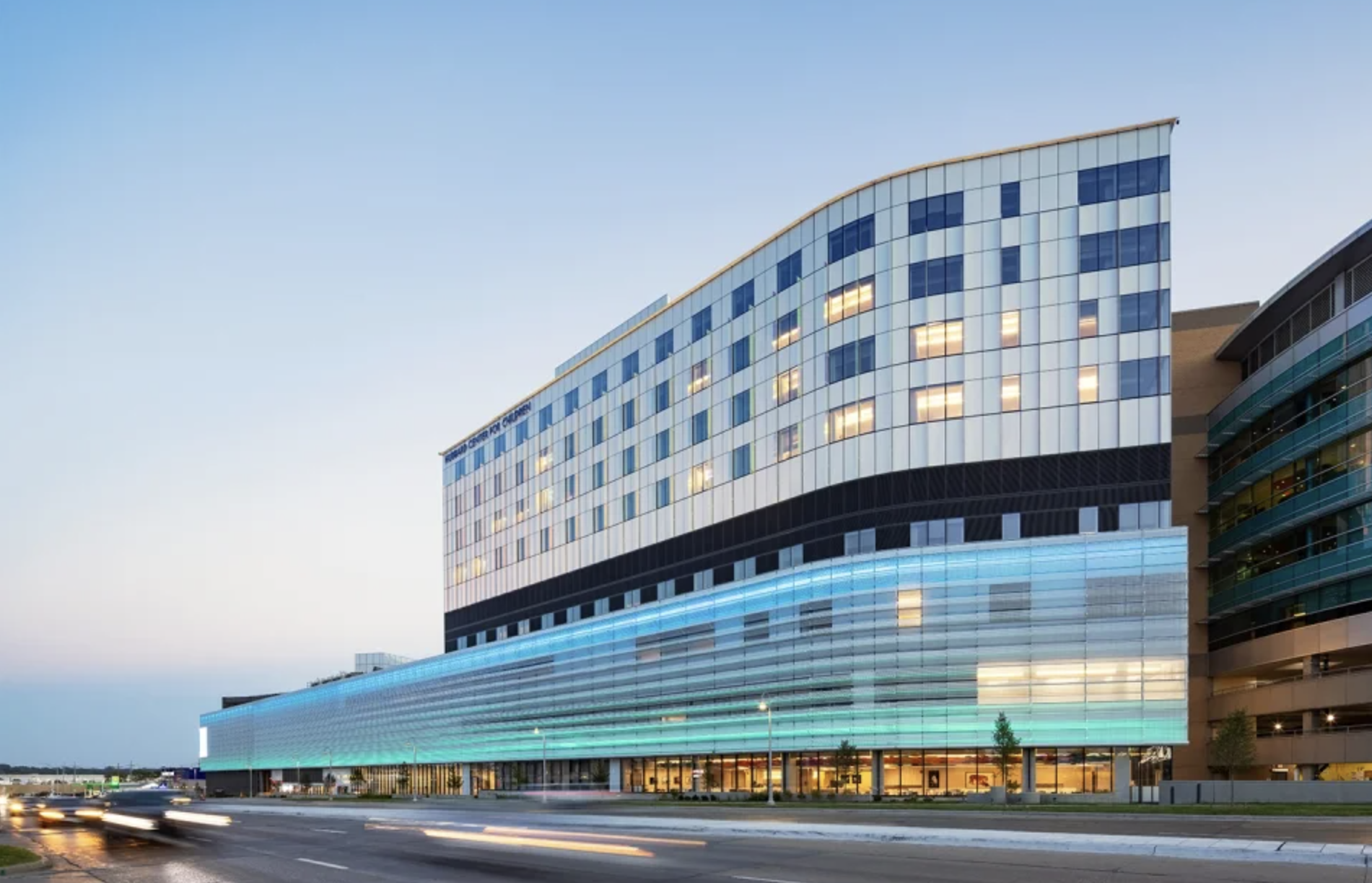 Children's Nebraska employs more than 250 physicians and is the only full-service, pediatric health care center in Nebraska. Children's Nebraska provides expertise in more than 50 pediatric specialty services to children across a five-state region and beyond and is dedicated to exceptional clinical care, research, education, and advocacy.
The University of Nebraska Department of Pediatrics is housed primarily at Children's Nebraska, along with specialty faculty from the majority of UNMC departments. UNMC's Child Health Research Institute is housed on the Children's Nebraska campus and was formed to promote discovery and innovation to improve children's health in the state of Nebraska and to become a global leader in child health research.
Residents will rotate one to two months per year on pediatric dermatology for a comprehensive clinical experience.