Curriculum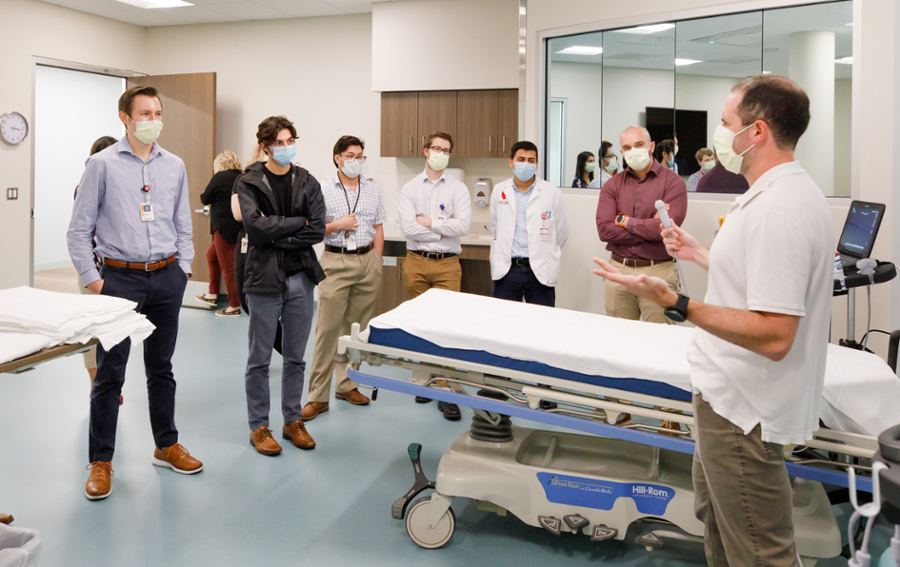 We provide a fellow-centered supportive learning environment that includes outpatient and inpatient clinical rotations, research opportunities, quality improvement projects and didactic experiences.
Our fellows work with our experienced faculty to deliver exceptional care to patients with kidney disease through UNMC's primary clinical partner, Nebraska Medicine.
Fellows at UNMC are exposed to broad clinical experiences covering all aspects of inpatient and outpatient nephrology. Dedicated UNMC faculty strive to deliver unparalleled training, preparing fellows to excel in their future careers, whether that be in private practice or academia. We emphasize both personal and professional development, with the schedule and curriculum designed to promote work/life balance. 
Our innovative curriculum offers considerable flexibility in order to tailor the curriculum to specific interests of the fellow, allowing fellows the opportunity to explore and gain expertise in areas of their choosing, whether that be interventional nephrology, critical care nephrology, transplantation, home dialysis, research, education, or other areas of their choosing.
First-Year Research
Half-month in the fall to identify research mentor and determine research project

Half-month in the spring to prepare for research project work in 2nd year (IRB submission, etc)
The week-long UNMC Clinical Research Symposium, sponsored by the Clinical Research Center, gives participants a broad overview of the clinical research process, including study design, statistical design and analysis, ethical issues, and the Institutional Review Board application policy and procedures. Fellows are given protected time to attend this conference without daily inpatient clinical service duties during this week.
Second-Year Reseach
Twelve-plus weeks of protected time to perform research with goal to submit work to a national meeting
Presentations
Once per year, a nephrology fellow chooses a clinical or basic science nephrology topic of interest, and gives a presentation overview of the topic. These presentations allow fellows to develop an expertise over the material presented. A faculty mentor is available to assist with development and direction of the topic.
Renal-Rheumatology Conference
This combined, multidisciplinary catered lunch conference is attended by faculty and fellows from the nephrology and rheumatology division, as well as a renal pathologist. Interesting cases that highlight the important overlap between nephrology and rheumatology are discussed at these conferences.
Nephrology Research Conference
The latest in nephrology research will be discussed during a monthly meeting led by faculty, fellows or guest speakers who are local or national experts in renal research. Updates on ongoing as well as new projects in the division will be reviewed in an open discussion. Information from the Department of Internal Medicine Research Council will also be shared at the meetings to disseminate research opportunities, award mechanisms and other UNMC research news. Overall, the aim of the monthly research meeting is to encourage and engage nephrology faculty and trainees in the performance of clinical and translational research and to review recent scientific and clinical research advancements.
Central Venous Catheter Simulation
Sessions are held at the
UNMC Clinical Simulation Lab
in which fellows have the opportunity to hone their skills in inserting dialysis catheters using a realistic patient manikin. We are excited about further enhancing this experience once construction of the beautiful Davis Global Center is completed, which will become the new headquarters for
iEXCEL
, a visionary and world class program designed to provide transformative and innovative educational experiences.
Core Curriculum Didactic Series
This fellow-focused educational series aims to cover all aspects of nephrology over the course of a year. The sessions are led by nephrology (or ancillary) faculty with a particular expertise in a given area. Topics range from electrolyte disorders, physiology, transplantation, glomerular disease, dialysis, hypertension, genetics, nutrition, etc. This conference is usually held once per week.
M&M Conference – QI Conference
Twice per year, we meet to perform a Root Cause Analysis where issues regarding morbidity and mortality of patients in the hospital or clinic will be discussed. Issues regarding patient safety and quality improvement processes are discussed during these sessions.
Journal Club
Fellows and faculty present interesting and impactful journal articles at this monthly conference. Journal club provides the opportunity to debate the merits and limitations of a study, as well as discuss the potential application of a given study to clinical practice. Both clinical and basic research articles may be presented.
Point of Care Ultrasound Workshops
Fellows will receive dedicated hands-on instruction regarding the power and utility of POCUS in nephrology. Fellows participate in multiple POCUS workshops led by Dr. Ryan Mullane and Dr. Jared Marx. Fellows will develop proficiency in ultrasound assessment of the renal-urinary system, cardiac assessment, and develop skills in using POCUS to enhance volume assessment. In addition to these workshops, ultrasound probes, tablets, and ultrasound equipment dedicated for fellow use are readily available and incorporated during rounds.
Board Review
Dr. Diana Florescu leads the fellows in this monthly board review series. The aim of these sessions is to work through numerous board-style questions in order to improve understanding of the material and gain familiarity with testable nephrology-related concepts.
Grand Rounds
Internal Medicine Grand Rounds
 take place on Fridays over the lunch hour. Topics are presented either by UNMC faculty or by invited outside faculty. Grand Rounds are an integral component of medical education, teaching new information and enhancing clinical reasoning skills.