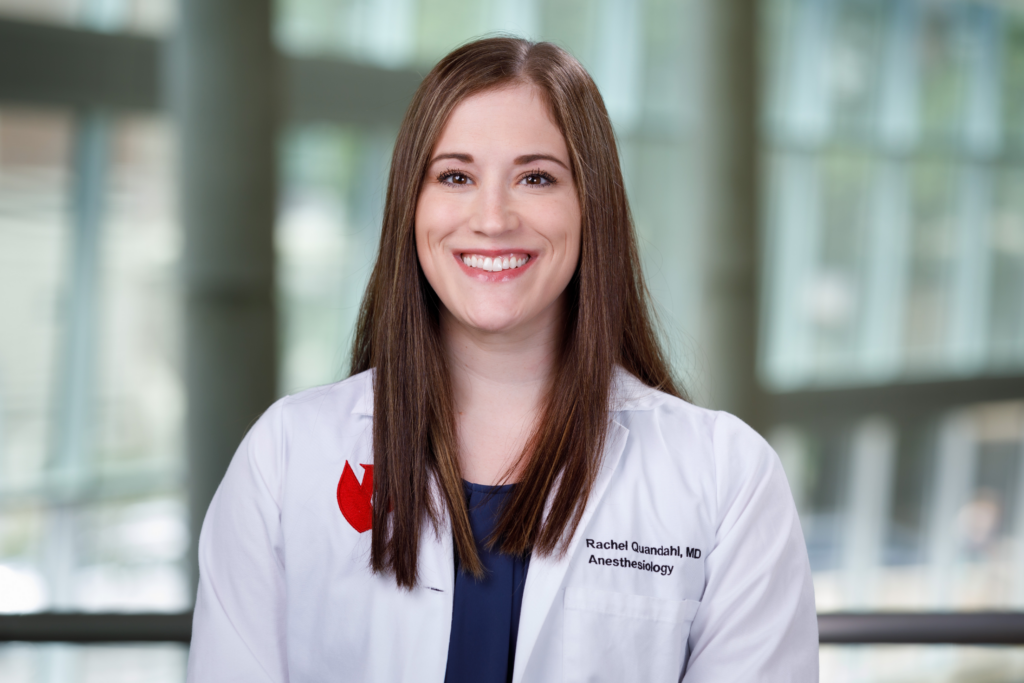 Rachel Quandahl, MD, is not one to turn down a challenge, either personally or professionally.
Dr. Quandahl recently joined the faculty of UNMC's Department of Anesthesiology as an assistant professor after completing a liver transplant fellowship in the department — the second fellow in the history of the program.
Dr. Quandahl completed her undergraduate degree in chemistry at University of Nebraska-Omaha and her medical degree at UNMC before beginning her anesthesiology residency.
"I was drawn to the unique procedures that anesthesiology offers," Dr. Quandahl said. "I appreciate the ability to practice real-time medicine on all types and ages of patients."
As a resident, Dr. Quandahl became interested in liver transplant anesthesiology because of the complexity of the cases and the opportunity to provide compassionate perioperative care for incredibly ill patients undergoing one of the most difficult surgeries.
"I love getting to take care of pediatric patients as well, and we get the privilege of taking care of the intestinal rehab program patients, which include a large pediatric population from all over the country," Dr. Quandahl said. "We can help get many of these patients off IV nutrition and turn their lives around, which is very fulfilling. The team of anesthesiologists and transplant surgeons is a great group of people and incredible clinicians. I knew when I was a resident, I wanted to be a part of that team."
Professional Memberships:
American Society of Anesthesiologists
International Liver Transplantation Society
Three things people may not know about me:
My husband and I have completely gutted and remodeled six houses, including our own. I am a master at tiling!
I have two boys, ages 6 and 2. My oldest has autism and is the most unique and hilarious person I know.
I am a huge outdoors person. We own 19 acres in Council Bluffs are excited to start building a home.