Antimicrobial Stewardship Program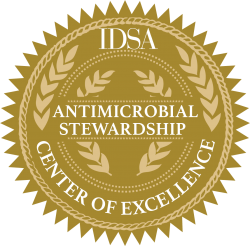 Antimicrobial stewardship is defined as a rational, systematic approach to the use of antimicrobial agents to achieve optimal outcomes. This means using the right agent, at the correct dose, for the appropriate duration in order to cure or prevent infection, while minimizing toxicity and emergence of resistance.  
"Antibiotic resistance can affect any person, at any stage of life . . . antibiotic resistance jeopardizes advancements in modern health care."  
Centers for Disease Control and Prevention, Antibiotic Resistance Threats in the United States, 2019
Through a joint effort of Nebraska Medicine's Pharmacy, and Infection Control and Epidemiology Departments, and the University of Nebraska Medical Centers Division of Infectious Diseases, the Antimicrobial Stewardship Program (ASP) at Nebraska Medicine has been active since August 2004. The mission of the ASP is to optimize the utilization of antimicrobial agents to realize improved patient outcomes, a positive effect on antimicrobial resistance, and an economic benefit. 
The ASP at NM has grown over the years and now provides support to both our main campus as well as the Bellevue Medical Center.  It has developed a dedicated Outpatient Parenteral Antimicrobial Therapy (OPAT) program as well as a remote stewardship program which supports similar efforts at other facilities.   
Read about current events and subscribe to our UNMC Infectious Diseases blog.
The NM ASP is also associated with the State of Nebraska's Antimicrobial Stewardship Assessment and Promotion (ASAP) program which provides resources for small/critical-access hospitals and long-term care facilities. Information about ASAP can be found at our companion site: asap.nebraskamed.com
The latest news from the Antimicrobial Stewardship Program