Dr. Buch completes ELAM Program for Women
Shilpa Buch, Ph.D., vice chair of research and director of the Nebraska Center for Substance Abuse, recently completed the Hedwig van Ameringen Executive Leadership in Academic Medicine (ELAM) Program for Women.
ELAM is the only in-depth national program dedicated to preparing senior women faculty at schools of medicine, dentistry, and public health to effect sustained positive change as institutional leaders. Dr. Buch was nominated for the program by UNMC College of Medicine Dean Bradley Britigan, M.D.
As part of the program, Dr. Buch developed an institutional action project that focused on "alleviating the burden of substance abuse and thereby, health care costs, in the state of Nebraska through innovative collaborative research, premier education programs, top-notch quality patient care, and outreach to the drug abusing/underserved populations."
Graduate Medical Education presents inaugural awards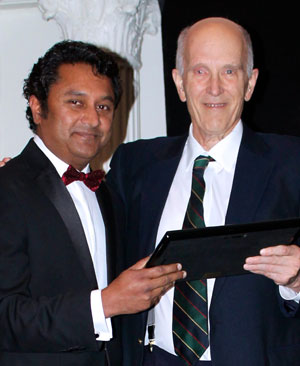 Chandra Are, M.D., left, and Robert Wigton, M.D.
UNMC's Graduate Medical Education (GME) presented inaugural awards to two individuals at its June 18 surgery graduation banquet.
Chandra Are, M.D., received the Robert S. Wigton Most Valuable Program Director for leading an outstanding residency or fellowship program and making significant contributions to UNMC's institutional GME efforts. The award is named for Robert Wigton, M.D., who worked at UNMC for more than 40 years and served many years as associate dean for GME.
"Dr. Are is an outstanding program director and has played a key role in the development and implementation of our new GME funding model," said Michael Wadman, M.D., associate dean for graduate medical education, in announcing the award. Dr. Are also served on the Executive Committee of the Graduate Medical Education Committee (GMEC), guiding the development of a new Annual Program Evaluation process.
Jeffrey Carson, M.D., a resident in general surgery, received the GME Resident Service Award for his contributions to the institutional GME mission. He has served as a member of the GMEC for four years, including as resident representative on the GMEC Executive Committee and was the founding chair of the Resident Quality Council.
"Residents and fellows are our eyes and ears on the front lines of education and patient care, so their participation in GME oversight is key to our success as an institution," Dr. Wadman said.
Five College of Nursing divisions hosting summer camps

Five divisions of the UNMC College of Nursing are hosting summer camps for underserved high school students interested in the health professions. Each division hosted about 20 students who connected with nursing, allied health and other health professionals. The students learned through a variety of presentations, hands-on activities and visits to local hospitals and clinics.
In the photo above, Julie Morbach, allied health faculty member in Kearney, shows high school students how the ultrasound unit works. The high school students are part of the summer honors program in Educational Service Unit 11 in Holdrege. They come from high schools in Alma, Minden, Eustis-Farnam and Arapahoe.