A North Omaha women's group has made a big impression in Miami.
Valda Boyd Ford, director of UNMC's Community and Multicultural Affairs, and North Omaha community activist Mary Hill were in Miami May 5-8 for the Sixth Annual Community-Campus Partnerships for Health national conference. Hill, founder and president of Sisters Together, returned to Omaha with a national award of excellence for a poster that highlights the collaboration between Community Partnership and Hill's organization.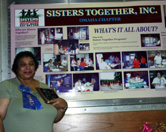 "I am thrilled that a group of women from North Omaha could turn out to be a big deal to so many people in Miami," Hill said. "Sisters Together Inc., is a national organization but our Omaha branch is only three years old. We're all just a bunch of volunteers who believed we could work together to make a difference in the health problems in North Omaha's black community. This poster award really honors all the people who participate in our projects."
Sisters Together is a coalition of community organizations and residents committed to building a stronger community by promoting healthy lifestyles among North Omaha residents. In addition to bringing health messages to the community, it connects its target neighborhoods, developing partnerships to expand community activities, publicizing existing resources, bringing new programs to the community and working together to support community well-being.
The organization also works with local media, health centers, churches, adult education center, community centers, restaurants, grocery stores, pharmacies, beauty salons and national programs with a strong presence in community.
"Sisters Together is an outstanding example of an organizational with an energy and mission that UNMC/NHS health professionals help to fulfill," Ford said. "We wrote an abstract and paid for Mary Hill to attend the national convention and make a presentation on her group's work in North Omaha.
"Many UNMC and NHS professionals are prominently displayed in the poster, but even more importantly, there are several unsung but sustaining heroes who have been there from the start. Two who silently, but constantly help are Cindy Van Riper of MMI (Munroe-Meyer Institute) and Joyce Hall of NHS. Mary is a sincere and passionate speaker, but we also wanted to show — and not just tell — people about Sisters Together."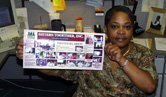 To do that, Ford said, Phyllis Robinson, administrative tech II, wrote the copy and created a basic layout for the poster using a collection of photos from various Sisters Together activities. Biomedical communications turned Robinson's detailed model into a polished work of art 7-feet wide and 3-feet high.
Taking top honors
The CCHP convention had several hundred attendees and dozens of presentations were made during the week. Neither Ford, Hill nor Robinson dreamed there would be a competition at the convention — let alone that the Sisters Together poster would win first place.
"I am really honored they selected our poster," said Robinson, who also is the editor of "Awareness," a newsletter sponsored by Community Partnership for the North and South Omaha Community Care Councils. "Sisters Together does so much in North Omaha, and most of it on a shoe string (budget). The members really deserve a professional communications poster that tells a great visual story of what the group does. I was happy for the opportunity to design it."
Community-Campus Partnerships for Health (CCPH) is a nonprofit organization that promotes health through partnerships between communities and higher education institutions. Since its beginning in 1997, CCHP has grown to a network of more than 1,000 communities and campuses that are collaborating to promote health through service-learning, community-based research, community service tools for improving health professional education, civic responsibility and the overall health of communities.
With the continued help of UNMC/NHS Community Partnership and health professionals, Sisters Together now sponsors the annual "Mother's Day of Wellness" Health Fair, a walking program, an exercise club and a quilting guild. The organization also sponsors a healthy cooking club that has published its first cookbook, "Homemade with Love" and a free book bag and school supplies giveaway program titled "Back to School Get Together."
Not only is Sisters Together a hard working group of women, but its leader has luck on her side. In a door prize drawing at the CCPH convention, Hill won the grand prize — registration and hotel accomodations for the 2003 convention in San Diego, Calif.
Photos in descending order: 1) Mary Hill with the organization's award-winning poster; 2) Phyllis Robinson designed the poster's basic layout.