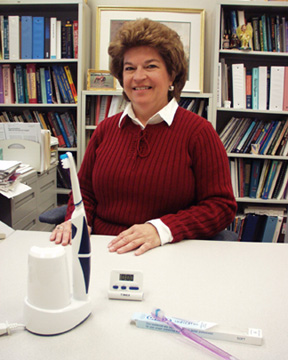 Caren Barnes, UNMC College of Dentistry, and four colleagues evaluated whether a double-motor powered toothbrush could reduce plaque accumulation and bleeding gums better than a manual toothbrush.


The popularity of powered toothbrushes has risen dramatically, with an estimated 20 percent of households in the United States using powered toothbrushes, according to Caren Barnes, professor, UNMC College of Dentistry. One of the reasons is they are getting less expensive.
Since the first handcrank-powered toothbrush was developed in 1880, inventors have been perfecting all toothbrushes into instruments that effectively remove daily build up of plaque — dental bacteria — the primary cause of cavities and periodontal disease. Powered toothbrushes now are available in a wide range of designs involving the brush head, brush head motion and frequency of operation.
But the question is: Is a powered toothbrush right for you and what are the benefits over a manual toothbrush?
UNMC tests products seeking ADA seal
One way companies try to distinguish their products from others is to voluntarily gain the American Dental Association's Seal of Acceptance, a seal recognized as a symbol of a dental product's safety and effectiveness. In order to get the seal on a product, companies must have products independently tested.
Barnes and other researchers at the UNMC College of Dentistry Cruzan Center for Dental Research are involved in testing new dental products and have tested a variety of the 1,300 dental products on the market that bear the ADA seal. Researchers don't endorse products, they only provide a scientific setting in which to collect data for analyzing.
The study: Powered vs. manual
In a recent 21-day study, Barnes and four colleagues evaluated whether a double-motor powered toothbrush could reduce plaque accumulation and bleeding gums better than a manual toothbrush.
The researchers recruited almost 70 study participants, age 19 to 65, who were randomly assigned to one of two groups — 36 completed the study using the powered toothbrush and 33 with the manual toothbrush. Each group made two visits to the college's research center — one to collect baseline information and the other to measure results.
Study participants received their assigned toothbrush with instructions to brush for two minutes (timed) per day and to refrain from flossing or using other oral hygiene aids. Participants also were asked to abstain from brushing 12 hours before each visit so researchers could measure the amount of plaque buildup on teeth, and where gum bleeding occurred.
The results
"We found the most important advantage of using the powered toothbrush was the ability of the brush to produce the statistically significant reduction in plaque and gingival bleeding and thus improve gingival health in just 21 days," Barnes said. "From baseline to follow-up, plaque was reduced in both the powered and manual groups. However, the powered group showed significantly greater plaque reduction — 9.7 percent versus 5.4 percent in the manual group."
She said gum bleeding also was reduced from baseline to follow-up in both the powered and manual groups. But again, in the powered group, the mean gingival bleeding index fell 32 percent while in the manual group it fell 20 percent.
"The results of the study support the findings of other studies that have found that powered toothbrushes more effectively reduce gingival bleeding and plaque than manual brushes," Barnes said.
Manual toothbrushes still effective
Though the results suggest powered toothbrushes are far superior to manual toothbrushes in reducing plaque and bleeding of the gums, Barnes said manual toothbrushes still are quite effective in preventing cavities and periodontal disease. As far as how effective depends on the user, she said.
Some powered toothbrushes can produce more than 40,000 brush strokes per minute, while it's estimated that, in two minutes, a manual toothbrush produces between 50 and 100 brush strokes.
"Some people can do an outstanding job of removing plaque with a manual toothbrush, but there are a lot who can't," Barnes said. "If people are not adept with the manual toothbrush, that's when you recommend that they try something different. In many cases, a powered toothbrush makes a tremendous difference in plaque removal."
Benefits of powered toothbrushes
She said powered toothbrushes are more effective in removing plaque by causing extremely fast vibrations that disrupt plaque on the teeth. "Even if you don't remove all the plaque with a powered toothbrush, you can disrupt it to make it less harmful," Barnes said. "Disrupting it keeps the bacterial that causes plaque from recolonizing or growing."
Another benefit of powered toothbrushes, she said, is they may make teeth feel cleaner and remove coffee, tea and cigarette smoke stains better than manual toothbrushes.
Once an avid user of manual toothbrushes, Barnes said it took her some time to crossover to using a powered toothbrush. "I'm old-fashioned too," she said.
Others involved in the study
The study also was conducted by UNMC College of Dentistry faculty members: Gwen L. Hlava, associate professor and chair, department of dental hygiene; Brenda Utecht, instructor; Richard Reinhardt, D.D.S., Ph.D., professor and co-director, undergraduate periodontics; and Carl M. Russell, clinical instructor.
The toothbrushes tested in the study were the Waterpik SynchroSonic double-motor powered toothbrush and the Oral B Laboratory's manual Oral B 35 toothbrush. The study was supported in-part by a grant from Waterpik Technologies, Inc.