Gina Mavhezha stood in front of the Multitaction Wall in the Sorrell Center and marveled at the latest learning tools used to teach health profession students.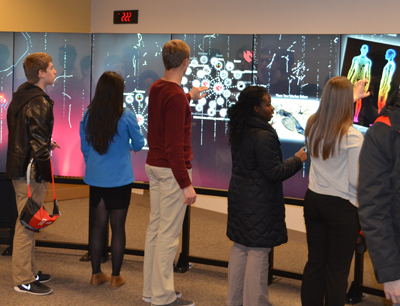 UNL students check out the Multitaction Wall.
"I hope this stuff is available when I come to medical school in 2019," the University of Nebraska-Lincoln freshman said.
Mavhezha was one of 69 students who spent Friday at UNMC learning about health professions and the innovative ways those professions are now being taught.
Along with the multitaction wall and other technological features of iEXCEL℠ (Interprofessional Experiential Center for Enduring Learning), the students toured the biocontainment unit, ate lunch with health profession students, took turns listening to heart and lung sounds on the mannequins in the College of Nursing simulation center and saw a demonstration of the anatomage table.
"The nursing center was my favorite part of the tour," said UNL freshman Mario Marroquin.
Marroquin, who is planning to pursue a career in nursing, said Friday's tour solidified his choice to become a nurse and furthered his desire to study at UNMC.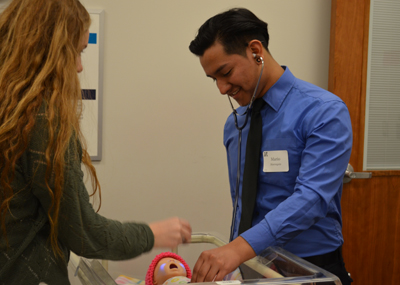 Mario Marroquin, a first-year student at UNL, listens to heart sounds in the CON nursing simulation center.
"The level of simulation and hands-on learning is amazing," he said.
Jaclyn Barry also hopes to attend UNMC one day. The UNL sophomore is interested in the physician assistant program and was inspired by her experience with her pediatric physician assistant.
Much to Barry's surprise, the aspiring PA reunited with one of her former health care providers on Friday. The provider, Erin Hoffman, is an assistant professor in the College of Allied Health Professions and gave a presentation on the profession to the UNL students.
"She's amazing," Barry said. "It would be great to have her as a teacher."