Funeral services were held recently for UNMC College of Nursing Emeritus Assistant Professor Muriel Munchrath.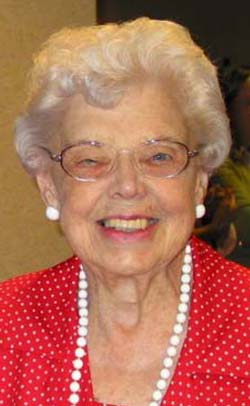 Muriel Munchrath
Munchrath, of Newman Grove, Neb., was an assistant professor in continuing nursing education from 1970 until she retired in 1990.
During her career, she served as a staff nurse and head nurse at the VA hospital in Chicago, and staff nurse at the Omaha VA hospital, in Long Beach, Calif., and at Our Lady of Lourdes Hospital in Norfolk. She served in the Air Force and in the Air Force Reserves as a nurse, rising to the rank of lieutenant colonel.
She is remembered fondly as a mentor, champion of nursing education and a Nebraska football fan.
"She was a lovely woman. She was very interested in helping students and always encouraging others to be involved in Sigma Theta Tau," said Mary McNamee, Ph.D., retired assistant vice chancellor for academic affairs recruitment and student engagement and associate professor of nursing.
Missy Ofe Fleck, Ph.D., College of Nursing assistant professor, said Munchrath was a mentor.
"She was a true inspiration to me as well as to all nurses, and will be greatly missed. I am so fortunate our paths crossed and I hope I am following a bit in her footsteps," Dr. Ofe Fleck said. "She wore the color purple often and looked absolutely beautiful wearing it. The color was symbolic of her love and commitment to the purpose of Sigma Theta Tau International as we wear the purple and white honor cords with our academic attire. She also was instrumental in increasing recognition to critical access hospitals and their need for continuing education units."
Audrey Nelson, Ph.D., UNMC College of Nursing associate professor, reminisced about some of the fun times.
"Muriel was an avid 'Go Big Red' fan and supporter," Dr. Nelson said. "She had 'Go Big Red' gear for all types of weather and attended 90 percent of the home games.
"Muriel and I attended an American Nurses Association convention in Hawaii. It was a great trip until the hotel lost her luggage on the day we were to return to Nebraska; 90 days later the suitcase was delivered to her home — bathing suit was still damp (not moldy) from her morning dip in the Pacific Ocean."
Contributions can be made in her memory to the Muriel Munchrath Nursing Scholarship at the UNMC College of Nursing – Omaha Division.