The new cardiac catheterization and electrophysiology (EP) labs at Nebraska Medical Center are near completion.
In the past year, the former operating room space located on level one of University Tower has been renovated to be the new home for the labs.
The anticipated date for patients to be seen at the new lab space is Monday, Dec. 9.
Daniel Anderson, M.D., Ph.D., co-leader of the Heart and Vascular Center and chief of cardiovascular medicine at Nebraska Medicine, said the new facility is spectacular.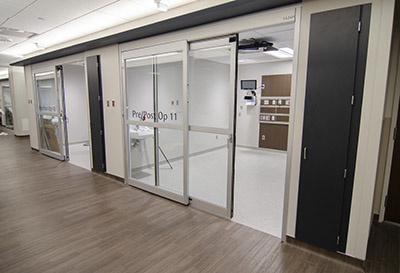 Pre- and post-op rooms
"The consolidation of our procedure area with heart and vascular advanced imaging and clinic space is very important when you recognize that heart and vascular manages more than 50,000 patient encounters at the Durham Outpatient Center every year," Dr. Anderson said. "This procedural area not only adds capacity and elevates our procedural skill sets, but brings efficiency and safety for both patients and staff."
Nichole Niehus, cardiac cath/EP lab manager, was among leaders who helped kick off the construction of the new lab space and has watched as it has transformed.
"We saw it from bare bones, down to the concrete blocks, and it has been completely transformed to a magnificent working space," she said. "The patients will love it, and we will love working in this area."
Another piece of this project is the development of a new check-in and waiting room located on level two of the Durham Outpatient Center. This atrium will be dedicated to checking in patients for all the heart and vascular services in this area which include the Heart and Vascular Center, cath/EP lab, echo lab and vascular lab. A variety of seating options and layouts of this atrium will accommodate the variety of patients and families who will be utilizing this space.
"This project has had so many moving parts that the collaboration between all the different teams is truly what stands out," said Angie Strain, clinic manager, Heart and Vascular Center. "This will be a great thing for our patients, and I'm excited to see it go live."
Dr. Anderson thanked everyone who has been part of this project and noted that the hours spent to bring this procedural area onboard were long, but the team's effort and commitment has made everything possible.
The larger space will allow for an expansion of the labs, consolidate the cardiovascular services into a shared and efficient location and increase capacity for patients and their families. It will include a new check-in desk and waiting area, seven procedural suites, nearly 20 prep and recovery rooms and a new "radial lounge" concept for patients who are having uncomplicated procedures.