Dr. Kevin Hanna has dedicated his new career to helping others, thanks in part to a traumatic experience he and his fellow Boy Scouts went through, when he was only 13
When Kevin Hanna – now Kevin Hanna, MD, after his recent graduation from the UNMC College of Medicine – was 13, he was a Boy Scout. And he loved it.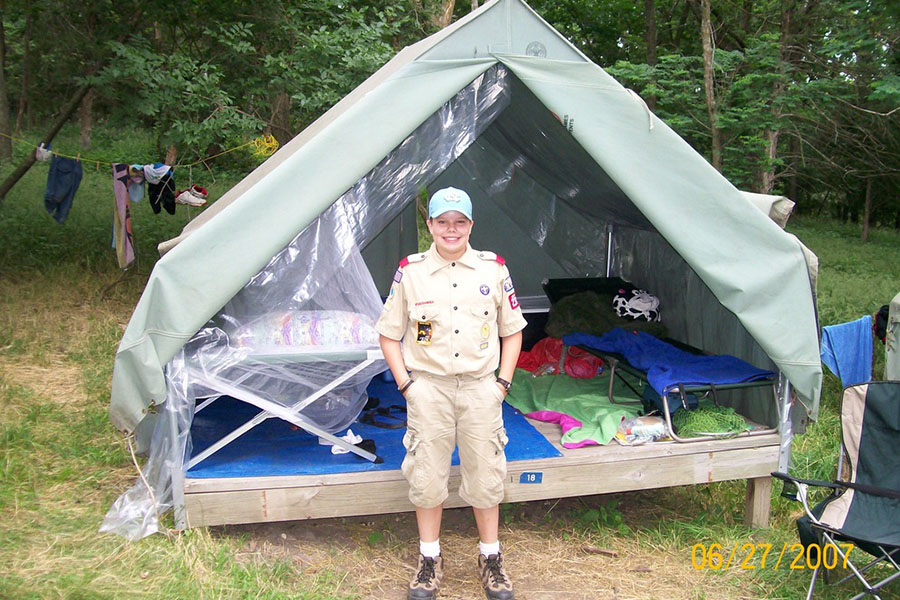 "I loved Scouts," he said. "I asked my dad to be a Cub Scout when I was like 5 years old, or something like that. I just loved camping. I loved the camaraderie, I loved working as a team. I loved learning lifelong ethical values, how to be a leader, and accountable for other people. I loved it.
"It was one of the best things I've done in my life."
He still loves it, looking back.
In many ways, he still lives it. In many ways, it is those lessons and values that have driven him, through medical school, and his recent graduation from UNMC, and into his fellowship and residency at the Mayo Clinic.
The worst day of his life started out as one of the best days of his life. Boy Scout camp. And not just any camp, but a special leadership training course, with Scouts from Nebraska, Iowa and South Dakota. It would be boy-led, and everything he loved about being a Boy Scout.
"I had heard it was a wonderful experience," Dr. Hanna said. "I was very excited."
It was a place called Little Sioux Scout Ranch.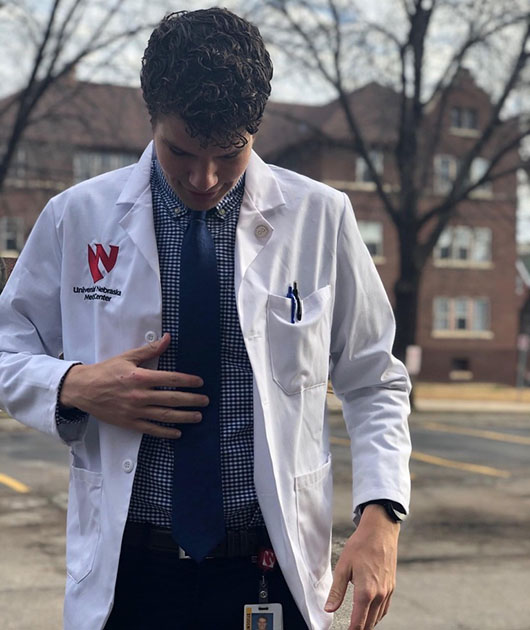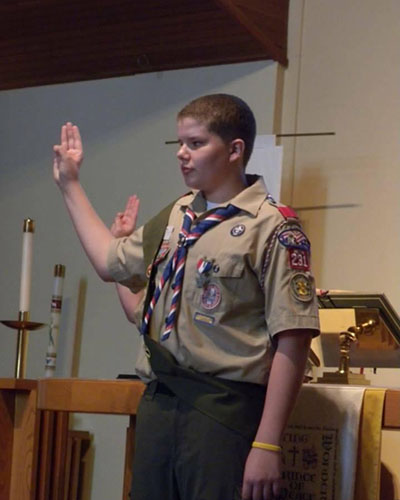 On June 11, 2008, it had been a stormy morning, later turning hot, which, "I now realize," Dr. Hanna said, "is kind of the prime recipe for severe weather." Leaders took heed, canceling that evening's activities. The boys settled in for a Monty Python movie.
"We were all really excited for that."
And then the storm rolled in.
Power went out in the shelter. Kevin looked out the window and trees were sideways. "I'd never seen anything like that."
The boys all ducked under tables.
A few seconds later, the world changed. It would never be the same.
It was later classified as an EF3 tornado, which means that winds were 136 to 165 miles per hour. Four boys – Josh Fennen, 13; Sam Thomsen, 13; Ben Petrzilka, 14; and Aaron Eilerts, 14 – were killed. Dozens more were injured. But Dr. Hanna – 13-year-old Kevin – did not know any of that. Not yet.
He woke up facedown. He tried to get up, but couldn't move. His legs wouldn't work. His friend, Jake Wilkinson, was at his side. Are you OK?
"I can't move my legs."
His pelvis was broken. He didn't know that yet, either.
Jake propped him up, safely, and immediately went back to work on doing first aid on his fellow scouts.
All around them, Boys Scouts, who'd practiced a disaster drill just the night before, were performing emergency first aid on their fellow scouts.
All agreed that the quick action of the boys saved lives.
Dr. Hanna was one of the first to be taken away. He was grateful he wasn't hurt as badly as some other boys. He got hold of a cell phone -- maybe from an EMT? -- and left a message for his parents. Imagine getting that voicemail.
But, they had already seen the weather and were racing up the highway to Little Sioux. They saw the ambulance go by and pulled a U-turn, to follow it to the hospital.
He was in a wheelchair for months, did physical therapy for months.
And the seeds for going to medical school were sown.
He enrolled in UNMC's High School Alliance, a pipeline program that allows students the opportunity to observe, shadow and work alongside health care professionals and researchers at the University of Nebraska Medical Center. "They were my favorite classes in all of high school," he said.
In medical school, he fell in love with urology. Urology? Yes, urology. "I loved the surgeries," he said. "I loved the people. I loved the patients. It's just kind of the breadth of life." It was about becoming a leader, being part of a team, helping people who needed help.
He loved becoming a urologist like he loved being a Boy Scout. It kept him going, when times were tough.
He hasn't let go of Little Sioux. And the boys he was there with, those who got to grow up, and those who did not, haven't let go of him.
Not long after the tornado, he went back. To survey the damage. To be where it had all happened. To face it. It had changed him. It will always have changed him.
But now he could take those first steps back.
But then, he went back again, the next year.
"They invited all of us to be staff. So I went back as staff, and I went back the next year as well. I think that was very therapeutic for me, being around other boys who were there. And solidifying the sense of community that we had."
The same sense of community he has now. Not just with his fellow med school classmates. Not just with his teachers, and mentors. But, most important, with the patients. With the people he has committed himself to serve.
Now, after all these years, he's a doctor. He's working at the Mayo Clinic. He's graduated from UNMC. He gets to put all of this work to use, toward helping people. He's made it. And yet, he's just starting out.
"It's kind of hard to wrap my head around it a little bit," he said. "It's been the four hardest years of my life. It's certainly the hardest I've worked at anything. So there's a tremendous sense of accomplishment and excitement to start the next step. A little bit of nerves to start the next step and all the responsibility that comes with that.
"Generally, I feel very excited and feel very proud. Very proud of every one of my friends, and my class, for getting through it. And getting through it together.
The same way he once got through it together with another group of friends. The ones who carried on. And the ones who, in ways big and small, he still carries with him.
UNMC employees at Little Sioux
Along with Dr. Hanna, three UNMC employees – Jeffrey Baldwin, PharmD; Linda Chaney; and Fred Ullrich – were at Little Sioux Scout Ranch the night of the tornado as adult Boy Scout leaders. Ullrich, an IT specialist and statistician at the College of Public Health, was in one of the shelters that took a direct hit. Ullrich told the boys to take cover, and saw the roof tear off the building. Later, he helped rescue others from the rubble.
"Fred Ullrich really is a true hero," Dr. Baldwin said in 2008. "I want people to know that."