Lieutenant General Robert Miller, MD, the surgeon general of the U.S. Air Force and Space Force, toured UNMC in September and called UNMC the country's premiere biocontainment resource.
Chris Kratochvil, MD, Global Center for Health Security Distinguished Chair, joined Lt. Gen. Miller during his visit. He said the visit was a chance to showcase current collaborations with the U.S. Air Force and consider expanded collaborations.
"This is a tremendously valuable and valued collaboration," Dr. Kratochvil said. "The return of the Air Force surgeon general with a broader cohort of his team members truly exemplifies their prioritization of partnering with us and interest in expanding that collaboration even further."
Lt. Gen. Miller said the visit's purpose was threefold – to learn more about UNMC's efforts in biocontainment, to follow up with the embedded C-STARS team and to "show our appreciation for everyone that has worked so hard to get our C-STARS Omaha team to the place it is today."
Lt. Gen. Miller said the visit "was validating that we really are partnered with the best when it comes to biocontainment, and that support goes both ways. It sounds like our team is doing great things in support of the Nebraska group, but in the same regard, we feel very lucky that we have this partnership with the University of Nebraska."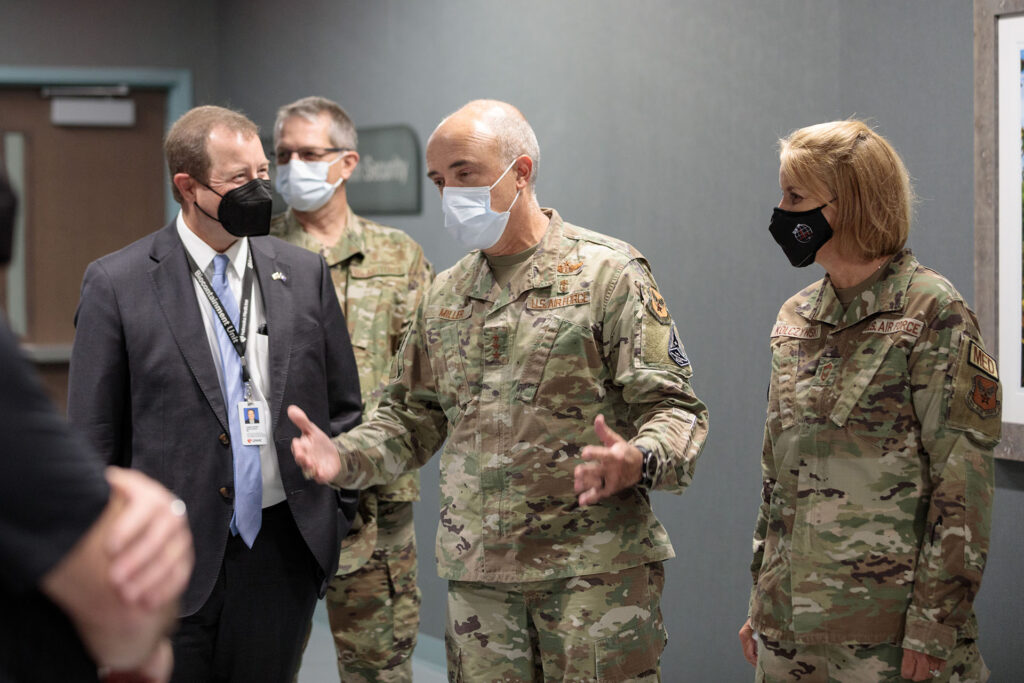 "We started this partnered journey in 2018, pre-COVID, and we feel very thankful, from a readiness standpoint, that this was already paying off dividends," he said. "It highlights how important it is to have Air Force medics trained in biocontainment and trained in moving infections patients, because that's the expectation from those we support. We need to be the DOD experts. We still have some opportunities to improve. We need to train people outside of infectious disease docs to include our enlisted. All the members of our medical team need to be ready for the next fight."
That is why, Lt. Gen. Miller said, the U.S. Air Force is working to improve its biocontainment efforts.
"That needs to be the Air Force niche. We need to be better than anyone else in the DOD at air evacuation of patients, and at times that means folks that have been exposed to hazardous environments.
"We know, as an organization, we can do better with biocontainment. We need to understand how to safely move infectious patients by air, and to get where we want to be we must partner with the best. That is the University of Nebraska for biocontainment."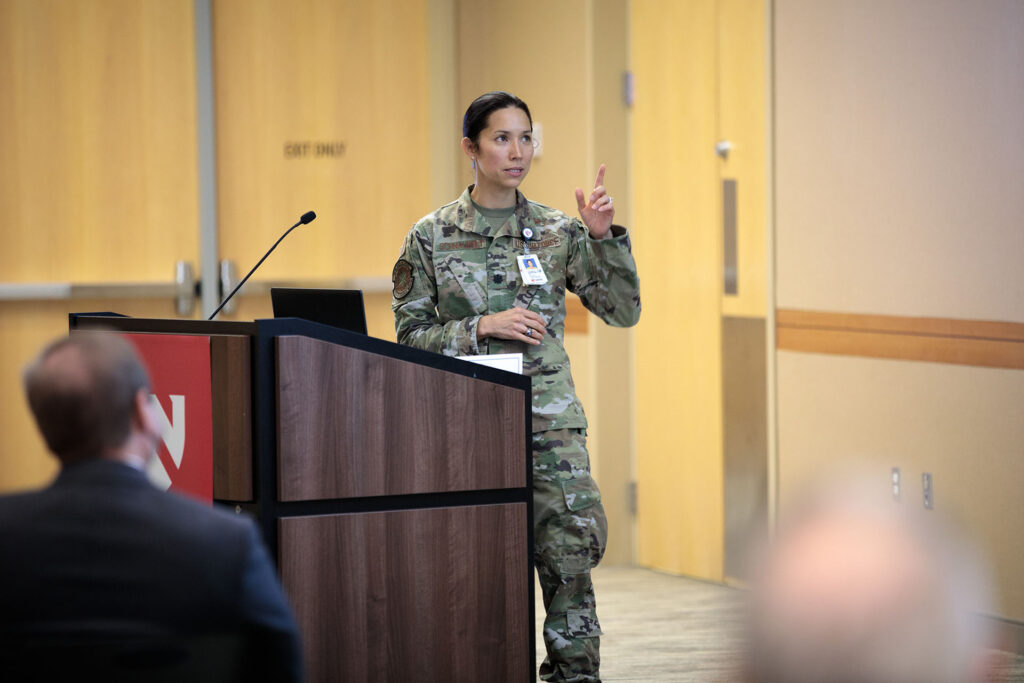 Lt. Gen. Miller's visit on Sept. 6 included a presentation by Lt. Col. Elizabeth Schnaubelt, MD, director of C-STARS Omaha, on the history of C-STARS as well as its infectious disease air transport program.
Lt. Gen. Miller also toured the Global Center for Health Security in the company of James Lawler, MD, as well as the iEXCEL program. He met with National Strategic Research Institute Executive Director Maj Gen. (USAF, ret) Rick Evans and UNMC Chancellor Jeffrey P. Gold, MD, as well as other medical center leaders.