Jerome Adams, MD, former U.S. surgeon general, visited UNMC on Dec. 2, meeting with campus leaders and speaking to several groups.
A centerpiece of the visit, hosted by the Global Center for Health Security, was his UNMC College of Public Health grand rounds presentation, "Strategies to Improve Diversity in Public Health and Health Care."
During the grand rounds, he spoke about his time as the 20th U.S. surgeon general and spoke about the need to avoid "getting sucked into the binary, all-or-none, good vs. evil way of looking at things" – a viewpoint he said was stoked by the media.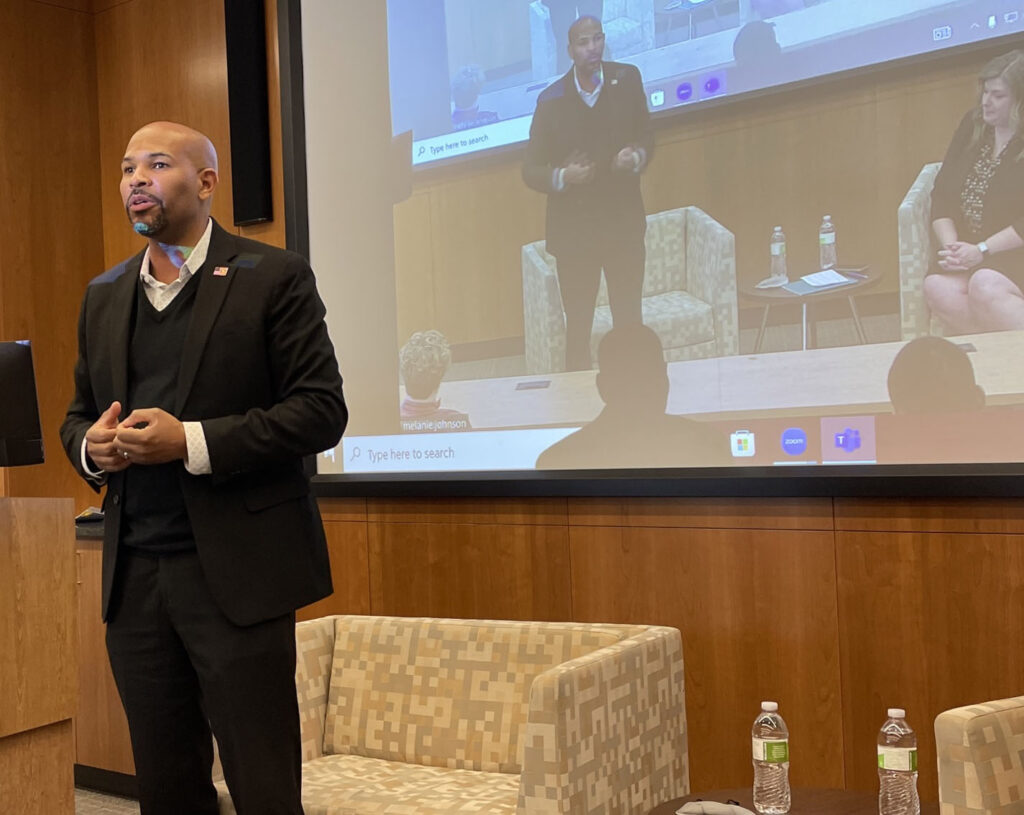 A major theme in his discussion was the need for public heath professionals to be better communicators and to "lean into" diverse discussions about public health and the social determinants of health.
"I challenge you all to think about who's not at the table and remember that we don't have a health care system in this country; we have a 'sick reimbursement system,'" he said. "We need to get outside of that 'sick reimbursement system' if we're really going to change people's health outcomes."
In front of an audience of public health and health care professionals, Dr. Adams acknowledged that, in the wake of the COVID-19 pandemic, many were facing substantial burnout. But he used that to draw a parallel to his theme of communication.
"How many times, in the last week, have you not gotten enough sleep? Have you eaten an unhealthy meal? Have you skipped time with your family?
"So even you all, who like to believe that health is your top priority, prioritize the ability to make money and feed your family – your job, in other words – over your own personal health? So we shouldn't be shocked that everyone else does it, too. What we have to do is do a better job of helping people understand how public health isn't working against your ability to do those things, but for your ability to do those things."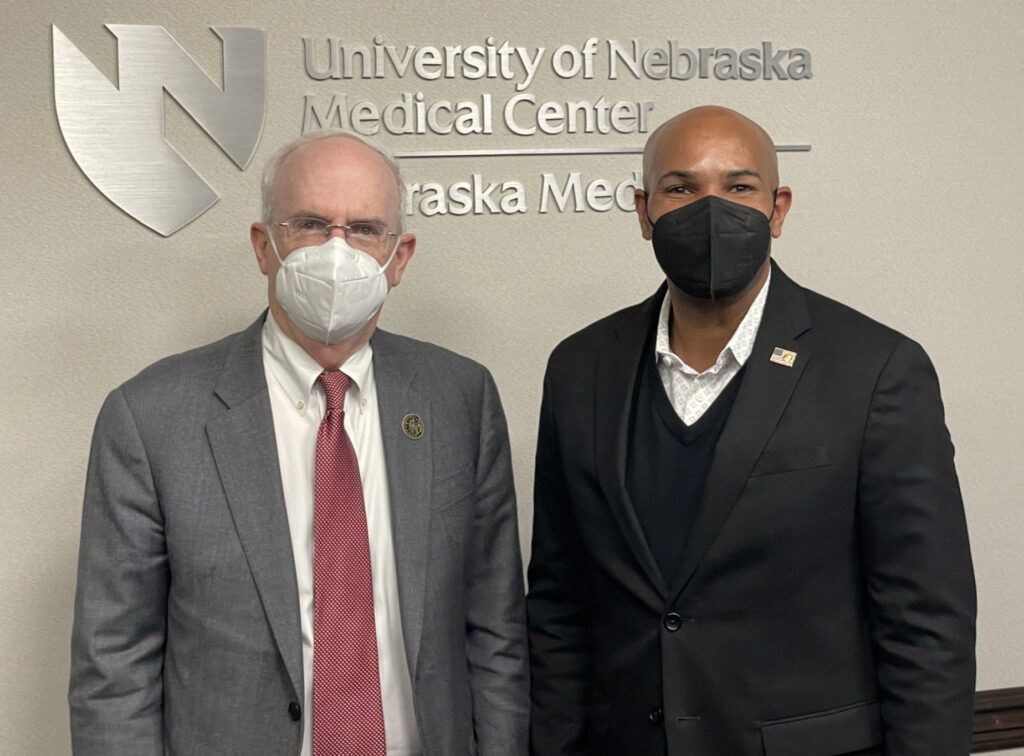 Dr. Adams' visit to UNMC also included tours of the iEXCEL Program and the Training Simulation and Quarantine Unit, as well as meetings with UNMC Chancellor Jeffrey P. Gold, MD, leaders of the Global Center for Health Security and anesthesiology fellows. (Dr. Adams is an anesthesiologist.)
Dr. Adams, who currently serves as a presidential fellow and director of Health Equity Initiatives at Purdue University, said he is interested in working with UNMC within the Big 10, especially on rural issues.
"This has been a visit that has more than met my expectations," he said. "The interdisciplinary nature of the work here is amazing."