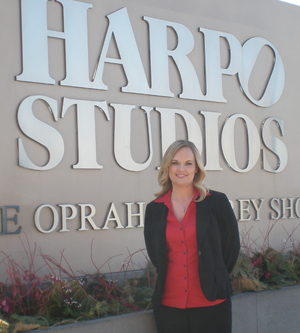 Kendra Schmid, Ph.D., outside Harpo Studios after her taping on "The Oprah Winfrey Show." The episode featuring Dr. Schmid will air on Friday at 4 p.m.


While working on grant proposals, Kendra Schmid, Ph.D., assistant professor of biostatistics in UNMC's College of Public Health, got an unexpected call … from a producer at "The Oprah Winfrey Show."
The producer wanted her to be interviewed on an upcoming show about women, desire and attractiveness. Just days after that phone call, Dr. Schmid arrived in Chicago to discuss her research on facial attractiveness.
"It was such a whirlwind of activity and preparation," Dr. Schmid said. "The producers asked me to evaluate the famous faces of several celebrities and explain how their facial features impacted their attractiveness score."


Science Cafe in May




Dr. Schmid will discuss the science of attractiveness at the Science Cafe' May 5.
Science Cafe's involve a face-to-face conversation with a scientist about current science topics. They are open to the public (21 and older), and take place in casual settings such as pubs and coffeehouses. A science cafe's casual meeting place and plain language create a welcoming and comfortable atmosphere for people with no science background. Join the conversation from 7 to 8 p.m. at the Slowdown.
For more information, visit www.unmc.edu/sciencecafe.

Dr. Schmid's research uses the golden ratio to measure the geometry of the face and rate attractiveness on a scale of one to 10. Her research was published in Pattern Recognition magazine in August 2008.
A YouTube video about the attractiveness of the candidates in last fall's presidential campaign put her research software program in the spotlight. (Click here to view the video.)
The story was picked up by The Associated Press and sent to media outlets around the world. A Discovery Channel producer heard about her research and decided to include it a two-hour documentary called, "The Science of Sex Appeal." An "Oprah" producer watched that documentary and contacted Dr. Schmid to come on the show.
On Friday, Dr. Schmid will be one of the guests featured on "The Oprah Winfrey Show — Sex: Women Reveal What They Really Want." The program examines the science of attractiveness, including voice, smell and facial symmetry.


In case you missed it




"The Science of Sex Appeal," which featured UNMC's Kendra Schmid, Ph.D., will be rebroadcast on the Discovery Channel on Saturday at 7 p.m and 10 p.m. CDT. Dr. Schmid appears in the first hour of the documentary.

"I had an amazing time on the show," Dr. Schmid said.
"People may be shocked (myself included) that a statistician would get this much media attention. But, I hope the exposure shows that math can be interesting, fun and applicable in all areas of life."
"The Oprah Winfrey Show" airs in Omaha on KMTV Channel 3 (CBS) at 4 p.m. In Lincoln, on KOLN/KGIN (CBS) at 3 p.m. The show is for mature audiences only.