Timothy Baxter, M.D., senses the fear when patients learn they have aortic aneurysms.
Surgical repair is immediate if the abnormal bulge reaches 5.5 centimeters – equivalent to the short end of a credit card. Until then, there is no treatment, only watchful waiting.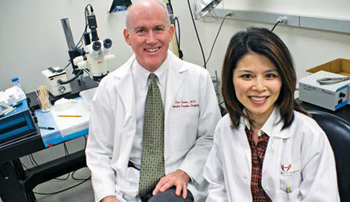 Timothy Baxter, M.D., and Wanfen Xiong, M.D., Ph.D.

"Patients are scared; they feel like it's a time bomb," said Dr. Baxter, professor of surgery. "A ruptured aneurysm can cause lifethreatening bleeding, so patients want a more proactive treatment."
Now, Dr. Baxter and his colleague, Wanfen Xiong, M.D., Ph.D., may have an answer.
Using mouse models they developed in 2000, Drs. Baxter and Xiong have discovered that doxycycline, a common and inexpensive antibiotic, is effective in slowing or stopping the growth of aneurysms.
Pending grant approval later this summer, they will launch the first clinical trial in the United States for medical treatment of aortic aneurysms. Coordinated at UNMC, the 15-center trial would enroll 250 study participants in a two-year, double-blind study.
Participants would receive the doxycycline pill, which blocks enzymes that break down tissue and cause aneurysms to grow, or a placebo. CAT scans would follow every six months to monitor growth.
"If we could slow the growth, we might never need surgical intervention," Dr. Baxter said, noting that small and slow-growing aortic aneurysms don't rupture, but large and fastgrowing ones may.


More in Discover




This story first appeared in the Spring 2010 edition of UNMC Discover.

Aortic aneurysms affect 3 percent to 5 percent of the population, but are most common in men age 65 and older who smoke or have smoked, have a family history of aneurysms and high blood pressure.
Women account for about 20 percent of aneurysms.
"It's considered a silent killer," Dr. Baxter said, "because there are no symptoms until it ruptures. Most aneurysms we find by luck when imaging is done for other medical conditions."
Ninety percent of these aneurysms are below the threshold for intervention at the time of detection. So, the game of wait-and see begins for an already anxious patient. The average growth for aneurysms is 2.5 millimeters per year. In mouse models, Dr. Baxter said, doxycycline slowed the growth by 40 percent.
In addition to treatment options, Drs. Baxter and Xiong want to develop markers to identity small aneurysms at earlier stages, as well as learn more about the genes involved.
"It would mean a lot if we could offer patients a more proactive treatment approach," he said.