During the recent heat wave, dozens of scheduled blood donors in Omaha cancelled appointments every day because it was "too hot," said April Oppliger, a PR specialist for the Red Cross in Omaha.
That's weak. They could have at least used the old "my dog swallowed my appointment card" line.
Typically, the Red Cross' two most commonly heard excuses are, "I just never thought about it," and "I don't like needles."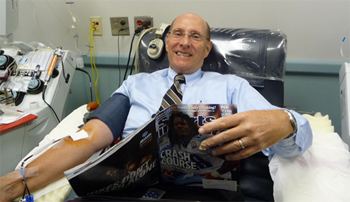 Tom O'Connor
I've donated off and on for more than 30 years. I honestly look forward to it. The phlebotomists are awesome. The reclining chairs are comfortable. You can read — I like to catch up on Sports Illustrated.
I last donated on Aug. 23 — read all about the Phillies' Jayson Werth and how he hates to talk to media. I'll keep that in mind should I ever get a job in Philly.
And you get snacks when you're done. What's not to like?
The needle stick you say?


Register now




Register online at http://givebloodgivelife.org. To find the UNMC drive:

Click on our region;

Enter the UNMC drive sponsor code — 1199; and

Scroll down to the UNMC drive for Sept. 9.
Problems with the online registration? Call Peter Pellerito at 559-5253 for assistance.

It's nothing. Relax and close your eyes, don't watch. It's over in seconds. You hardly feel it.
I started as a whole blood donor. Then I found out that our hospital partner, The Nebraska Medical Center, goes through more than 36,000 units of blood each year. That's more than twice as much as the next biggest user in the city.
To help meet this need, I started to donate platelets and plasma. It takes a little longer than a whole blood donation, but it's a minor inconvenience.
"Every blood donation is important," Oppliger said. "It can make the difference between having a shortage or a sufficient supply. Summers are the most difficult time to get donors. That's why people need to give now, so there will be an adequate supply on the shelf."
UNMC's next blood drive is Sept. 9 from 7 a.m. to 1 p.m. at the Student Life Center. They want to collect 75 units of blood. Follow the instructions on the right to sign up.
Do it today. No excuses.