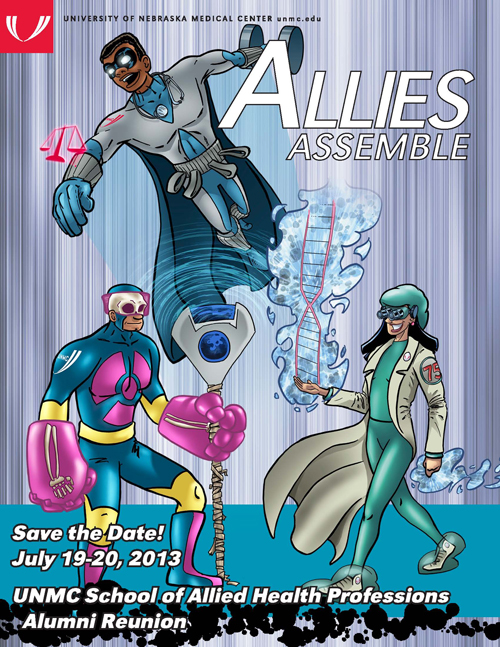 A celebration of the 75th anniversary of the founding of the clinical laboratory sciences program (originally called "medical technology") highlights the inaugural all-school reunion of the School of Allied Health Professions.
The reunion is being held July 19 and 20 on the UNMC campus.
The program will include profession-specific events, continuing education, departmental alumni awards, lunch, and tours. Registration is $30 per person. See the tentative program here.
The reunion theme, Allies Assemble, is a play on the blockbuster movie, "The Avengers." Health care professionals analyze, diagnose, restore, discover, and heal every day. Like the comic book and movie Avengers, diverse, interprofessional teams of allied health professionals come together as the good guys, determined to save the day.
The school's 13 professions are represented in the reunion theme by three superheroes:
Electromagnetic Spectrum Man symbolizes all the radiation sciences – CT, CVIT, MRI, nuclear medicine, radiation therapy, radiography, and sonography;
Primary Care Man represents medical nutritionists, physical therapists, and physician assistants; and