CCNE nursing programs received full 10 years of continuing accreditation
The UNMC College of Nursing recently received word that its Commission on Collegiate Nursing Education (CCNE)-accredited programs — the B.S.N., M.S.N., Post Masters Certificate, and D.N.P. programs — have received a full 10 years of continuing accreditation.
"This is fabulous news and reflects the hard work that each of you is doing and each person's individual expectations of excellence and dedication to improving health for all," said College of Nursing Dean Juliann Sebastian, Ph.D., in a letter to staff. "While we anticipated an excellent outcome of this accreditation visit, one can never be complacent and of course we are always working to improve."
Dr. Sebastian singled out for thanks Teresa Hultquist, Ph.D., and Cara Mouw, who led and coordinated the effort; associate deans Lynnette Leeseberg Stamler, Ph.D., Kate Fiandt, D.N.S., Ann Berger, Ph.D., and Sue Nuss, Ph.D.; academic program directors Louise LaFramboise, Ph.D., Lynne Buchanan, Ph.D., and Sue Barnason, Ph.D.; faculty, staff, and clinical preceptors, and others.
"Most importantly, we will continue to move forward with our commitment to nursing education, practice, and research and to improvements in health and health care," she said.
The College of Nursing's PhD program is accredited by the Higher Learning Commission as part of the university's accreditation, and that visit was in 2016, resulting again in accreditation for the full 10 years.
Kate Lorig, Dr.P.H., visits UNMC to mentor faculty engaged in self-management of chronic conditions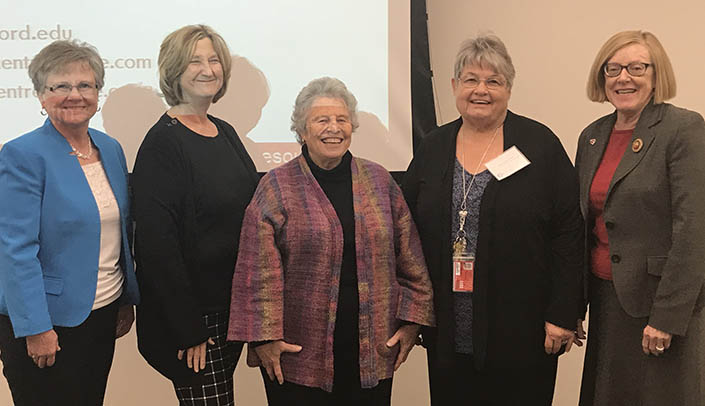 From left, Bunny Pozehl, Ph.D., Sue Barnason, Ph.D., Kate Lorig, Dr.P.H., Lani (ChiChi) Zimmerman, Ph.D., and Ann Berger, Ph.D.
Kate Lorig, Dr.P.H., of the Self-Management Resource Center in Palo Alto, Calif., visited UNMC earlier this month, a visit hosted by the Center for Patient Family and Community Engagement in Chronic Care Management (CENTRIC) and the Great Plains IDeA-CTR.
Dr. Lorig met with researchers for consultations throughout the day and gave a noon keynote presentation on "The State of Science in Chronic Disease Self-Management." Dr. Lorig, a professor emerita at the Stanford University School of Medicine, developed a research educational program that was the prototype for what is now known as the Self-Management Resource Center. Her research has focused on the development and evaluation of self-management programs for people with chronic diseases. Institutes at the National Institutes of Health, including the National Institute of Nursing Research, as well as other government agencies and foundations, have supported this work. Her programs have enhanced the lives of hundreds of thousands of people around the world.
Her keynote presentation included information about measuring cost for implementation science, use of computational linguistics, and where to look for funding. An attendee at her noon presentation wrote that "Dr. Lorig is a top-notch speaker and a highly regarded researcher — it was a privilege to have her at UNMC."
A recording of this presentation can be found here. For copies of the presentation slides, please contact Laura Robbins.
Networking event planned for medical 3D printing applications
Leaders in Omaha's 3D-printing scene are planning a special networking event that will bring together printing experts from academia and industry throughout the area.
Open and free to all, the event is called the 3D Printing TekTalk, and will be held on Nov. 20 at DoSpace on the southwest corner of 72nd and Dodge Streets. The event also will include refreshments and a series of demonstrations and seminars that will begin at 1 p.m. and run until 5 p.m.
The primary focus of the small conference will focus on how 3D printing is currently used to advance medical devices and patient care. Among the featured speakers are Justin Cramer, M.D., an assistant professor at UNMC's College of Medicine, Gabe Linke, the 3D printing coordinator at Omaha's Children's Hospital & Medical Center, and Travis Vanderheyden, a research development engineer at the University of Nebraska at Omaha Biomechanics Department.
To register and learn more, click here.
The event is sponsored by AdvancedTek in collaboration with 3DHeals.
Mentoring workshop draws University of Nebraska, IDeA-CTR partner institutions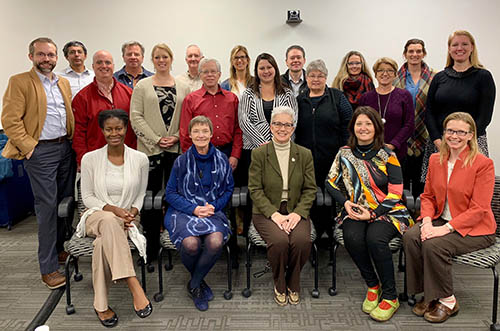 Attendees included: Back row, from left, Vikas Gulati, M.D. (UNMC), Daren Knoell, Pharm.D. (UNMC), Mark Beatty (UNMC), Tammy Wichman, M.D. (UNMC), Fernando Wilson, Ph.D. (UNMC), Jamie Turgeon-Drake (USD) and Sara Myers, Ph.D. (UNO); middle row, from left, Kaleb Michaud, Ph.D. (UNMC), Ted Mikuls, M.D. (UNMC), Tiffany Moore, Ph.D. (UNMC), Joe Norman, Ph.D. (UNMC), Brandy Randall, Ph.D. (NDSU), Lani Zimmerman, Ph.D. (UNMC), Myra Schmaderer, Ph.D. (UNMC) and Ann Anderson Berry, M.D., Ph.D. (UNMC); front row, from left, Kelly Diggs-Andrews, Ph.D., (UWI), Christine Sorkness, Pharm.D. (UWI), Robin Lally, Ph.D. (UNMC), Abby Gold, Ph.D. (NDSU) and Kathy Partlow (UNL).
The Great Plains IDeA-CTR and the Office of the Vice Chancellor for Research sponsored a two-day mentoring training workshop presented by the Center for the Improvement of Mentored Experiences in Research (CIMER). Faculty from UNMC and Great Plains IDeA-CTR partner institutions were invited to attend. Individuals from Boys Town National Research Hospital, the University of Nebraska at Omaha, the University of Nebraska-Lincoln, the University of Nebraska at Kearney, the University of South Dakota and North Dakota State University completed the training. The purpose of the workshop was to help build mentoring infrastructure across the consortium.
CIMER, an extension of the University of Wisconsin, provides resources for institutions to improve research mentoring relationships. These workshops do not teach attendees mentoring best practices, but instead aim to increase attendees' knowledge of the "Entering Mentoring and Entering Research" curricula and help them gain confidence in their facilitation skills to become facilitators on their campus.
CIMER faculty and staff investigate approaches for improving research mentoring relationships for organizations and institutions. They develop, implement and evaluate mentor and mentee training using theoretically-grounded, evidence-based, and culturally-responsive training interventions and investigations. Master facilitators Christine Sorkness and Kelly Diggs-Andrews led the UNMC training, which offered hands-on, team-building experiences and small group activities
UNMC joins other NU campuses for panel of how to do business with the university
As a part of the Mountain Plains Minority Supplier Development Council's Business Opportunity Exchange, the University of Nebraska recently participated on a panel that shared information on how to do business with the university. Employees from all four campuses were represented and received positive remarks for their presentation.
The Business Opportunity Exchange is a premiere event on minority supplier development. The university is a member of the MPMSDC.