Munroe-Meyer Institute's intensive therapies keep Bentley on his toes.
Tonya Hinrichs was just cold-calling, really. Her 3-year-old son, Bentley, has pachygyria, a rare genetic brain disorder, and she was looking for intensive therapy options when she dialed the Munroe-Meyer Institute and left a message for Sandy Willett, PhD, director of the physical therapy department.
Tonya and her husband, Chris, had seen measurable results after their son, diagnosed at age 1, took part in a three-week, intensive therapy session in California – a demanding mix of physical, occupational and speech therapies.
"Before his first intensive therapy, his hands were tight in a fist, always," Tonya Hinrichs said. "You literally had to pry finger by finger by finger out. But after we went to California, he could open his hands up."
Space was limited in the California program and Bentley hadn't been chosen for the next series of sessions. So, Tonya, a pharmacist in North Platte, Nebraska, called everyplace she could find, asking the same question she asked MMI: Do you do intensive therapy?
She was surprised when Dr. Willett called her back.
"We've had a longtime interest in doing this model, but we hadn't had the opportunity," Dr. Willett told her.
Intensive therapy calls for hard work over a short period of time. Working with Tonya to pinpoint Bentley's specific needs, Dr. Willett, Gail Svagera, director of occupational therapy, and Amy Nordness, PhD, director of speech therapy, crafted a top-down therapy model for Bentley that his parents said was unlike any they'd seen.
"They are great at using verbal cues with him," Tonya said. "We think he is cognitively there because he will follow (cues). We'll tell him, 'Arms forward,' and, it takes him a little bit, but he'll get them forward. In the other intensives that we've done, they put him through the motions but didn't have him cognitively doing the work himself or understanding exactly what's going on."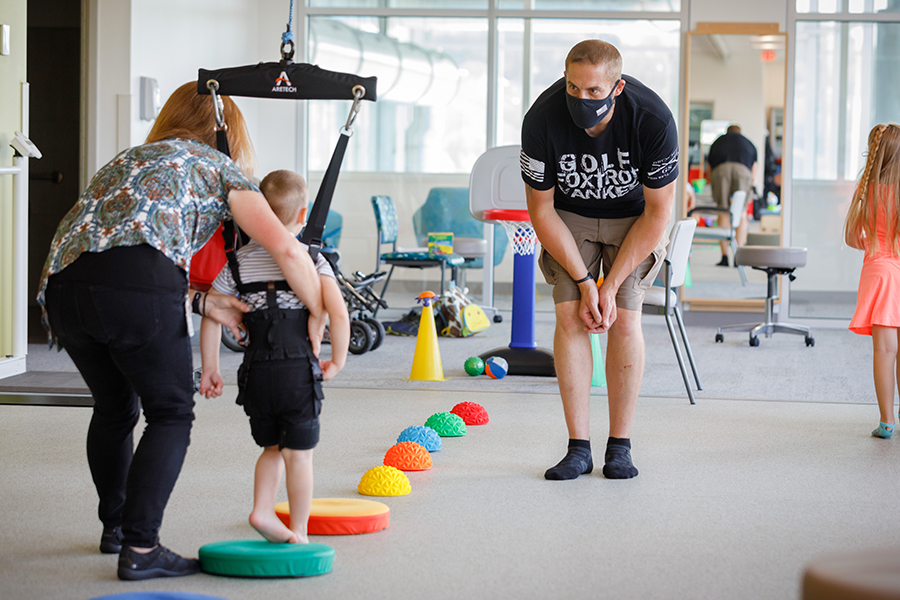 It was important for Bentley to understand movements and the context of these movements, Dr. Willett said, adding that physical therapist Amy Beyersdorf was key in developing Bentley's treatment program.
"We want a child to understand how the body relates to physical environment, and how we can use the environment to set up movement success," she said. "We scaffold the therapies intentionally so that he did the heaviest physical work early in the day, then got some physical down time during occupational and speech therapy before we went back to floor work at the end of the day."
Bentley's three-week stay in June included five-day-a-week, four-hour-a-day sessions – an hour each of speech and OT, with two separate hours of PT. Chris and Tonya took turns working with the MMI therapists, while daughter Briawna played with the "off-duty" parent.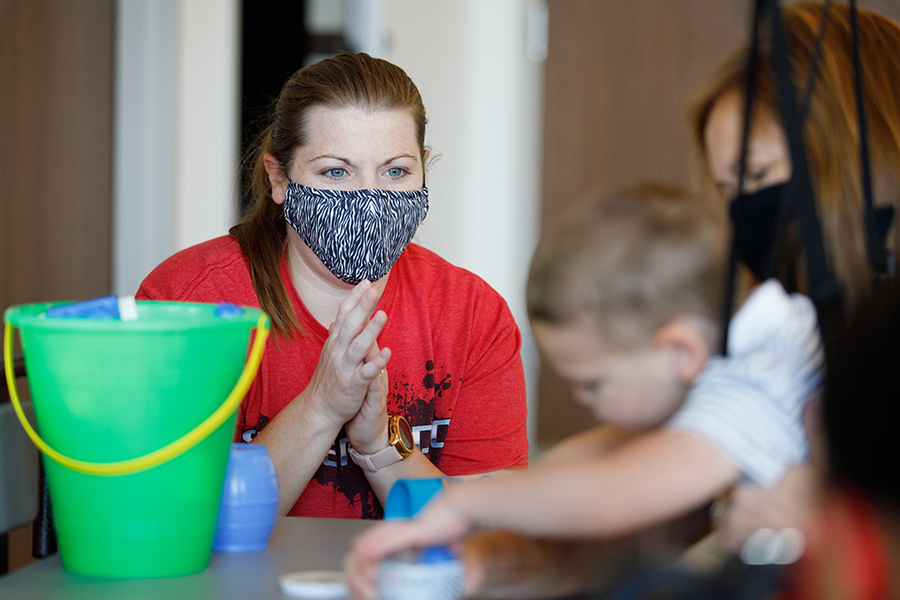 As Beyersdorf worked with Bentley in the ZeroG harness, Tonya would crouch in front of Bentley and call to him, sometimes putting a towel over her head and having Bentley pull it off, in a therapeutically-valuable game of peek-a-boo. Later, Chris got on the floor to work in the occupational therapy room, and even Briawna took a hand, playing toy cars with Bentley as he worked on his motor skills.
Bentley went through most of the session with a big smile, laughing with his parents, playing with his sister. But the hours of therapy were a grind for the 3-year-old. So, the family – who drove to Omaha from North Platte in their camper – made sure to mix in some fun time for Bentley and Briawna.
Being within driving distance of home meant that Chris could drive back to North Platte when a situation arose at the construction company he owns, while Tonya's mother came to Omaha to help – something that would have been impossible in California.
"We would go as far as we could, do whatever we could, to help Bentley," Chris said. "But it is so much nicer to have someplace here in Nebraska than to have to travel. … We're very thankful that we found MMI in Omaha."
Chris also said he was impressed with the new MMI building and the technology on hand.
"The technology, the people – the experience that you guys have here is amazing. We are excited and happy with what he's taken away from here."
And Bentley may have blazed a trail for other families seeking intensive therapies. The family returned in October for a second round of intensive therapy, and Dr. Willett feels hopeful about continuing to offer the service.
"This was a rewarding experience, working with Bentley," Dr. Willett said. "I hope it's something we can make available to others moving forward, perhaps by creating a time of the year when families have the option to be present. A summer program would be a great option."