Seven delegates led by the Honorable Minister Zahid Maleque of the Bangladesh Ministry of Health and Family Welfare visited UNMC on Dec. 19 and 20.
Wael ElRayes, MBBCh, PhD, co-director of the UNMC College of Public Health's Center for Global Health and Development, and Jane Meza, PhD, associate vice chancellor for global engagement, who organized the visit, accompanied the delegation throughout their time on campus.  
"This visit marks another milestone in our efforts to increase the global footprint of the UNMC and expand our global network," said Dr. ElRayes, director of the Middle East and North Africa Region for the UNMC Global Center for Health Security. "The minister of health of Bangladesh and his delegation represent the highest-ranking foreign health officials to visit UNMC in 20 years, indicating the level and scope of global work we are initiating."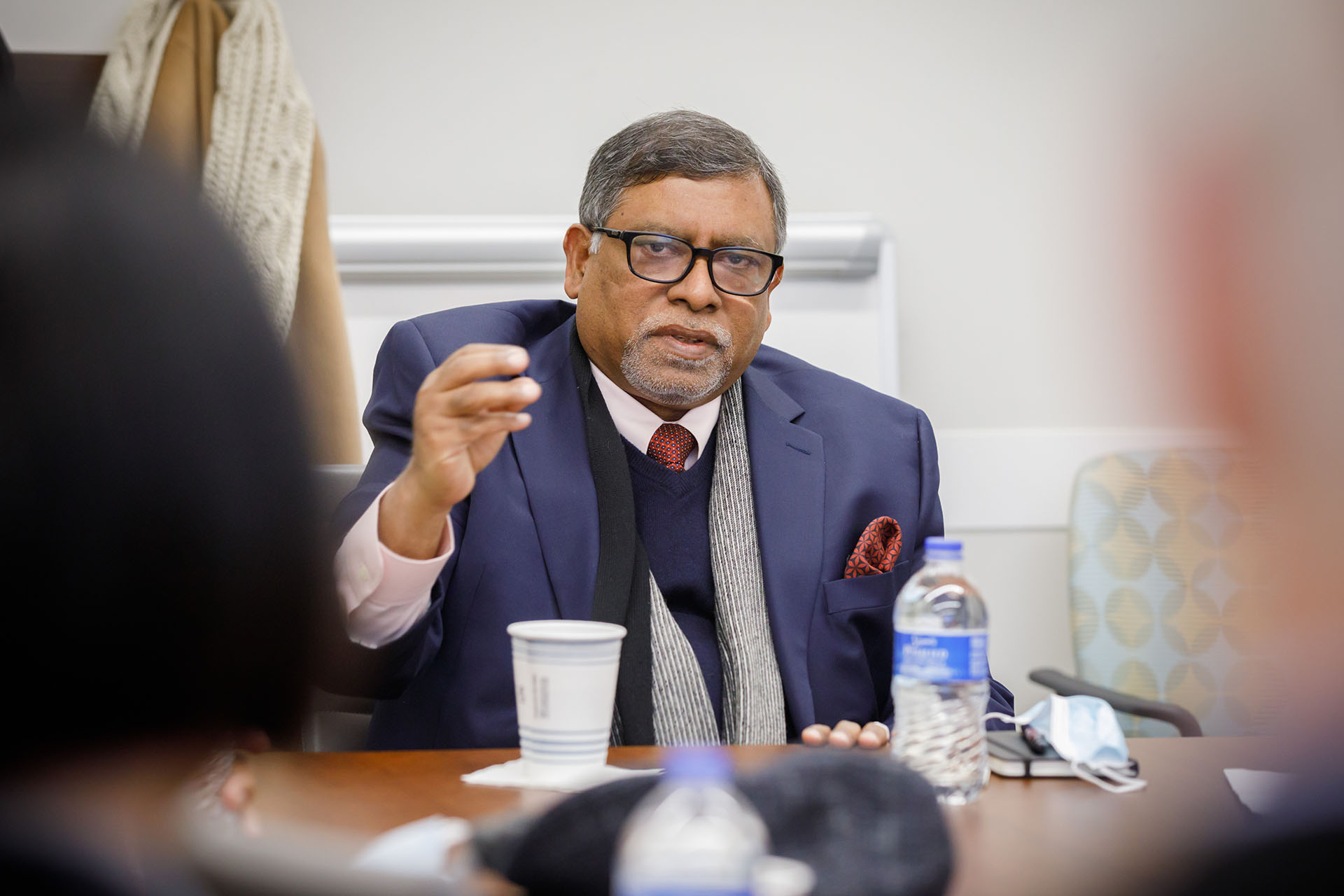 The trip focused on opportunities for different UNMC teams to collaborate around specific health needs in Bangladesh, including the establishment of a national cancer program, a national organ transplant program, a vaccine research and development program and health security and biopreparedness. Discussions included collaborations with Raymond Bergan, MD, and Shinobu Watanabe-Galloway, PhD, of the Fred & Pamela Buffett Cancer Center; with Alan Langnas, DO, and Wendy Grant, MD, of the UNMC College of Medicine's Department of Surgery, and with Ali S. Khan, MD, MPH, John Lowe, PhD, and Dr. ElRayes around the topic of health security.  
The ministry is also interested in academics at the UNMC College of Public Health, particularly its master of health administration and master of public health programs. Keith Hansen, co-director of the college's Center for Biosecurity, Biopreparedness and Emerging Infectious Diseases, provided an overview of disaster response concepts and tools in the United States and led conversations about how those might apply to Bangladesh. 
In addition to meeting with faculty and staff from multiple colleges, centers and programs, the delegation toured the Fred & Pamela Buffett Cancer Center and the Dr. Edwin G. & Dorothy Balbach Davis Global Center, including the iEXCEL program and the Training, Simulation & Quarantine Center.
"The fact that we have been planning and organizing this visit for the past six months and clearly defining the objectives and goals with different UNMC partners made the meetings and discussions exceptionally productive and successful," Dr. ElRayes said.
Before leaving campus, the Bangladeshi delegation met UNMC Chancellor Jeffrey P. Gold, MD, at the Wigton Heritage Center, where they signed a memorandum of understanding regarding the shared intentions to collaborate in the future.
"We were delighted to host the delegation from Bangladesh and present a number of opportunities for possible collaboration between the Ministry of Health of Bangladesh and UNMC," Dr. Meza said. "Global engagement continues to remain a priority for the university, and we welcome all chances to strengthen our global connections."
eVU wprmQlESXWAM f hC