A man named St. Patrick is bound to be lucky. And UNMC's St. Patrick Reid, PhD, associate professor of pathology and microbiology, readily admits that he has been a lucky man.
The research fellow at the National Strategic Research Institute at the University of Nebraska said, "I'm fortunate." Several times, throughout his scientific career, "The ball could have bounced left instead of right."
Sometimes he planned it that way. Sometimes, it seemed, the ball just bounced.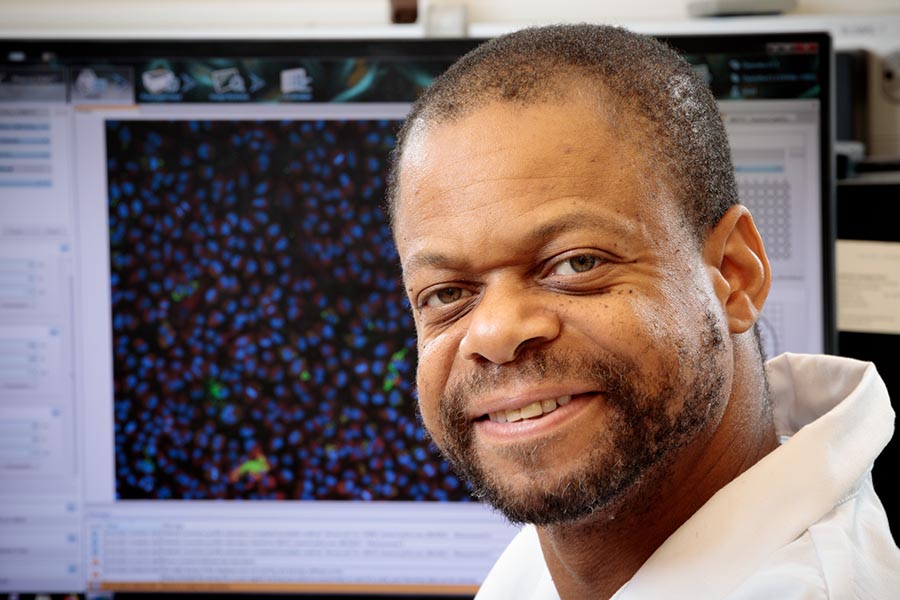 "That's how most things happen in science," he said. "There's a lot of serendipity involved."  
For example, sometimes crucial new knowledge is gained when an experiment fails in just the right way.  
But it's not luck that Dr. Reid is a crucial contributor to what was one of the biggest breakthroughs of the COVID-19 pandemic – the discovery, by UNMC scientists, that the SARS-CoV-2 virus spreads through airborne transmission. There's a reason Dr. Reid was, as Jennifer Larsen, MD, former vice chancellor for research, put it, "an investigator who was in the right place at the right time and became the person that everyone wanted to work with," during the rush to learn more about SARS-CoV-2 and COVID-19. 
He was in the right place at the right time. But he didn't just happen to be there. Dr. Reid, with colleague Joshua Santarpia, PhD, associate professor of pathology and microbiology, already was working on coronaviruses  a year before the pandemic hit.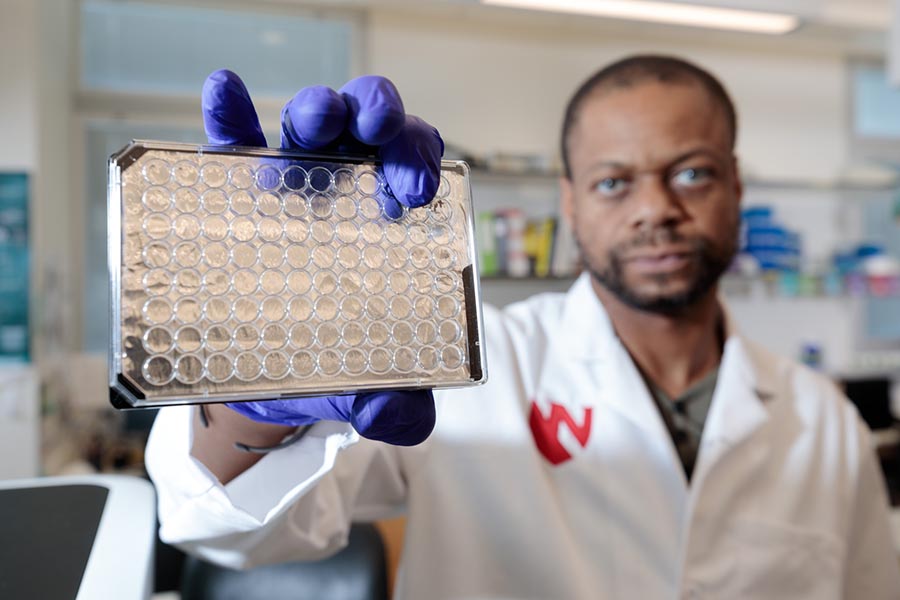 "To be honest, that was a fortuitous thing," Dr. Reid said.  
Yes, it was.  
But that's also called making your own luck. 
A year before the world changed, "Josh and I were working on putting a grant together," Dr. Reid said. The investigators were studying the stability of respiratory particles. "We both agreed coronaviruses would be a place to start." SARS. MERS. The hantavirus. These all spread through respiratory particles. 
And so it was that when the first reports surfaced of a possible epidemic, then pandemic, Dr. Reid was one of the few in the world with biosafety clearance in place to work with what would soon be called SARS-CoV-2. 
"I had the ball rolling," Dr. Reid said.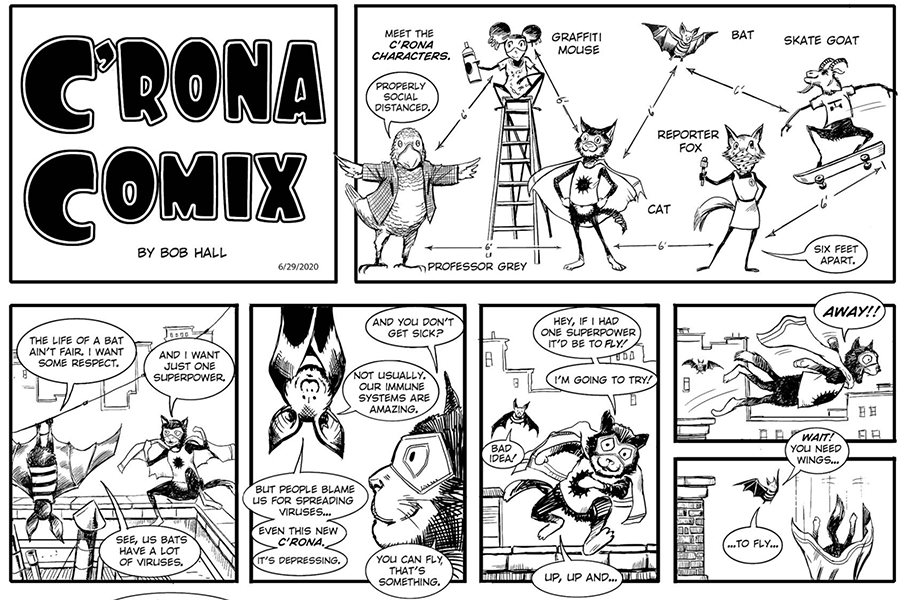 Dr. Reid says that a lot of scientific knowledge simply isn't in the literature. It never makes it to print. But the knowledge exists in the minds and the files of experienced scientists who are just waiting for someone to ask about it. Scientists who just need the perfect partner who is looking for just the right answer. Scientists who are about to be in the right place at the right time. 
Take his example of learning from an experiment that fails, when, "you don't get 'positive data," he said.
"You can't publish negative data. That doesn't mean that negative data isn't informative in some way. You just tuck it away and when the opportunity presents itself, you move on it."
And when scientists meet to discuss their work, unexpected research opportunities may result. 
These chemical reactions happen during "offline discussions." Lunch breaks. "This is when the real information happens," Dr. Reid said. 
That's being in the right place at the right time, too. 
Now, Dr. Reid is becoming one of those senior scientists – the ones with the knowledge tucked away, waiting to be tapped. We saw it during the pandemic. 
He's doing important work on host-pathogen interactions – with an eye toward developing and improving host-directed therapeutics – on Chikungunya, Zika, and of course, Ebola. 
When he was just a kid, Dr. Reid vowed that he would grow up to become a scientist. "I never thought about doing anything else," he said. And then he grew up, and this is what he became.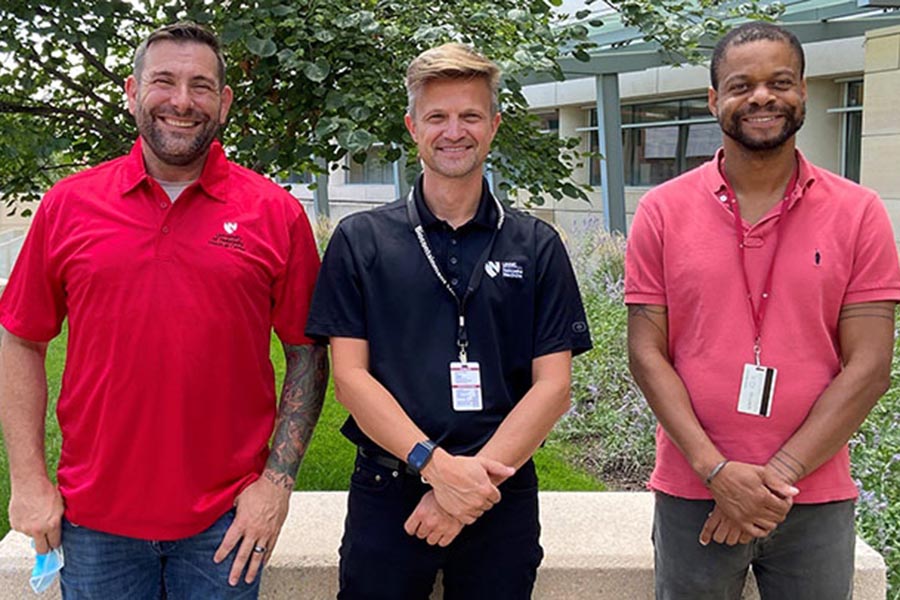 How does that happen? 
"I don't know," Dr. Reid said. "It's hard to describe what is innate. 
"It might be like asking a basketball player, 'How do you do what you do?'" 
That's an interesting comparison. The greatest athletes of all time, think Magic Johnson, Wayne Gretzky, beyond their physical gifts, seemed to innately always be in the right place at the right time. 
Tom Brady, for example, would famously be already working on the thing that's about to happen.  
(Just as Dr. Reid was, a year before the pandemic broke.) 
Now, here St. Patrick Reid is. Right place. Right time.  
Right mind. 
One of the great scientists we are lucky to have here at UNMC.
Throughout his career, St. Patrick Reid, PhD, has worked with experienced scientists, those with knowledge beyond what is found in papers and textbooks. 
As a postdoc, he studied with Viktor Volchkov, PhD, at the French Institute of Health unity Medical Research. Dr. Volchkov taught him a new way of looking at viruses. Most of us think about how humans react to viruses. But Dr. Volchkov showed Dr. Reid how to flip it around – what does the virus need to do to survive? 
"He had a wealth of basic virology knowledge that I didn't have," Dr. Reid said.  
It was through his work there, including wearing a "space suit" to study the Ebola virus, that he was recruited to the U.S. Army Medical Research Institute of Infectious Diseases. The chief of molecular and translational sciences there was Sina Bavari, PhD. 
If that name is familiar, it's because Dr. Bavari is from Gage County, Nebraska, and an alumnus of UNMC.  
"That's why I'm here," Dr. Reid said.