Senior Vice Chancellor, Academic Affairs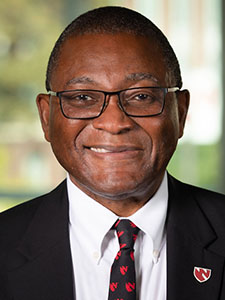 Dr. H. Dele Davies, MD, is an internationally recognized expert in pediatric infectious diseases and a leader in community health. As senior vice chancellor for academic affairs and dean for graduate studies, Dr. Davies is responsible for academic oversight of the different colleges and works with a talented team of deans, faculty and staff to enhance UNMC's academic focus and build the momentum of making UNMC the most learner-centered health science center in the nation.
Dr. Davies holds a master's degree in epidemiology from the University of Toronto, Canada, and a master's in health care management from the Harvard School of Public Health. He is specialty trained in pediatrics and pediatric infectious diseases from the Hospital for Sick Children in Toronto. He previously served as chair of pediatrics and human development at Michigan State University (2003-2012) and director of the Child Health Research Unit at Alberta Children's Hospital in Calgary, Canada, and the Child Health Research Institute at the University of Calgary (1993-2003).
Dr. Davies has more than 200 publications in peer-reviewed journals related to his research on infectious diseases topics, in addition to one edited book on Obesity in Childhood and Adolescence, several book chapters and other scholarly publications, and numerous presentations at national and international meetings.
His research interests lie in infectious diseases, especially perinatal infections caused by Group A and B streptococcus. His work was seminal in establishing the population-based rates, epidemiologic risk factors, serotypes and major virulence factors for Group A and B streptococcal infections in Canada. His research has been funded by several agencies, including the National Institutes of Health, the Alberta Heritage Foundation for Medical Research and the Canadian Institutes of Health Research.
Dr. Davies is a member of the National Preparedness Response Science Board (National Biodefense Science Board) for the Assistant Secretary for Preparedness. He is also the founder and chair of the Association of Academic Health Centers Chief Academic Officers Group.
Other previous national service includes a six-year term on the "Red Book" Committee on Infectious Diseases of the American Academy of Pediatrics; a five-year term as a member of the Board of Scientific Counselors for the National Centers for Infectious Diseases of the Centers for Disease Control and Prevention (Atlanta); a six-year term on the NIH (NIAID) Microbiology and Infectious Diseases (MIDB) Study Section on training grants; secretary-treasurer of the Association of Medical School Pediatric Department Chairs; chair of the Pediatric Investigators Collaborative Network on Infections in Canada; member of the Canadian Pediatric Society Infectious Diseases and Immunization Committee; member of Health Canada's Committee to Advise on Tropical Medicine and Travel; and chair of the Diversity Committee of the Council of Graduate Schools. 
Dr. Davies has received numerous prestigious awards during his career for his research, teaching and mentorship, including the Mo-Watanabe Distinguished Faculty Award at the University of Calgary (twice) and the William B. Weil Jr. Endowed Distinguished Pediatric Faculty Award of the College of Human Medicine at Michigan State University.
Since 2006, he has been recognized annually as a member of the Best Doctors of America; is a fellow of both the Infectious Diseases Society of America and Pediatric Infectious Diseases Society, and a member of the Alpha Omega Alpha National Honors Society and the Society for Pediatric Research.