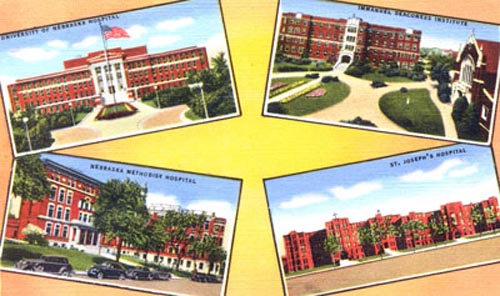 A vintage postcard shows Omaha-area hospitals which survived. Clockwise from top left, University of Nebraska Hospital (now The Nebraska Medical Center), Immanuel Deaconess Institute (now Immanuel Medical Center), St. Joseph's Hospital (now Creighton University Medical Center) and Nebraska Methodist Hospital (now Methodist Hospital). (Postcard image courtesy of Mary Slowik, General Internal Medicine, UNMC).

"Omaha possesses unrivaled facilities for the treatment of any kind and every kind of human ailment. Omaha physicians and surgeons are among the very best."
These words might have been written last week or last month. In actuality, they come from an April 1928 article, "Omaha: A Great Medical Center," in Omaha's Own Magazine & Trade Review, which billed itself as "a journal of constructive optimism."
Omaha has been home to a number of hospitals over the decades; some lasted, others did not. Bergan Mercy, Children's, Immanuel, Methodist — all familiar names to Omahans.
Booth, Presbyterian, Radium, St. Catherine's — these are perhaps less familiar.
Historical information from the 1920s shows 16 to 22 different hospitals in Omaha at that time, depending on the source consulted. In the 60 to 70 years of Omaha's history prior to 1920, other hospitals came and went, as well.
Most Christian denominations had a hospital at one time or another, Danish Lutheran, Swedish Mission, Evangelical Covenant and St. Joseph's, among others. Other former Omaha hospitals were founded and run by physicians, either individually or as a group. Among these were Frederick, Lord Lister (named for the pioneer of antiseptic surgery), South Side and Nicholas Senn.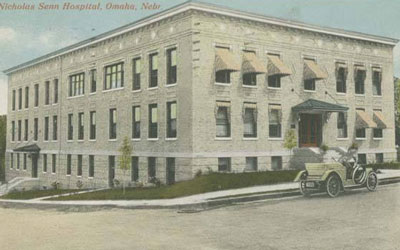 Nicholas Senn Hospital (later called Doctor's Hospital). The building is currently being demolished. The institutional structure of this hospital evolved into today's Midlands Hospital.
Others were specialty hospitals, such as the Omaha Maternity Hospital. For a brief time, the city of Omaha ran the City Detention and Emergency Hospital; and, of course, Douglas County Hospital has existed for many years.
As with other physician-run private hospitals, Nicholas Senn Hospital, located at 501 Park Ave., at the corner of Dewey Avenue, was built as an investment and expansion of private practice. It was opened in 1912 by Albert P. Condon, M.D., who named his hospital for a late-19th century Chicago surgeon who'd also been his professor of surgery at Rush Medical College.
Because of limited finances, most of these private hospitals did not stay in business for long.
Nicholas Senn Hospital was re-organized as Doctor's Hospital in 1916, apparently taking in more physician partners, though it seems to have been known as Nicholas Senn Hospital until about 1942.
Parts of the current building date to about 1953, with additions and improvements going through 1965 or 1966. The hospital moved in 1974 to Papillion, forming the origins of Midlands (Community) Hospital.
The original building, later a health club and eventually apartments, is currently being demolished to make way for another apartment development.