Yimei Huang, Pharm.D., UNMC College of Pharmacy class of 2015, has an adventurous spirit.
She would have to, to travel 7,300 miles from Chengdu, China, to take on a rigorous program, in another nation, in a second language.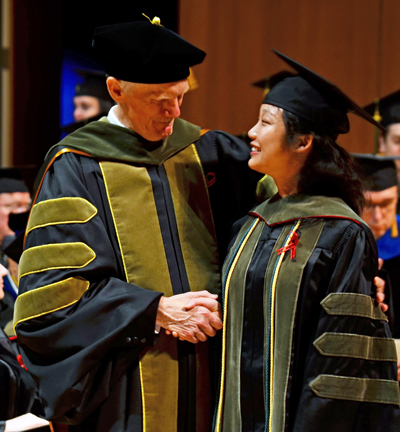 College of Pharmacy Dean Courtney Fletcher, Pharm.D., congratulates Yimei Huang, Pharm.D., during her hooding ceremony.
Likewise, Xin Zhang, M.D., D.P.T., the School of Allied Health Professions' first physical therapy graduate from UNMC's China health professions doctoral program, takes seriously her role as a trailblazer.
"I've been called a pioneer," Dr. Zhang said at a recent dinner celebrating the PT partnership between UNMC, the Chinese Scholarship Council, and Dr. Zhang's other alma mater, Tongji University. "But being a pioneer means more than just being first. It's a commitment to work harder to be a good example to others who follow."
Drs. Huang and Zhang were the first enrollees in, and first graduates of, a unique, innovative program established in 2011 as a component of the Shanghai Sino-U.S. Health Science Initiative.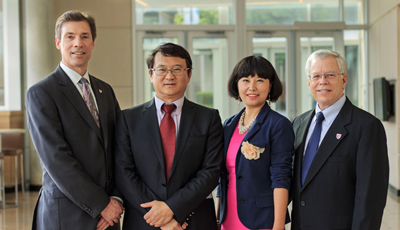 From left, Kyle Meyer, Ph.D., senior associate dean of the School of Allied Health Professions; Guotong Xu, M.D., Ph.D., dean of the Tongji University School of Medicine; Xin Zhang, M.D., D.P.T.; and Joe Norman, Ph.D., director of the physical therapy program at UNMC.
With the support of the China Scholarship Council, exceptional students from China can be accepted into UNMC's professional doctoral programs: M.D., Pharm.D., D.D.S., D.N.P., and D.P.T. programs. Students in the doctor of physical therapy program also spend an extra year, participate in research, and take additional courses during the professional component of the program to complete a master's degree while at UNMC.
"We couldn't ask for a better student to start this program," said Joe Norman, Ph.D., professor and director of physical therapy education. "Xin was flexible, accommodating, tolerant and had a great attitude."
College of Pharmacy staff and faculty were equally impressed with Dr. Huang.
"She's going to have a special place in our hearts," said Charles Krobot, Pharm.D. "We got lucky. We picked the right person. My goodness, she just never stops."
"These graduations mark a milestone for UNMC's Asia Pacific Rim Development Program," said Jialin Zheng, M.D., associate vice chancellor for academic affairs and director of the APRDP. "Both women are committed to being Chinese ambassadors of UNMC's mission of leading the world to transform lives for a healthy future."
But doing something new was not always easy, for the students or the university. The first two, along with the faculty, helped iron out the wrinkles of the new program.
Their respective deans praised not only these initial students, but the faculty and staff who worked with them.
Since Drs. Huang and Zhang first enrolled, handfuls of other students from China are now enrolled in all of the professional doctoral programs at UNMC.