An internationally recognized eye surgeon from one of the top eye institutes in the country — Ronald Krueger, M.D. — has been named the McGaw Professor and Chair of the UNMC Department of Ophthalmology and Visual Sciences and director of the Stanley M. Truhlsen Eye Institute, whose clinical programs are part of Nebraska Medicine.
Dr. Krueger is professor of ophthalmology in the Cleveland Clinic Lerner College of Medicine of Case Western Reserve University, and medical director of the Department of Refractive Surgery at the Cole Eye Institute of the Cleveland Clinic.
The Cole Eye Institute has consistently ranked among the top 10 eye institutes in the U.S., while the Cleveland Clinic is the No. 2 ranked hospital in the country by U.S. News & World Report.
Dr. Krueger is expected to begin in April or May, said Bradley Britigan, M.D., dean of the UNMC College of Medicine who announced the appointment, which is subject to approval of the University of Nebraska Board of Regents.
The Dr. Krueger file
1982 – B.S., electrical engineering, Rutgers University (summa cum laude)
1983 – M.S.E., bioengineering, University of Washington
1987 – M.D., University of Medicine and Dentistry of New Jersey
1988-1991 – Ophthalmology residency, Columbia-Presbyterian Medical Center
1991-1992 – Fellowship, cornea and external disease, University of Oklahoma
1992-1993 – Fellowship, cornea and refractive surgery, University of Southern California
1993-1998 – Assistant professor, Saint Louis University School of Medicine
1998 – Associate professor, Saint Louis University School of Medicine
1998-present – Professor, Cleveland Clinic Lerner College of Medicine of Case Western Reserve University, and medical director, department of refractive surgery, Cole Eye Institute
2014-2015 – President, International Society of Refractive Surgery in partnership with the American Academy of Ophthalmology (ISRS/AAO)
1998-present – Associate editor, Journal of Refractive Surgery
2018 – ISRS/AAO Barraquer Award and Lecture (most prestigious award and lecture in the field of refractive surgery)
2016 – AAO Lifetime Achievement Award
2016 – ISRS Recognition Award
2015 – ISRS Founder's Award
2010 – AAO Secretariat Award
2008 – Lans Distinguished Award, ISRS/AAO
2007 – Kritzinger Memorial Award, ISRS/AAO
2005 and 2010 – "America's Top Doctors" Award, Castle Connolly
2004-2012 – President, board of directors, GANSU, INC. (Gaining A New Sight for Unsighted in China)
2001 – Co-author, first book on "Wavefront Customized Corneal Ablation"
Research – Participated in 44 different research projects, 169 research publications, 39 book chapters, 5 books and 84 published abstracts
Lecturer – on refractive surgery in more than 40 countries
Pioneer – in the development of femtosecond laser treatment of the crystalline lens and cataracts, leading to the co-founding of LensAR, Inc. in 2004, and publication of the first textbook on the subject in 2013, "Refractive Laser Assisted Cataract Surgery (ReLACS)."
"We are thrilled to recruit Dr. Krueger to UNMC/Nebraska Medicine," Dr. Britigan said. "He has a strategic vision for the Truhlsen Eye Institute that is truly a game changer. Coming from a quality program like the Cleveland Clinic, he has a thorough understanding of what is involved in creating a world-class eye institute. I have every confidence that he will be successful in making this happen at our medical center."
"We welcome Dr. Krueger to Nebraska. His clinical expertise and organizational leadership skills will be a tremendous asset to our health network and to the region as a whole," said James Linder, M.D., CEO of Nebraska Medicine. "A leader of his caliber is exactly what we need as we grow academically and throughout our community."
"I see this position as a fantastic opportunity to be involved in transforming the practice and scope of ophthalmology in Nebraska and the surrounding Midwest region," Dr. Krueger said. "UNMC/Nebraska Medicine is in the midst of a tremendous growth trajectory, and the Truhlsen Eye Institute has all the resources and infrastructure to grow with it. I consider it a privilege to be involved in leading this effort."
Dr. Krueger has performed more than 25,000 vision correction procedures, which are performed to reduce or eliminate an individual's dependency on glasses or contact lenses. These procedures include laser vision corrections, such as LASIK, PRK and SMILE, as well as lens-based procedures such as ICL, lens replacement and cataract surgery. He also manages complex optical disorders of the eye and keratoconus through a variety of medical and surgical treatments.
In 1985, Dr. Krueger is credited with documenting the first physical description of the effects of the excimer lasers on corneal tissue, which ultimately led to the growth and development of modern day LASIK and laser vision correction.
In the late 1990s, his role in characterizing optical aberrations associated with early laser vision correction procedures, helped to introduce customization techniques to perfect the outcome and quality of vision these procedures could achieve. At the same time, his early pioneering work with ultrashort pulse lasers, such as the femtosecond laser, enhanced the safety of these procedures. Later, in the mid-2000s, he pioneered the use the femtosecond laser in the crystalline lens and for laser-assisted cataract surgery.
Dr. Krueger plans to expand both the clinical and research faculty at the Truhlsen Eye Institute and Durham Research Center. He also will strive to unify the ophthalmology community in Omaha through an initiative that he refers to as the "Unity in Community" model, which he hopes will brand Omaha as an eye health care hub based on its high standard of eye health care and significant eye innovation.
"While most of clinical ophthalmology in Omaha has been self-directed to personal practice success, the broader goal of community-wide success in eye health care would require a unifying eye care leader, which TEI and UNMC/Nebraska Medicine is best prepared to do," he said.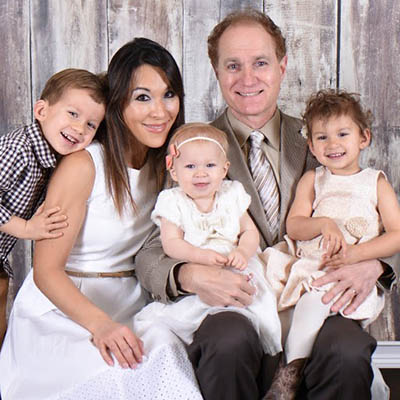 The family of Ronald Krueger, M.D., and Ivey Thornton, M.D., includes (left-right) Elijah, 5, Arabella, 21 months, and Arielle, 3. Dr. Thornton also is an ophthalmologist and plans to join a community ophthalmology practice in Omaha.
Some of his other goals include:
To increase the number of medical students rotating in ophthalmology, residents, clinical fellows and postdoctoral research fellows to enhance the educational environment.
To broaden the scope of clinical practice to encompass all subspecialties, including comprehensive ophthalmology and optometry, with appropriate technology to offer the latest, state-of-the-art therapies.
To enhance the availability of ophthalmologic services throughout Nebraska and the surrounding region.
To build an international training and outreach program to provide ophthalmologic care for underserved countries with a goal to eradicate blindness around the world.
Dr. Krueger's wife, Ivey Thornton, M.D., is also an ophthalmologist. She plans to join a community ophthalmology practice in Omaha. They have three children — Elijah, 5, Arielle, 3, and Arabella, 21 months.
"We're excited to come to Omaha," Dr. Krueger said. "We think it will be a fantastic city in which our young family can grow up."