In the middle of the Sorrell Center, in the middle of campus, in the middle of the day, in the middle of a rigorous and stressful academic health sciences program, in the middle of a pandemic, Tres Smith can be counted upon to light up when you walk through the door. You are probably one of her favorite people to see today. Just about everyone is.
"I love my job more than anybody else on this campus," she said. "I guarantee it."
Smith officially draws a paycheck for managing the Sorrell Center C-Store. But her real vocation is serving as a doting auntie to the hundreds of UNMC students — and, sometimes employees and faculty, too — who stop by to see her nearly every day.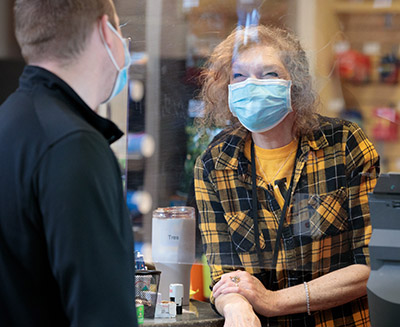 Tres Smith, at right, was honored at the UNMC College of Medicine's 2022 Match Day ceremony.
Smith recently was honored with a special award from the UNMC College of Medicine Chapter of the Gold Humanism Honor Society (GHHS) at the Class of 2022's Match Day. They checked to make sure she would be there for the ceremony. But of course, she always attends.
"There is one person at UNMC that goes above and beyond their role by creating a supportive and hospitable culture for medical students in our community," said Tiffany Truong, MD, as she presented the award.
Smith was being honored for "her personal qualities of kindness and optimism, and for her unwavering commitment to support the wellbeing of students and faculty at the UNMC College of Medicine," added Seif Nasir, MD.
They used the word wellbeing. Think about that. During this time when we are told to be mindful of our own and one another's wellness and mental health, there are several ways we can practice self-care. You can exercise. You can meditate. And you can go down to the C-Store and buy a cup of coffee from Tres.
How often are we told to ask after one another? "I'm a nosy Nellie," she said.
If a student is dressed up, "I'll say, 'Did you send a picture of yourself to your mom?' And they'll do it!"
She loves these students. It's a privilege, she said, to see them at this time in their lives. "To know someone," she said, "when they're just starting out."
There was this one couple. "They sat right out here," she said, at that table just outside her c-store window. "I watched them go from dating," she said, "to having two kids."
People bring their kids in to meet her. Of course they do. They remember how this woman cared, how she asked about them, what those small moments of kindness meant, on otherwise tough days, when they were just starting out.