More than 500 members of the med center community – from across UNMC, Nebraska Medicine and Clarkson College – turned out Monday for STOP THE BLEED training event hosted by the UNMC HEROES Program and the Nebraska Medicine trauma program.
The event was the first of two. The second STOP THE BLEED training will be held Sept. 14 at the Sorrell Center.
Bleeding is the number one cause of death after injury, said Austin Brake, program coordinator for the HEROES (Healthcare and Emergency Responder Organization Education through Simulation) Program.
"The training focuses on three major components to stop massive hemorrhage," Brake said. "Teaching how to apply a tourniquet, how to pack a wound and how to apply direct pressure – these three very simple steps can save lots of lives."
"We're hoping to impact about 1,000 people over the two events," said Karen Saxton, trauma director at Nebraska Medicine.
Patrick Garmoe, a Nebraska Medicine web content and conversion specialist, said he attended the training in the spirit of being prepared.
"I just thought it would be a wise thing to do," he said. "I'd feel really bad if I got to an accident site and didn't know what to do when I could have gone through this simple training."
Med center leaders in attendance included UNMC Chancellor Jeffrey P. Gold, MD, Anne Barnes, UNMC's vice chancellor for business, finance and business development, Dele Davies, MD, UNMC's senior vice chancellor for academic affairs, and Michael Ash, MD, vice chancellor of information and technology at UNMC and executive vice president and chief transformation officer at Nebraska Medicine.
"Our goal was 300 people this round, so we exceeded that, and we're excited," said Dr. Ash, who received training with Nebraska Medicine leaders earlier in August and served as an instructor at Monday's event. "Training additional people to do lifesaving interventions – hopefully, they never have to use it, but at least they're skilled if they do need to."
Dr. Gold, who noted that he'd seen his share of trauma in his 25 years in the operating room, took part in the training as well.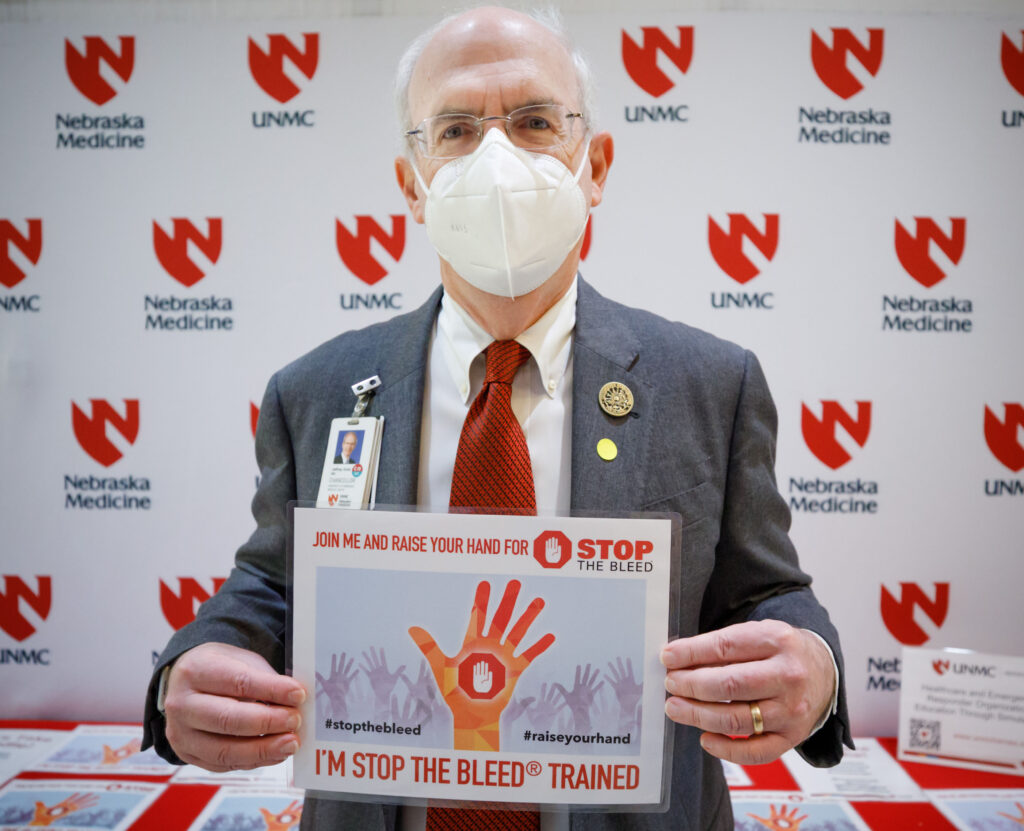 "For one thing, the technology and the techniques change," he said. "The tourniquets are modern, new and different, and frankly much more advanced than when I took this course a long time ago."
Dr. Gold also said that, as one of the leaders at the med center, he wanted to show he appreciated the importance of the training and "send the message to all of our health care professionals, our staff, everyone, that getting trained and getting a hands-on experience is the name of the game."
Quoting Charlotte Evans, chief of police and associate vice chancellor for the UNMC Department of Public Safety, Dr. Gold said: "It's not a matter of if we will need these skills but when, and being trained is the best measure that we have. We'll never completely prevent events from occurring, but it will certainly give us the best possible chance of saving lives."