UNMC research and sponsored projects continue to grow, with total research expenditures reaching $183 million in fiscal year 2022, the largest total in UNMC's history.
Total sponsored program awards totaled $251.9 million this past fiscal year, an increase of 10%, marking a new record and four years of consecutive growth. Public service grants increased 30% to $67.2 million. Total research awards increased 4% to $169.7 million, the second highest amount on record.
"These records are the work of many faculty, trainees, employees and research administrators. With the outstanding faculty already here and ongoing recruitment efforts across all our colleges and institutes, I predict these numbers will continue to grow," said Jennifer Larsen, MD, UNMC's vice chancellor for research.
The UNMC Office of the Vice Chancellor for Research use both awards and expenditures to track progress and growth. Both are important and together give a complete picture of the work UNMC researchers are conducting. Additionally, UNMC is ranked by different organizations using criteria that involve both metrics.
"Research awards and expenditures never quite match for many reasons. Expenditures are based on spending on the previous year's awards, and awards transferred in with new recruits are not included that year but are counted in expenditures," Dr. Larsen said.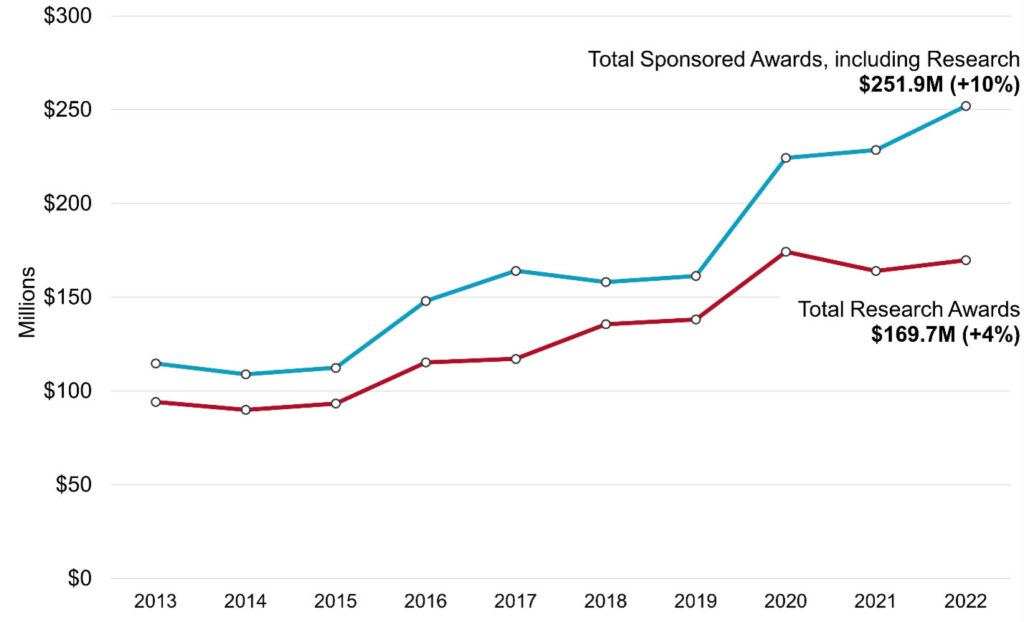 "Our clinical trials can be difficult to capture in research awards because they are incrementally funded as individuals are enrolled in studies," said Christopher Kratochvil, MD, UNMC's associate vice chancellor for clinical research and vice president for research at Nebraska Medicine.
Research expenditures not only include funding received from clinical trials, but also research funded by donors, academic health center partners and state-aided funds.
"Thanks to the dedication and hard work of the research community at UNMC, we continue to see growth despite the challenges of the pandemic," Dr. Larsen said. "We have a bright future ahead of us."