A new study, detailed in the December issue of Science Advances, explores a long-acting injectable treatment for Hepatitis B (HBV) developed at UNMC that the authors say may be a game-changer for people with the disease, in addition to helping to prevent new infections.
Benson Edagwa, PhD, a corresponding author on the paper, said the findings of the study were promising, not just in terms of efficacy but also in how the medicine was able to suppress virus replication for months in two relevant experimental mouse models of HBV infection.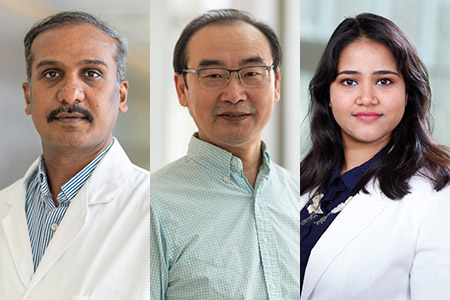 The studies were conducted in mice carrying human liver cells called hepatocytes to support natural infection as it occurs in humans and in persistently infected HBV-transgenic mice, where the viral DNA is incorporated into the mouse genome to continuously produce many copies of the virus in multiple organs.
"We followed the infected animals for at least three months after a single treatment, and during that time, our therapy, called NM1TFV, outperformed the existing standard of care when administered as an injectable," Dr. Edagwa said.
"Following NM1TFV injection, we saw a sharp decline in HBV DNA," said corresponding author Larisa Poluektova, MD, PhD, professor in the UNMC Department of Pharmacology and Experimental Neuroscience. "When we looked for the presence of the virus in the human liver cells of the infected and treated animals, it was very minimal. We also observed a slight but declining trend in serum Hepatitis B surface antigen over time, which is suggestive of an effective HBV treatment."
Dr. Edagwa said he hopes to take the drug to clinical trial within the next year or so.
Around 300 million people worldwide are living with HBV, and chronic infection is the most common risk factor for liver damage and cancer. Currently, existing Hepatitis B oral treatments must be taken daily for life.
"That can be complicated by forgetfulness, pill fatigue and stigmas around some of these diseases," said Howard Gendelman, MD, chair of the UNMC Department of Pharmacology and Experimental Neuroscience and an author on the paper. "A single long-acting shot is going to be a game changer."
The study provides "clear proof of concept" toward a new therapeutic paradigm for the treatment and prevention of HBV infection, the authors say in the paper.
The study also explored the potential mechanisms by which a single shot of the chemically modified tenofovir formulation, called NM1TFV, controls HBV replication for four months in chronically-infected mouse models. According to cell culture findings by corresponding author Natalia Osna, MD, PhD, professor in the UNMC Division of Gastroenterology and Hepatology, and co-lead author Murali Ganesan, PhD, assistant professor in the division, chemical modification of tenofovir with docosanol, a naturally occurring lipid used for treatment of cold sores, was shown to enhance the activity of the innate immunity, thereby significantly improving the effectiveness of tenofovir, an antiviral medicine that stops the virus from reproducing inside cells.
"Simultaneous inhibition of the virus replication and enhancement of the innate immunity by NM1TFV could potentially lead to a new and improved treatment path for chronic hepatitis B infection," Dr. Osna said.
"We also found the medicine to be well tolerated, and the unique chemical composition of the modified drug contributed to its extended duration of action and robust effectiveness," said Srijanee Das, lead co-author and graduate student in the department.
Dr. Edagwa said the drug has been licensed by UNeMed to Exavir Therapeutics Inc., a spinoff company from his laboratory and that of Dr. Gendelman.
"Chronic hepatitis B is a global health threat that commonly leads to liver failure, cancer and death. New treatments are urgently needed, and the disease is affected by poor compliance of daily medications. This makes the interest in generating long-acting medicines of significance. Without question this report is a breakthrough by demonstrating a new pathway that can affect disease prevention and treatment. The authors need be commended for their diligence and creativity in bringing this breakthrough forward," said Christian Brechot, MD, professor, department of internal medicine, University of South Florida; president of the Global Virus Network; and former president of the Institute Pasteur.