A team led by UNMC College of Public Health researchers has published an article that describes the risks of vaping cannabidiol (CBD) among adolescents. CBD, a compound derived from the cannabis plant, has triggered a maelstrom of research, leaving scientists grappling with its complex interactions.
The article, published in JAMA Network Open, has made a large impact in both scientific and lay audiences. Since its publication, it has been mentioned by at least 18 news outlets, including major U.S. news sources.
This study found that more than one in five adolescents who reported past 30-day e-cigarette use also vaped CBD in the past month. In an effort to address health disparities, the researchers analyzed demographic variables such as sex, race and ethnicity, sexual identity and living in a household where English is not spoken as the first language.
"The 2018 Farm Bill legalized the growth and sales of hemp, including CBD products containing hemp-derived CBD and ≤0.3% THC," said Daisy Dai, PhD, professor of biostatistics and associate dean of research for the UNMC College of Public Health. "Since then, the use of CBD has been on the rise."
Dr. Dai, who led the national study, plans to continue research on assessing neurocognitive impacts on youth vaping CBD.
Currently, CBD products are subject to lax regulations due to their classification as dietary supplements in the market. The intersection of vaping CBD and vaping e-cigarettes also poses a new challenge to regulate vaping products given that CBD, nicotine, marijuana and other compounds can be used interchangeably in some vaping devices.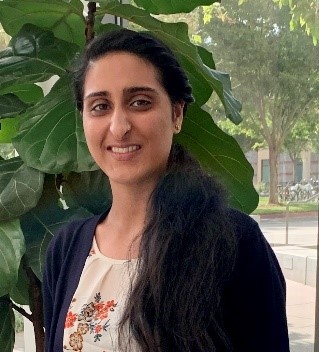 This cross-University of Nebraska collaboration also featured Avina Mahroke, a doctor of osteopathic medicine student from Kansas City University's College of Osteopathic Medicine, with whom the UNMC College of Public Health has a formal exchange relationship for DO students to receive an master of public health certificate.
Avina, a DO-MPH student who served as a co-author of the study, said that "nearly 6% of the whole cohort did not know if they had vaped CBD or not."
The U.S. Food and Drug Administration does not require consistent labeling about small amounts of CBD, which the researchers call a "loophole in the marketing and distribution of CBD products."
Ali S. Khan, MD, MPH, dean of the UNMC College of Public Health, lauded the new study's inclusion of a DO student.
"Public health is critically important and complements future clinicians' skillsets," he said. "We are committed to providing KCU's clinical trainees with opportunities to conduct mentored public health research with our faculty, staff and students."
"We are very excited that through this partnership our KCU osteopathic medical students are provided with an opportunity to conduct public health research with outstanding, experienced UNMC investigators," said W. Joshua Cox, DO, executive dean and vice provost for medical affairs at Kansas City University. Dr. Cox said, "We are certainly proud of Avina's co-authorship in this prestigious journal."
Dr. Dai and her team strive to ensure that youth and adult users are aware of what they are actually ingesting when using e-cigarettes. Results from this study may help make clear labeling of products a requirement. The results can improve health outcomes among adolescents by informing evidence-based interventions that help reduce vaping of CBD among this population.
Other co-authors include Roma Subramanian, PhD, School of Communication at the University of Nebraska at Omaha; and Ming Wang, PhD, College of Journalism and Mass Communication at the University of Nebraska-Lincoln.