As Katherine Jones, Ph.D., associate professor of physical therapy education, says, the science of teamwork . . .
Wait — hold on. The science of teamwork?
Yes, Dr. Jones said. There is a science of teamwork. This science is evidence-based. It originated more than 30 years ago with military research conducted by industrial/organizational (IO) psychologists.
Planes and helicopters were crashing, Dr. Jones said. The military needed to understand why. It turned out a big component was communication and coordination (or lack thereof) within the cockpit. When problems arose, people who could see it coming were afraid to speak up before it was too late.
The military is a hierarchy.
And health care has traditionally had similar challenges, Dr. Jones said.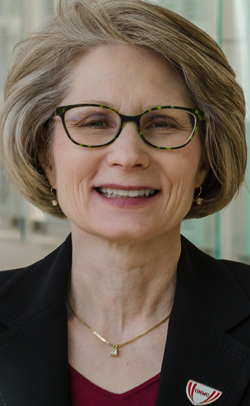 Katherine Jones, Ph.D.
But, what if someone other than the pilot (or its health care equivalent) needs to take charge in order to avert a crash?
It happens, when someone notices a process step has been skipped, or an X-ray has been flipped. But everyone on the team needs to feel empowered to speak up, to ensure things like wrong-site surgeries don't happen.
Part of Dr. Jones' research portfolio is implementing the science of teamwork in Nebraska's Critical Access Hospitals with 25 beds or fewer. The project uses an evidence-based curriculum called Team Strategies and Tools to Enhance Performance and Patient Safety (TeamSTEPPS).
It was developed by the Department of Defense's Patient Safety Program in collaboration with the Agency for Healthcare Research and Quality. Key components include team structure, leadership, situation monitoring, mutual support and communication.
Teams plan, problem-solve and process what just happened with short meetings called briefs, huddles and debriefs.
"In the science of teamwork we look at two different types of leaders," Dr. Jones said. "First, the designated leader — in health care, that would be the physician.
"But we also look to the situational leader, someone who has essential information because they are closest to a situation."
When "mental models" are not shared, it should not come down to giving or following orders. Rather: "The conversation becomes about what's right for the patient . . . what's right for the mission. It's about achieving the goal and not about who is right."
Dr. Jones has collaborated with Kathy Volkman, assistant professor of physical therapy education, and Connie Miller, Ph.D., associate professor in the College of Nursing, to develop interprofessional education that integrates clinical and teamwork skills.
"We have to be just as competent in our team skills as we are in our clinical skills," she said.