Chrixxion McIntosh's favorite part? The snack at the end.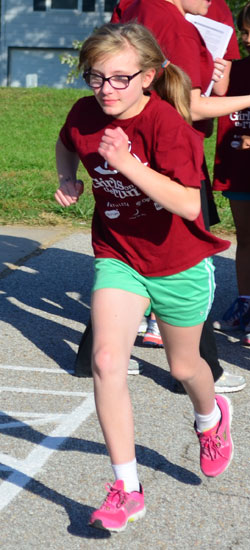 Amber-Lynn Barnes takes a lap at Hartman Elementary's Girls on the Run practice.
Chrixxion, a third-grade student at Hartman Elementary School, is a member of the school's Girls on the Run Team, co-coached by Emily Drew, the school's physical therapist and a staff member at UNMC's Munroe-Meyer Institute.
Chrixxion, diagnosed with cerebral palsy, also is one of Drew's therapy clients. Today she is training with her friends to complete a 5K run/walk event (which was held last weekend on Halloween).
"It's fun," Chrixxion said.
When Drew, who had coached a Girls on the Run team at another school, brought the idea of the team to Hartman's principal, she emphasized that she wanted to recruit children that she saw for PT for the team.
"Maybe they haven't had the opportunity to participate in a team activity for their school before," she said. "We have several girls with physical disabilities and a couple with some other health issues. It doesn't hold us back, and it doesn't keep the girls from participating."
Although Drew modifies some activities for her differently abled students — shortening the laps they run, for example — the goal is that all of them will complete the 5K event (don't call it a race) held on Oct. 31 at Pioneer's Park in Lincoln.
The team has 16 girls and two coaches. As the girls collect the snacks Drew has brought, she and co-coach Michelle Poindexter begin the day's lesson. Today it's on peer pressure; other topics have included self-esteem, bullying and emotional health.
Amber-Lynn Barnes, a fifth-grader with a history of lead poisoning and subsequent medical complications, who is one of Drew's PT students, said it was fun to run in a group.
"The lessons that we learn are fun and amazing," she said, adding that she is looking forward to the 5K event and hopes to continue with Girls on the Run next year.
Chrixxion said her favorite lesson was on "the positive cord," where you think positive thoughts about yourself "and feel happy and stuff."
As the running activity begins, the girls encourage each other as they run laps across the school's outdoor blacktop basketball court.
"I've seen a real camaraderie quickly form between these girls," Drew said. "And the girls I see for physical therapy and mobility needs, this gives them something that they can be successful at that is a physical activity and part of a team."