On June 25, Mexican soccer superstar Luis "El Matador" Hernandez visited Omaha to take part in a UNMC/Nebraska Medicine vaccination event at Omaha South High School.
The "Clínica de Vacunación Futbolera" featured UNMC students, faculty and staff participating on the day of the event.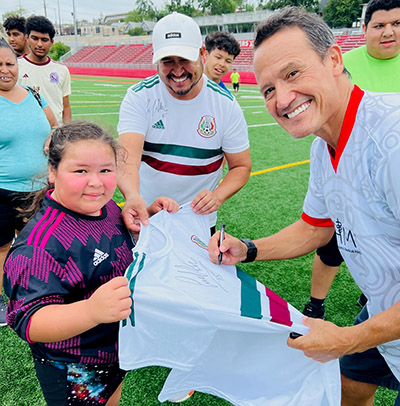 Although the event drew people of all ages, organizers said they particularly enjoyed seeing Luis Hernandez interacting with his youngest fans, as seen above and below.
The event, and Hernandez' visit were the brainchild of Armando De Alba, MD, assistant dean for diversity, equity and inclusion student programs in the UNMC College of Medicine and co-chair of the National Hispanic Medical Association, Nebraska Chapter.
His goal? A family-friendly event that included education and the opportunity for vaccination aim at the Hispanic/Latino community in South Omaha and other parts of the city.
The result? A solid win.
"We had about 500 people who attended the event," Dr. De Alba said. "There are no official vaccination results yet, but some people received their first vaccination at event and a significant number of them were children. We believe this is a solid step toward vaccinating the entire family."
The participation of Hernandez was key, Dr. De Alba said. A world-renowned superstar soccer player who currently serves as the Latin America ambassador for the 2022 FIFA World Cup, he is in the FIFA Hall of Fame and – perhaps just as important to Dr. De Alba's younger audience – a figure in the most popular soccer video games, as well.
"One thing that brings the Latin American community together is soccer," Dr. De Alba said. "It is intergenerational – it's embedded in our culture."
So, with the support of the National Hispanic Medical Association, Dr. De Alba reached out to extend the invitation – which was accepted with enthusiasm.
"I told him that this was a culturally tailored event to promote the COVID-19 vaccines among Latino families with the ultimate goal of protecting the health of our population, and that his presence would help us reach families," he said. "Even though he is busy right now – an ambassador for the upcoming World Cup, travelling with national soccer teams, having all kinds of meetings – he said, 'I love the creativity of this event, merging together soccer with a COVID-19 clinic… Yes, absolutely,' and opened his agenda to come to Omaha and join this event before going to Qatar."
The help of partners, such as OneWorld Community Health Center, the Douglas County Health Department, and organizations from multiple sectors such as local Latino businesses and soccer leagues also drove the event's impact, Dr. De Alba said.
"We were pleased with the results," he said. "The virus continues to be here, in the places where we play, learn and interact with society. Therefore, every person vaccinated is a life protected. And vaccination especially is important in a community like ours, where there often are large households. We saw families coming together – it was very gratifying."
Fourth-year medical student Daniela Cortes Reyes helped coordinate medical school volunteers for the event as a member of the UNMC Latino Medical Student Association. (Dr. De Alba praised the work of Valentina Orduna, bilingual (Spanish) medical case manager in the UNMC Division of Infectious Diseases, for "her amazing work and commitment coordinating volunteers at the community level.")
Cortes Reyes said she was pleased, not only by the volunteer turnout among medical students, but by the fact that several of the student volunteers were not Latino or Spanish speakers.
"During the event, we helped direct everyone and make it easier for our guests," she said. "I was excited to see medical students and others in community get together to participate in a grassroots effort to help the community."
Although Cortes Reyes said she is not the biggest soccer fan herself, she enjoyed seeing how excited community members were and especially seeing the children who clustered around Hernandez to get their soccer jerseys signed.
"Often, we think about practicing health care as just providing services," she said. "But when we make it something exciting, the community has more buy in. As medical students, it's important to see that we can create events that aren't just 'let me provide this service.' They can be something patients want to go to."