UNMC clinicians, researchers and medical interpreters are closing the gap between questions and answers for non-English-speaking patients.
Equitable access to health care is a priority for all patients. Here's one Spanish-speaking patient's experience at the Fred & Pamela Buffett Cancer Center, where diversity in clinical trials is crucial to new oncology therapies.
Maria Alvarran travels between South Sioux City, Nebraska, and Omaha every three months to take part in a clinical trial at the Fred & Pamela Buffett Cancer Center on the University of Nebraska Medical Center campus. Clinical trials are research studies in which participants receive investigational drugs, devices or tests under the supervision of an investigator (a physician in charge of the study) or other trained health care professional.
Maria does not speak English. But she, her family and medical center staff are bridging the language gap to ensure that cutting-edge treatments are accessible to Nebraskans and others in our region.  Maria is helping to ensure the research is the best it can be. How? By bringing diversity to the test group.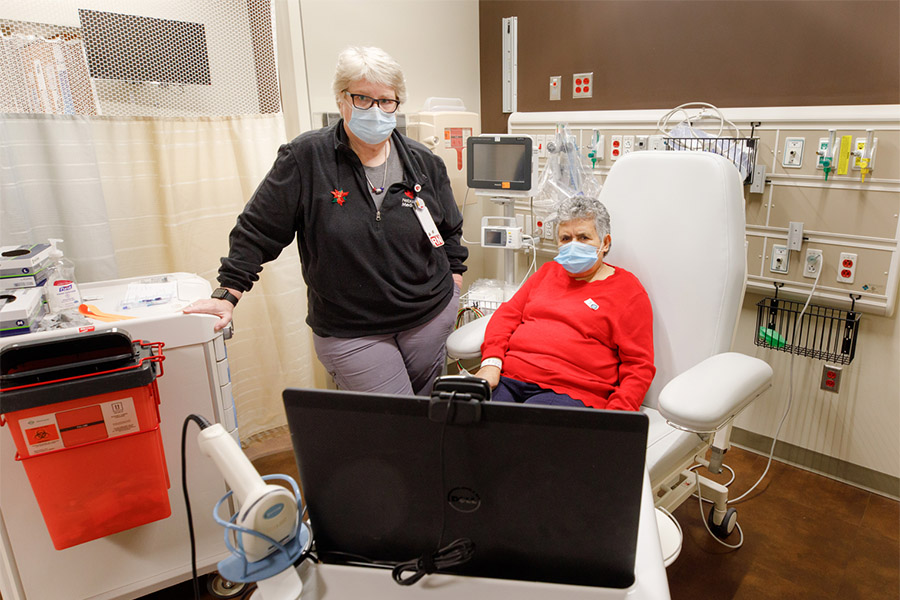 It is important for investigators, patients and their families to understand one another. When a patient speaks Spanish and a clinician does not, some aspects of a clinical visit can take longer.
"There may be extra things we both have to do," said Maria's physician, Matthew Lunning, DO, who is principal investigator of the trial Maria is enrolled in. It's important to work as a team, Dr. Lunning said.
During a recent appointment, health care professionals provided an interpreter who spoke with Maria virtually via a handheld tablet.
It's not always easy, Dr. Lunning said, but the extra steps are necessary. Communication should not be a barrier, but a goal. "It's only fair."
Privacy laws prevent sharing specifics about Maria's clinical trial. But Maria says she feels better since enrolling and her study hasn't yet concluded. She and her family say they are grateful to be moving research forward and helping others.
Investigators like Dr. Lunning are grateful, too. From their vantage point:
We can't know the answers to questions we are seeking, we can't find the best cures for all, if we only work with people who are all the same.
Maria is helping UNMC's investigators find answers, in two languages. She and patients like her are important partners in the research being conducted at UNMC.