As the College of Allied Health Professions celebrates 50 years since its founding as a school in 1972, UNMC Today will offer an occasional series of stories that looks back at key milestones and forward to an unlimited future.
UNMC is not just an innovator in distance learning — UNMC is the birthplace of modern distance learning. And UNMC's allied health programs have been at the national forefront of the trend since these programs were consolidated into a single school, founded in 1972.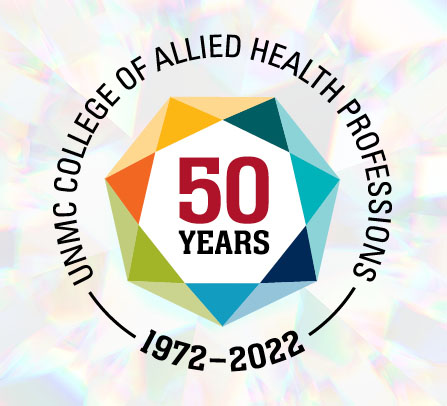 Fifty years later, the now-College of Allied Health Professions remains one of the nation's leaders in distance learning. Allied health at UNMC continues to push the possibilities for using technology to impart knowledge that will impact students and patients to change lives. 
"What is unique about our college is that we can trace the beginning of distance education and telehealth to our college," said Tanya Custer, allied health's director of distance education and associate professor in the UNMC Department of Allied Health Professions Education, Research and Practice. 
That's not hyperbole. The late Reba Benschoter, PhD, who led allied health as its associate dean from 1985-95, is credited with leading the nation's first telemedicine and tele-distance learning project in 1964. In the early 1990s, the technology developed by Dr. Benschoter was used to connect UNMC and Chadron State College in the first Rural Health Opportunities Program network. Following this lead, Jan Tompkins, who recently retired after a 50-year career that was spent mostly with the college, helped expand the medical laboratory science workforce through five distance-instruction sites across Nebraska. She eventually served as the first formal director of distance education for allied health, then for all of UNMC. 
In 2023, UNMC allied health programs still use innovative technology and innovative teaching modalities to reach students across the state, and around the world. 
MLS continues to provide education to five Nebraska sites for UNMC students and partners with four other universities to provide educational content. MLS, radiography, physician's assistant and clinical perfusion offer distance degree completion programs for practitioners from across the country. Diagnostic cytology now has approved satellite partner sites at 14 different health care institutions across the United States, and sonography provides education to students in Oregon, while clinical perfusion has students in Canada and Qatar. The list goes on. 
"Many of our partnerships have been built because someone saw a need for a health care professional at a certain place," Custer said. These far-flung sites are a point of pride. But the heart of allied health's distance learning efforts remains in Nebraska. The college embodies the ethos of UNMC's 500-mile campus, which calls for bringing the med center and its resources to Nebraska and Nebraskans across the state.
Years ago, distance radiation therapy classes in Scottsbluff consisted of "two students in a closet in the hospital," Custer said.
That was cutting-edge for its time, as were all UNMC's early efforts.
But now, radiography, for example, has program locations in five hospital sites across Nebraska, with instructors in Kearney and Omaha. Lessons are conducted synchronously using the latest technology.
The tech itself is remarkable. Diagnostic cytology, for example, was on the forefront of using virtual microscopy, a technology in which glass slides are converted to digital images. UNMC became the first cytology program to offer distance learning options. Linsey Donner, PhD, and Marnie Imhoff, allied health faculty in MLS, have led the way nationally in the use of Echo360 to improve accessibility in health professions education.
Yet it is knowing how best to use this technology to reach students that sets UNMC apart.
Many credit allied health's Master of Health Professions Teaching and Technology program with teaching them how develop, deliver and assess online instruction using technology.
"We've learned how to increase student engagement," said Ellie Miller, instructor of radiography education, who works at the Health Science Education Complex in Kearney and teaches students across the state. "Having to lecture across multiple campuses, it was hard to know whether all students are understanding the material." 
One solution? Electronic polling.
This polling is often anonymous, allowing students to say they do or do not get it – without trying to impress. "They can answer without fear or embarrassment of getting it wrong," said Manju Mukherjee, PhD.
"The instructor can gather how students are grasping the information in real time," said Karen Honeycutt, PhD.
Though they are making a difference via distance, there is something special when faculty can connect in person with these students they've met only virtually. Some come to Nebraska for commencement. Others, they see down the road. 
"A few months ago, I met some of our distance site graduates at one of our professional conferences," Dr. Mukherjee said proudly. "While they had never set foot on our campus, they value the role UNMC played in their education."