The Stanley M. Truhlsen Eye Institute is marking 10 years of elevating ophthalmology in Nebraska and across the region with top quality eye care and excellence in eye research.
The institute, which opened in May 2013, realizes the vision of the late Stanley Truhlsen, MD, former chairman of UNMC's department of ophthalmology, who sought to make the Truhlsen Eye Institute a leader in specialized ophthalmology.
In 2019, the Truhlsen Eye Institute welcomed internationally recognized eye surgeon Ronald Krueger, MD, as its director. Dr. Krueger, who is the McGaw Professor and chair of the UNMC Department of Ophthalmology and Visual Sciences, is credited with accelerating the institute's growth with top new faculty, expanding its expertise.
In May and June, the Truhlsen Eye Institute will mark 10 years of growth and honor the generosity of Dr. Truhlsen and his family.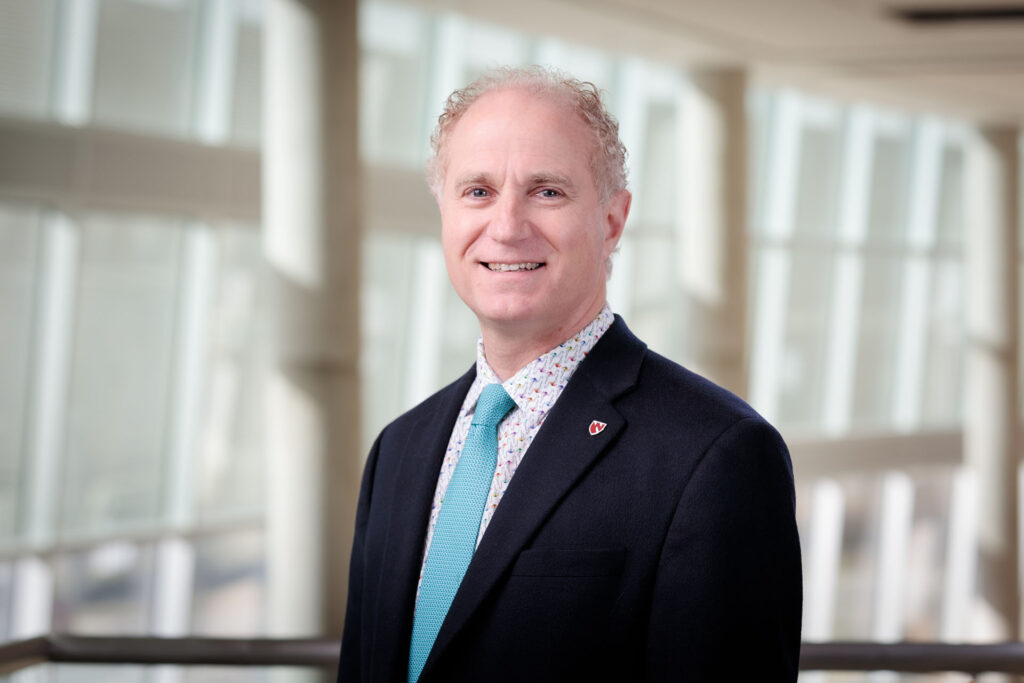 "Stanley Truhlsen's vision for the Truhlsen Eye Institute was to bring a high level of academic excellence in ophthalmology to Omaha and the region," Dr. Krueger said. "In the institute's first 10 years, we are reaching major milestones toward this goal.
"We are hiring expert subspecialists and clinician scientists to fill major gaps in regional care from complex uveitis to ocular and periocular oncology and reconstruction, while strengthening existing services in retina, cornea, cataract, glaucoma and neuro-ophthalmology in both adults and children. Our laboratory and clinical research is steadily expanding, as are our clinical volumes and surgeries. We are growing the ophthalmology workforce and expanding our presence in the community, with a vision of bringing the people together through the idea of 'unity in community.'"
"It has been my great pleasure to lead these efforts over the last four years. This is just the start of the Truhlsen Eye Institute and what we might anticipate in the future."
---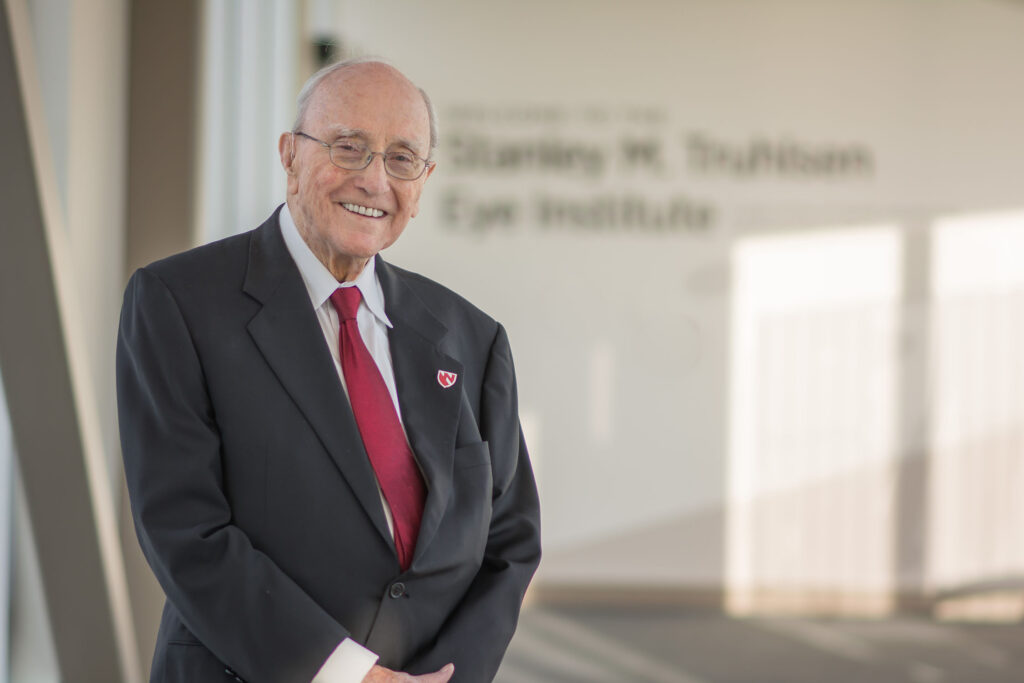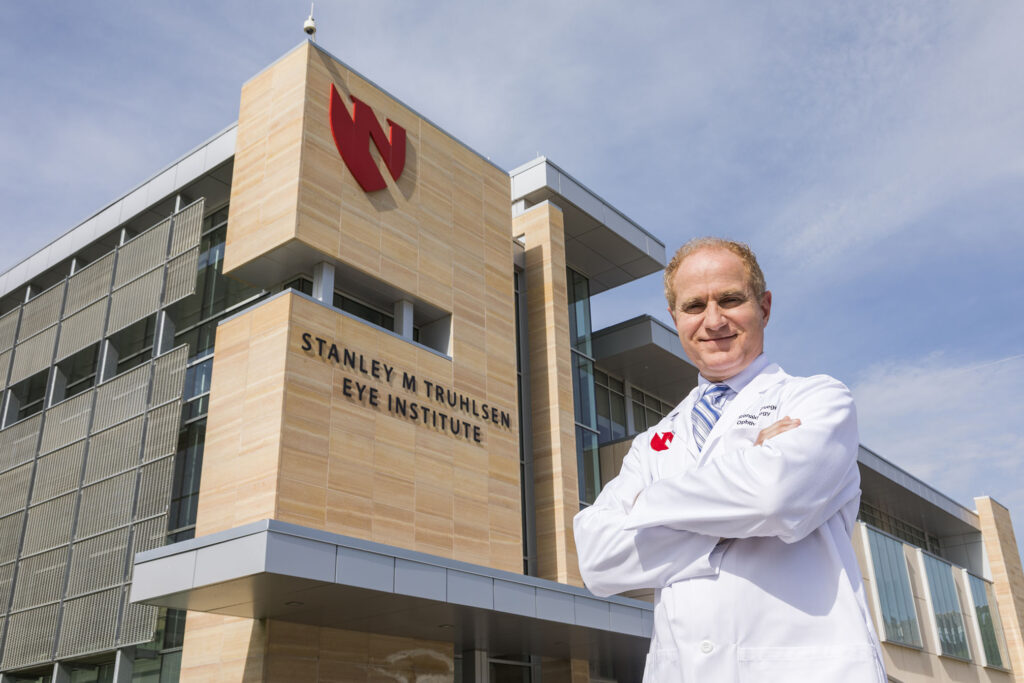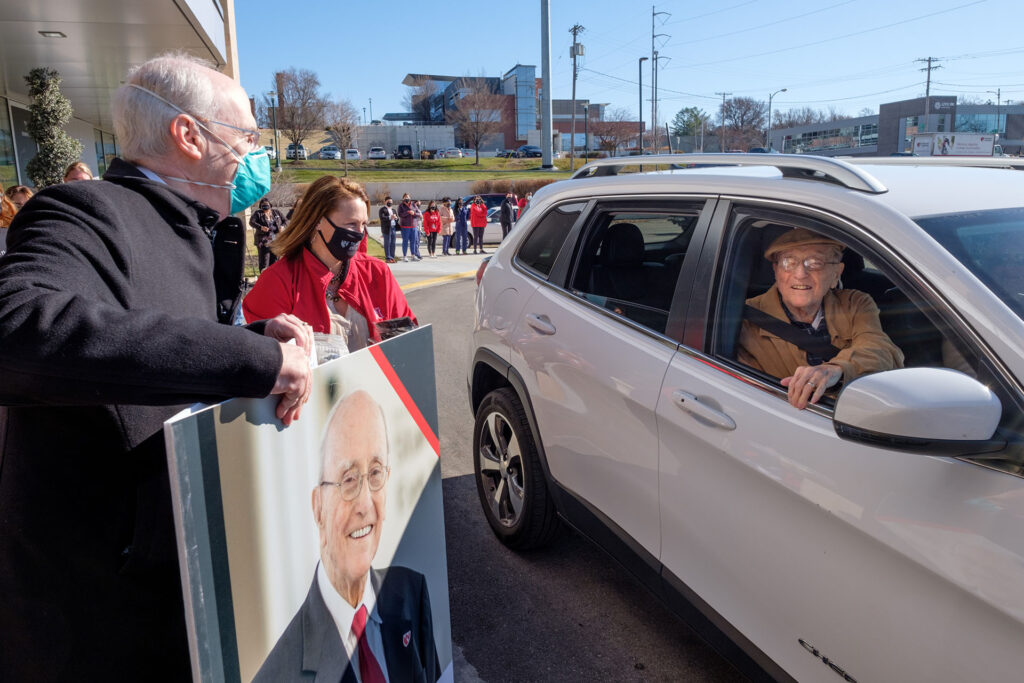 ---
Reflections on 10 years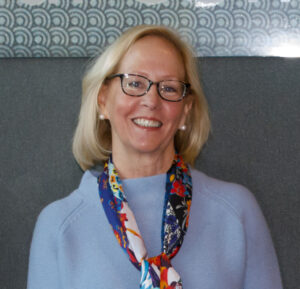 "The opening of the Stanley M. Truhlsen Eye Institute at UNMC in 2013 was the realization of a dream for our dad. He loved UNMC and he loved being an ophthalmologist, and the Truhlsen Eye Institute was an investment in his life's work. His vision was to not only revolutionize eye care in the region but also to put UNMC among the ranks of the very best centers of excellence for eye care and research.
"Dr. Truhlsen wanted to create a place that would be a magnet for attracting top talent and a resource for clinicians across Nebraska to bring the best eye care to the citizens of Nebraska and beyond. We see his dream becoming a reality, and it's a great source of pride for our whole family."
Barbara Truhlsen Mitchell, on behalf of the Truhlsen family
---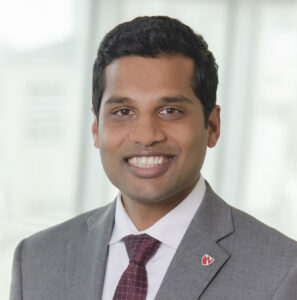 "Following in the footsteps of excellence like Dr. Stanley Truhlsen, Dr. Ron Krueger has elevated the institute from six faculty to more than 20 in just five years, recruiting some of the top minds in uveitis, ocular oncology, cornea and pediatric ophthalmology.
"As the incoming medical director, I recognize this growth presents us with unprecedented opportunities for community engagement and expanded clinical care services. We will work tirelessly to fulfill our shared vision, making the Truhlsen Eye Institute a regional and national leader in ophthalmology."
Rao Chundury, MD, incoming medical director, Stanley M. Truhlsen Eye Institute, and assistant professor, UNMC Department of Ophthalmology and Visual Sciences
---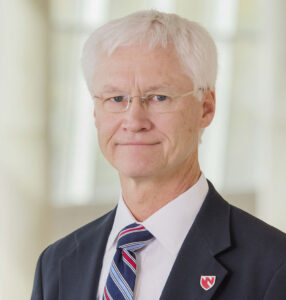 "I remember Dr. Truhlsen sharing his vision with me of what the UNMC Department of Ophthalmology should be: A place where doctors can refer their difficult patients. Under Dr. Krueger's leadership, this mission has been realized, as there are now expert faculty in uveitis, refractive surgery, ocular oncology, neuro-ophthalmology, pediatric corneal disease, complex glaucoma, dry eye, pediatric neuro-ophthalmology and other areas.
"If we were going small, we would not have challenges before us. I am pleased to see that the Truhlsen Eye Institute has chosen to imagine the possibilities and go big. I have no doubt that there will be exponentially more accomplishments in the next 10 years that will bring a smile to kind, generous and visionary Dr. Truhlsen."
Richard Legge, MD, ophthalmologist, Stanley M. Truhlsen Eye Institute, and assistant professor, UNMC Department of Ophthalmology and Visual Sciences
---