Members of the UNMC community who were on campus the morning of June 24 might have been surprised to see a large crane unloading what appeared to be a large, white shipping container in the parking lot at the corner of 45th and Emile streets.
The 40-foot-long behemoth actually is a Negatively Pressurized Conex unit, or NPC, a retrofitted shipping container redesigned into a clinical space for high-level-isolation patient movement on military aircraft.
Its arrival at UNMC is just the latest collaboration between UNMC and its C-STARS program and the U.S. Department of Defense, and a sign of how highly regarded UNMC, the Nebraska Biocontainment Unit and the Omaha Center for Sustainment of Trauma and Readiness Skills (C-STARS) are by the U.S Air Force and the Department of Defense.
"This is a tremendous recognition of our critical partnership with UNMC experts and the expertise that our team is building," said USAF Lt. Col. Elizabeth Schnaubelt, MD, director of C-STARS Omaha. "We're the only site with Air Force team members embedded at a biocontainment unit that has the subject matter knowledge and experience from training with the teams here. There is no other site like that, not just in the Air Force, but across the DOD."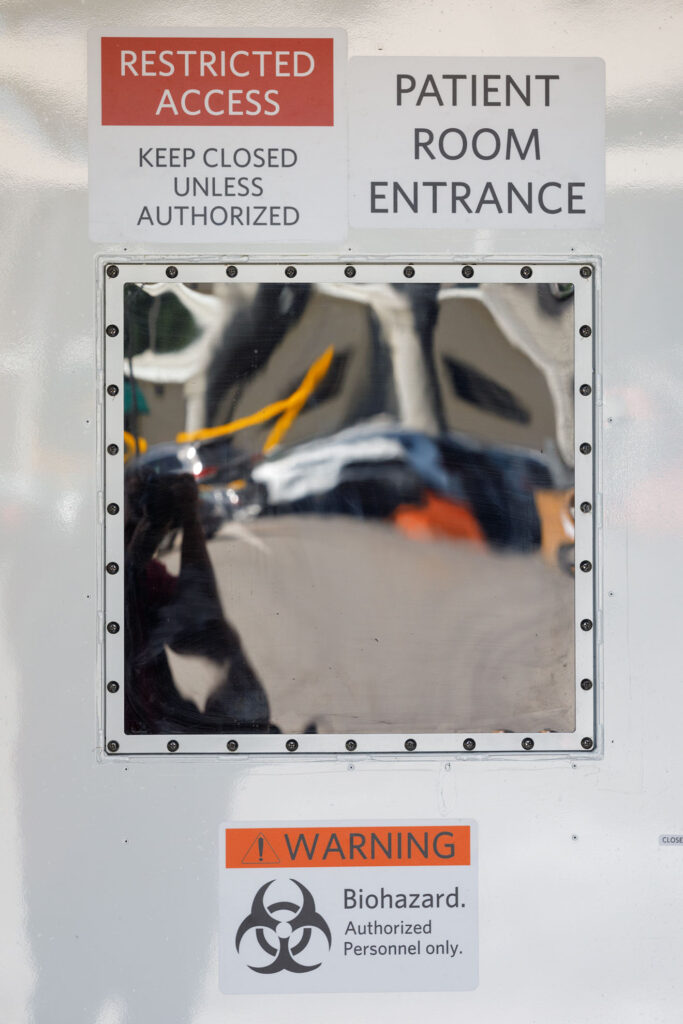 UNMC Chancellor Jeffrey P. Gold, MD, who toured the unit after its arrival, praised Dr. Schnaubelt and the C-STARS team for what he called a "stellar collaboration" with the infectious diseases and public health experts at UNMC and Nebraska Medicine. "Now with this very impressive NPC unit, we look forward to working together to protect the health and safety of the men and women working tirelessly to protect our country," he said.
"We are honored to partner with Lt. Col. Schnaubelt and the C-STARS team and serve in support of the U.S Air Force and the Department of Defense," said Christopher Kratochvil, MD, interim vice chancellor of external affairs. "This is taking our partnership to another level."
Bringing the unit, which weighs close to 20,000 pounds, to UNMC was a collaborative effort in itself.
"It required approval by the Air Mobility Command surgeon general, funding from the U.S. Air Force School of Aerospace Medicine (USAFSAM) and exceptional support from UNMC," Dr. Schnaubelt said. "It's been an immense collaborative effort, as it also required the renovation of the Annex 22 garage space, including the installation of a garage door, merely to be able to load the NPC into the building."
The Negatively Pressurized Conex was rapidly developed in 2020 in response to a military need to move a larger number of patients in high-level isolation from deployed locations to higher levels of care.
"It was a remarkable success," Dr. Schnaubelt said. "From concept to operational use of the unit — meaning being utilized to actually transport patients — took less than 100 days."
There were multiple agencies across the DOD involved, and C-STARS Omaha's involvement was based on the team's experience as part of Nebraska's early COVID-19 response efforts, including the Wuhan repatriation and the care of the individuals off the Diamond Princess.
The NPC already has successfully been utilized for COVID-19 patient movement, "but the intent is really to develop our concept of operations for all biological hazards," Dr. Schnaubelt said. "These include viral hemorrhagic fevers, which require higher levels of protection and strict application of infection prevention and control principles."
With the unit's arrival on campus, the C-STARS team now has direct access to the unit to work through scenarios such as PPE donning and doffing procedures — in a very confined space with finite resources and staffing — and getting patients into the unit safely.
"These gaps are difficult to work through without having the unit to practice in, seeing if what we've conceptualized on paper will actually work in that space," Dr. Schnaubelt said.
The unit also will be used to develop the C-STARS Omaha future infectious disease air transport training course, she said.
"We refer to it as IDAT, for infectious disease air transport course," she said. "Our C-STARS site was selected for the future IDAT formal training course and will train teams on missions to transport patients affected by high-consequence infectious diseases."
The IDAT course will be delivered on campus to USAF teams that would fly these missions.
"Having the unit on the medical center campus really gives us that critical access that we need and the ability to easily invite our UNMC and Nebraska Medicine colleagues and subject matter experts to observe and provide vital input. We greatly appreciate their willingness to support us in that way."