The newly renovated Joseph D. & Millie E. Williams Science Hall used to be the home of the UNMC College of Pharmacy. Now, it's a gathering space.
Today, the building houses student services, graduate studies, international health and medical education, alumni relations, student accounts and cashiering, student success, global engagement, gender and sexuality resource center, office of inclusion and UNMC High School Alliance, as well as a few UNMC College of Pharmacy labs.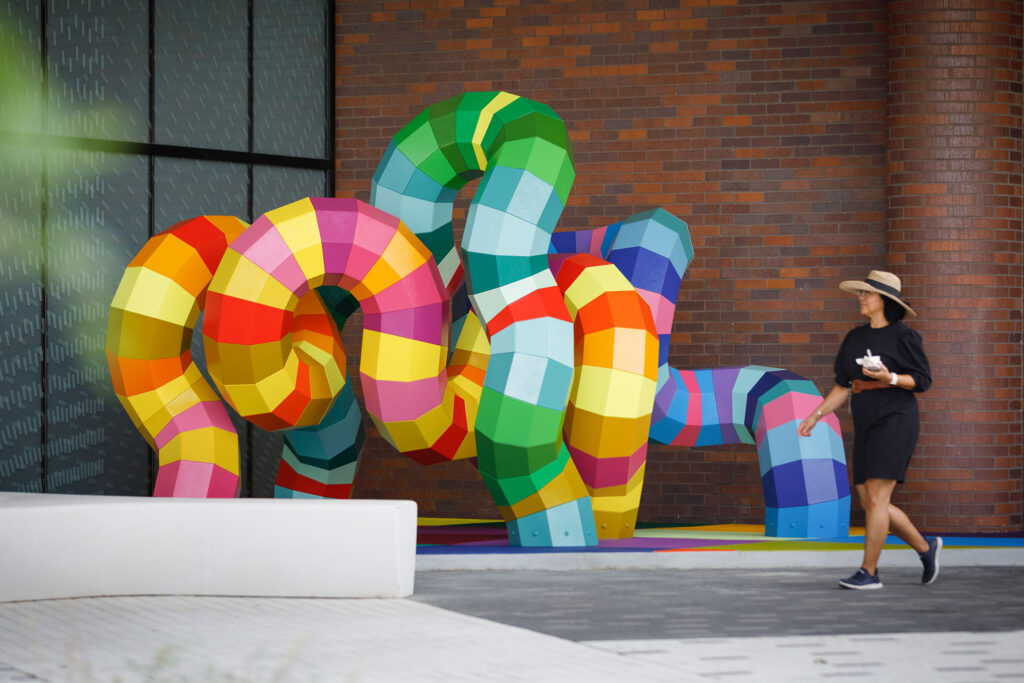 Passersby on 42nd Street may have noticed a new piece of artwork going up outside Williams Science Hall. De Nobis Abundans ("Abounds in Us") was commissioned to capture the spirit of the new Williams Science Hall.
Creator Shasti O'Leary Soudant has designed a dozen works of public art and book covers for Stephen King, James Patterson, Jodi Picoult and more.
"The design perfectly complemented the purpose of the Williams Science Hall, which is a place for our students to go for all the information they need for their life on campus, as well as a fun place for them to meet and gather," said Dele Davies, MD, senior vice chancellor for academic affairs and dean for graduate studies.
The building's original décor was 1970s modern, with an atrium lighted by modernistic light fixtures. The renovation picked up where this left off with a new, updated, minimalistic design that includes clean lines, white textures and contrasting surfaces.
Other sculptures on this part of the campus are playful, engaging and relatable.
What might the perfect piece of art to complement the new Williams Science Hall look and feel like?
"The artwork should be inviting for people to sit nearby and feel welcome and should offer an iconic and identifiable place for people to meet," the selection committee said in asking for proposals.
"Shasti's 'Abounds in Us' work of art jumped out at me and other members of the selection committee for its vibrant, warm and inviting colors, geometric design and the inspiration of DNA, the source of all information needed for life," Dr. Davies said.
The multicolor De Nobis Abundans "celebrates the intent of research medicine to investigate the mysteries that abound within us all," Soudant said in her artist's statement.
The piece is made from stainless steel manufactured in Buffalo, New York, and powder coated in industrial-grade pigments. Its exterior will be maintained through periodic application of UV-protectant car wax. LED floodlights will be part of the display.
The piece is part of the State of Nebraska's "1% for Art" program and the result of a request for qualifications by the Nebraska Arts Council and the medical center's Healing Arts Program.
Soudant, in addition to her work as an artist, currently is an assistant professor at The State University of New York at Buffalo. For more on the artist and her work, go to her website.