PhD in Epidemiology
Design, conduct, and analyze epidemiologic research studies and apply findings to solve public health problems or discover causes of diseases.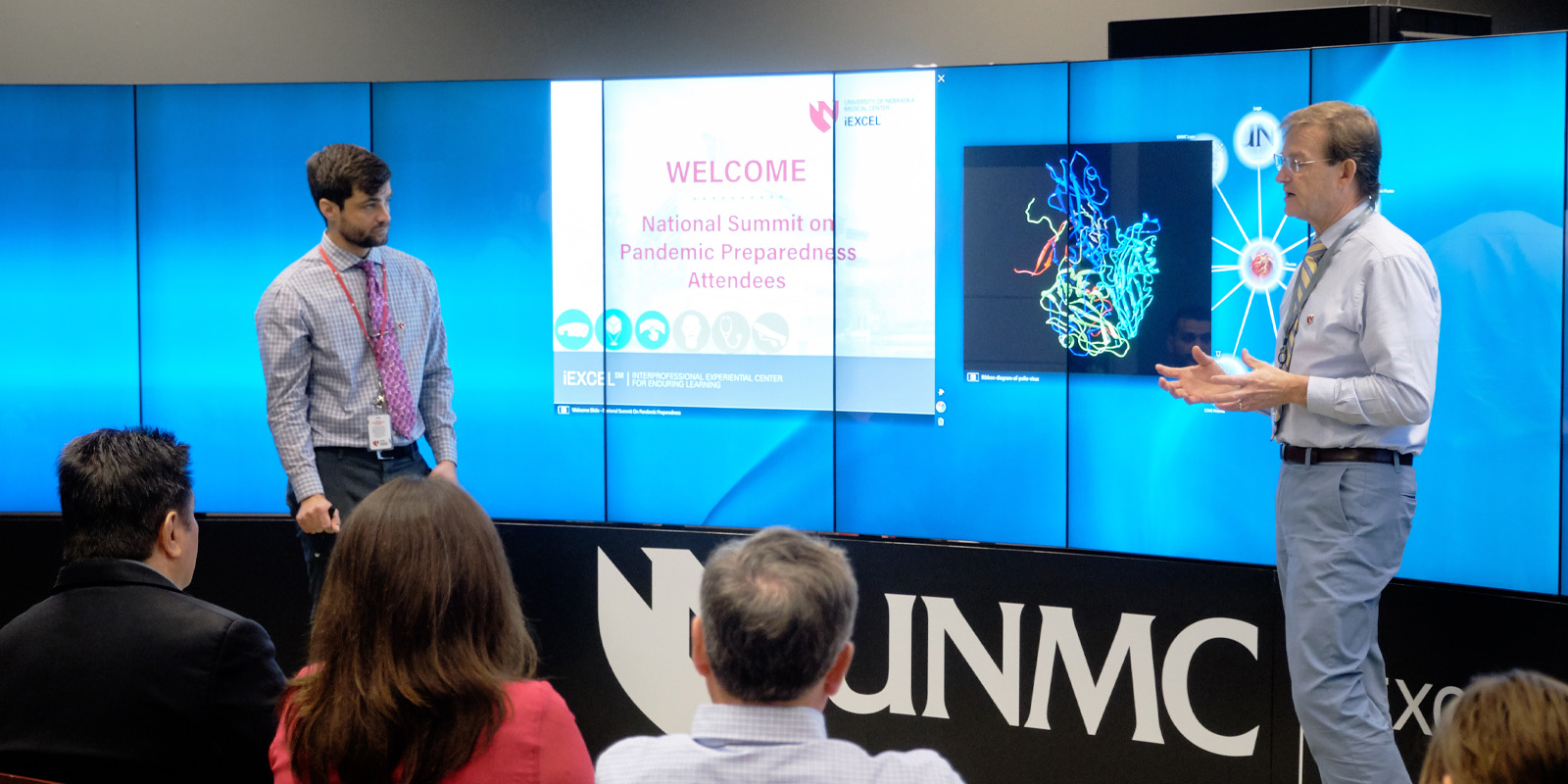 Why Study Epidemiology?
Epidemiology is the study of disease in human populations, and epidemiological studies are the foundation for preventing and controlling health disorders. Our faculty provide interdisciplinary training in epidemiology methods and substantive content areas to conduct innovative research on public health and medical problems associated with environmental exposures, infectious diseases, injuries, cancer, mental health, and health disparities. This program trains students in epidemiology to become independent researchers and obtain skills for positions in academia, government, and industry.
The Epidemiology Department at UNMC is committed to student mentoring, offering students many opportunities to become involved in research projects beyond their dissertation, participate in manuscript and grant writing, and expand their knowledge of epidemiology beyond the curriculum by attending national epidemiology conferences. Admission is competitive, and applicants should have earned an MPH, MS, or equivalent with a strong background in epidemiology and biostatistics.
Why Study Epidemiology at UNMC?
UNMC is known for its research and training in cancer, neuroscience, cardiovascular diseases, infectious diseases, global health, and health security. The Nebraska Medical Center is home to the Fred & Pamela Buffett Cancer Center, the Great Plains IDeA-Clinical & Translational Research Center, and the Global Center for Health Security. The College of Public Health is home to the Center for Biosecurity, Biopreparedness, & Emerging Infectious Diseases, the Center for Reducing Health Disparities, and the Central States Center for Agricultural Safety and Health.
The Epidemiology Program offers many opportunities for collaborations with clinicians and access to patient populations through Nebraska Medicine. With a largely rural population within Nebraska, the Epidemiology program provides excellent opportunities to study health disparities that impact rural populations. Major faculty research areas include infectious diseases, cancer, mental illness, injuries, international health. In addition, the Epidemiology Department provides numerous opportunities for collaborations with state and local health departments. The Department of Epidemiology is committed to diversity through our teaching, research, and service.
Duration
Four to five years
Program Highlights
The program has a diverse faculty with backgrounds in epidemiology methods, medicine, infectious diseases, cancer, genetics, genomics, psychology, social work, law, and emergency preparedness. Epidemiology is highly interdisciplinary by nature, and in our program, we take advantage of the full breadth of the UNMC environment to adopt a transdisciplinary approach to epidemiology education, research and practice. The program offers a wide range of courses in methods and content areas.
Many of our graduate-level courses are also available online, allowing some flexibility for students attending the program to balance their research activities and coursework.
There is a strong focus on student mentoring provided through mentoring by the academic advisor and dissertation committee members. Department-level journal clubs and seminars allow students to interact with fellow students and faculty.
The program partners with the state health department, offering students access to public health data for research, conducting public health research activities with state epidemiologists, and job and internship opportunities.
Careers & Outcomes
The PhD in Epidemiology prepares practitioners and researchers for positions in government agencies, the private sector, and academia. For example, alumni from our program have pursued postdoctoral fellowships and obtained positions in academic institutions, the Centers for Disease Control and Prevention (CDC), the US Food and Drug Administration (FDA), and state and local health departments. The program constantly strives to maintain and create new relationships with relevant stakeholders that could potentially employ our students in the United States and internationally.
Our program graduates have obtained positions both nationally and internationally, utilizing their skillsets following graduation. Our graduates have on average 2.4 journal publications and five presentations at state and national conferences upon completion of the program (based on data from 2015-2020).
Related Programs
Students interested in this program may wish to explore: