Here's a recent quote from a prominent campus researcher:
"I get a lot of praise within our department about the work our group does, but then I think of Jonathan Vennerstrom and how he quietly does amazing, life-saving work and it really puts things into perspective."
From 42nd St. to the world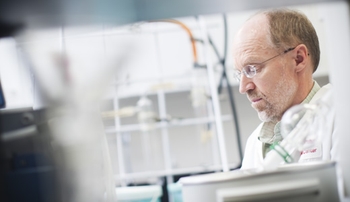 Jonathan Vennerstrom, Ph.D.
What the professor in the UNMC College of Pharmacy's work has entailed is the development of a pair of antimalarial drugs that stand to save millions of lives in Africa and other places where the mosquito-borne illness is a threat.
This work has garnered praise globally and gained the financial support of the Bill and Melinda Gates Foundation via the Medicines for Malaria Venture.
Dr. Vennerstrom also was on the team that developed creatine ethyl ester (CEE), which is currently sold around the world as a nutritional supplement for athletes and non-athletes alike.
Part of the process
For his various contributions to science and innovation, Dr. Vennerstrom received the Achievement Award from UNeMed Corporation during the Innovation Week Awards Ceremony on Thursday.
For Dr. Vennerstrom, the award is simply a byproduct of the scientific process that he fell in love with long ago.
Passions merge
As a child, he lived in east Africa with his missionary parents where he saw the damage malaria caused. Then in college, he became infatuated with chemistry.
Eventually his love of chemistry merged with his desire to help those with malaria and that led him into drug discovery and development — a process that has been endlessly rewarding for the UNMC professor.
"I find the trial and error process that we use to create drug candidates a real learning experience," Dr. Vennerstrom said. "There are a lot of things we still don't understand. You have to do the experiments."