Social Media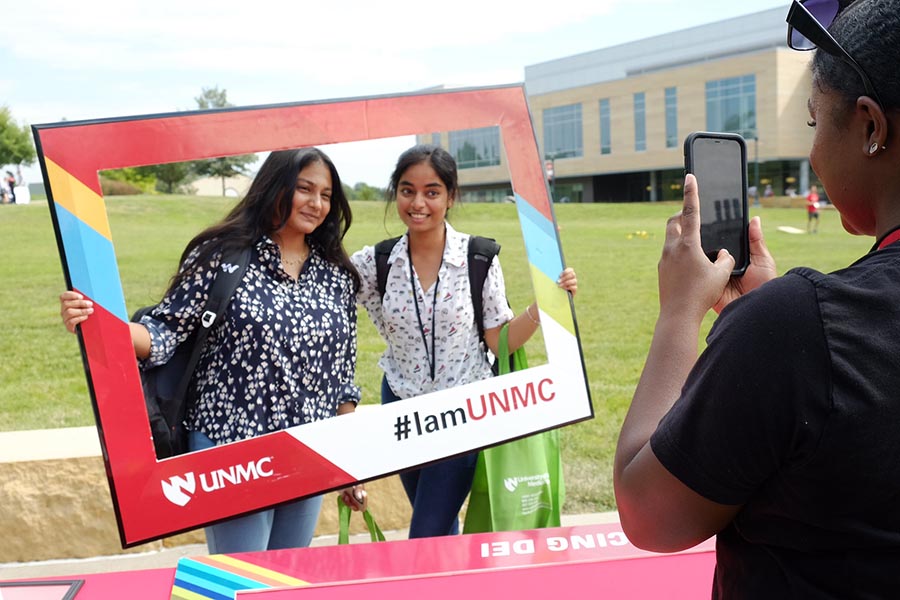 UNMC uses social media to connect with, listen to and serve as a trusted resource to our community. Check out the Social Media Directory below, then follow us for the latest news on our campus.
Have a story that you'd love to share with us? Please tag us or use the hashtag #IamUNMC to be featured on our official social media pages. 
Creating an Account
If you are part of the UNMC community and considering creating a new UNMC social media page, you must first submit this request form. Once you have received approval, Digital Media Manager Aurelie Villard will work with you to create the account and ensure that you are following best practices. 
If you want to create a UNMC podcast, submit this request for approval. Once the podcast is approved, Strategic Communications will provide custom graphics to visually represent the podcast, webhosting and online listing among UNMC podcasts. We do not record or edit podcasts. 
More information about requesting social media accounts is available on Brand Wise.


Social Media Directory
Social networking sites offer ways to learn more about a university. Check out the UNMC social accounts, and connect with us online.
Alumni Relations
Residency Programs
Colleges
Departments & Programs
Centers & Institutes
Student & Campus Life
Outreach
University of Nebraska Medical Center (UNMC)
UNMC Student Success
 
 
 
 
 
UNMC Student Senate
 
 
 
 
 
UNMC Office of Inclusion
 
 
 
 
 
Alumni Relations
Alumni -- University of Nebraska Medical Center
 
 
 
 
 
College of Medicine Alumni
 
 
 
 
 
College of Nursing Alumni
 
 
 
 
 
College of Pharmacy Alumni
 
 
 
 
 
College of Public Health Alumni
 
 
 
 
 
Physician Assistant Program Alumni
 
 
 
 
 
Physical Therapy Program Alumni
 
 
 
 
 
Residency Programs
Family Medicine Residency Program
 
 
 
 
 
Internal Medicine - Pediatrics Residency Program 
 
 
 
 
 
Internal Medicine Residency Program
 
 
 
 
 
Oral & Maxillofacial Surgery Residency
 
 
 
 
 
Pediatric Residency Program | Joint between UNMC/Children's/Creighton
 
 
 
 
 
Colleges
College of Allied Health Professions
 
 
College of Dentistry
 
 
College of Medicine
 
 
 
 
College of Nursing
 
 
 
 
College of Nursing Continuing Nursing Education
 
 
 
 
 
College of Nursing - Lincoln Academic Success
 
 
 
 
 
College of Pharmacy
 
 
 
 
College of Public Health
 
 
 
 
Office of Graduate Studies
 
 
 
 
 
Departments, & Programs
College of Nursing Doctoral Programs
 
 
 
 
Department of Anesthesiology
 
 
Department of Biochemistry and Molecular Biology
 
 
 
 
 
Department of Continuing Nursing Education
 
 
 
 
 
Department of Genetics, Cell Biology and Anatomy
 
 
 
 
Department of Internal Medicine 
 
 
 
 
Department of Neurology Sciences/ Warren Lab
 
 
 
Department of Orthopaedic Surgery
 
 
 
 
Department of Otolaryngology
 
 
 
 
 
Department of Pathology, Microbiology, and Immunology
 
 
 
 
 
Department of Pharmacology and Experimental Neuroscience
 
 
 
 
Department of Psychiatry
 
 
 
 
 
Division of Allergy and Immunology
 
 
 
 
Division of Cardiovascular Medicine
 
 
 
 
Division of Diabetes, Endocrinology & Metabolism
 
 
 
 
Division of Geriatrics, Gerontology and Palliative Medicine
 
 
 
 
Division of Infectious Disease
 
 
 
 
 
Division of Nephrology 
 
 
 
 
 
Division of Oncology and Hematology
 
 
 
Division of Pediatric Infectious Disease | UNMC/CHMC
 
 
 
 
Division of Physical Therapy Education
 
 
 
 
Division of Rheumatology
 
 
 
 
 
Emergency Medicine Program
 
 
 
 
 
EngAge Wellness Program
 
 
 
 
iEXCEL
 
 
 
E-Learning Program
 
 
 
 
 
Faculty Development
 
 
 
 
Internal Medicine Summer Undergraduate Research Program
 
 
 
 
MD-PhD Program
 
 
 
 
 
Perioperative and Critical Care Echocardiography Training Courses
 
 
 
 
Physician Assistant Program
 
 
 
 
Rural Health Opportunities Program
 
 
 
 
Summer Health Professions Education Program
 
 
 
Centers & Institutes
Behavioral Health Education Center of Nebraska (BHECN)
 
 
 
 
 
Center for Advanced Surgical Technology
 
 
 
 
 
Center for Continuing Education
 
 
 
 
 
 
Center for Continuing Education | EMS, Trauma Programs
 
 
 
 
 
Center for Healthy Living
 
 
 
Center for Heart and Vascular Research
 
 
 
 
 
Center for Preparedness Education
 
 
 
 
Center for Patient, Family & Community Engagement in Chronic Care Management (CENTRIC)
 
 
 
 
 
Center for Reducing Health Disparities
 
 
 
 
Chronic HIV infection and Aging in NeuroAids (CHAIN) Center
 

 
 
 
 
 
Global Center for Health Security
 
 
 
 
 
Munroe-Meyer Institute
 
 
 
 
 
National Strategic Research Institute 
 
 
Research
Pediatric Pharmacology Research Unit
 
 
 
 
 
Vice Chancellor for Research 
 
 
 
 
 
 
Student Organizations & Campus Life
Academy of Student Pharmacists Chapter of the APA
 
 
 
 
 
UNMC Bookstore
 
 
 
 
 
UNMC CRAG | UNMC's Climbing and OutdoorsCclub
 
 
 
 
 
Empower
 
 
 
 
Gold Humanism Honor Society
 
 
 
 
 
Graduate Student Association
 
 
 
 
 
Ice at the UNMC
 
 
 
 
 
Muna Box Project 
 
 
 
 
 
McGoogan Health Sciences Library
 
 
 
Student Alliance For People of All Abilities
 
 
 
 
 
Sorrell Simulation Lab
 
 
 
 
 
UNeMed
 
 
 
 
Outreach
Office of Community Engagement
 
 
 
 
 
Office of Global Engagement
 
 
 
 
 
High School Alliance
 
 
 
 
 
Nebraska Science Festival (NE Sci Fest)
 
 
 
 
Science Cafe
 
 
 
 
Skate-a-thon for Parkinson's