MS in Medical Anatomy
Prepare for professional studies in the health professions (e.g. medicine, dentistry, physician assistant, physical therapy), education, and research.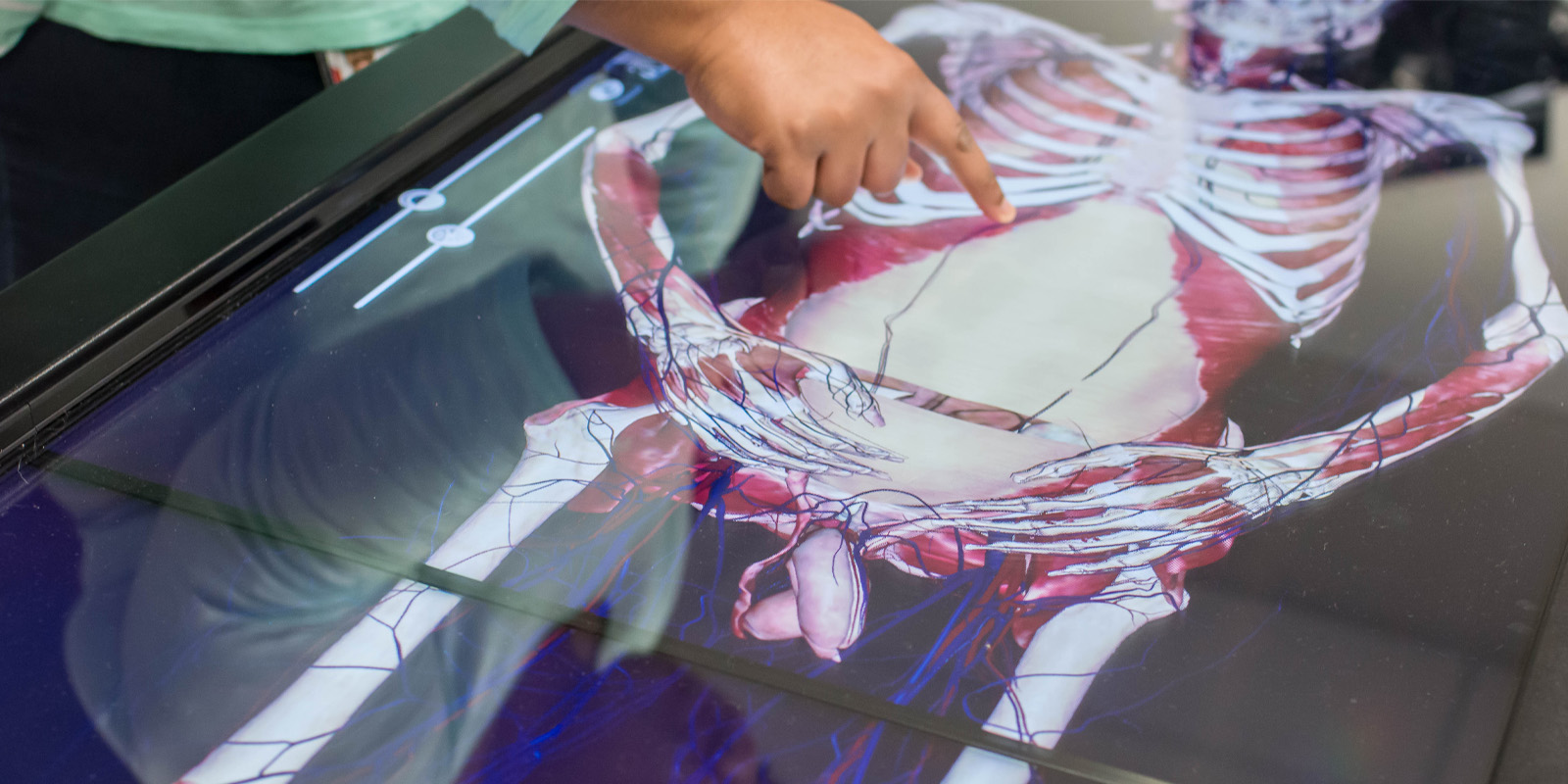 Why Study Medical Anatomy?
Medical Anatomy is the foundation for all students aspiring to health professions or health science careers. The Medical Anatomy program prepares students for the rigors of professional studies in the health professions (e.g. medicine, dentistry, physician assistant, physical therapy), education, and research. Students will acquire a strong foundation in the anatomical sciences, including gross anatomy (through whole body dissection), microanatomy/histology (using virtual microscopy), neuroanatomy (via examination of human specimens), and embryology. In the Medical Anatomy program, students will also learn how to adapt their study strategies and time management skills to meet the increased demands of professional or graduate school. Students in the Medical Anatomy program also engage in clinical shadowing and learn how medical anatomy is used and applied in clinical practice.
Why Study Medical Anatomy at UNMC?
With just 16-20 students in the program, our faculty can provide in-depth, individualized advising for each student. The program prepares students for success in professional/graduate education coursework and gives students confidence in their ability to succeed in professional/graduate school.
In some cases, Medical Anatomy students will take courses alongside professional students. In other cases, we have smaller courses just for Medical Anatomy students. These smaller courses provide professional school-level content with the advantages of a smaller group environment as well as interactive and hands-on learning opportunities. The faculty that teach specific content in the Medical Anatomy program also teach comparable content to professional students.
Clinical shadowing is integrated into the curriculum so students in the Medical Anatomy program have access to more varied and extensive clinical shadowing opportunities with healthcare providers at Nebraska Medicine. Shadowing plans are determined on an individual basis and tailored to the student's interests. Students can use these shadowing opportunities to explore different career paths as well as different specialties. The curriculum includes opportunities to learn about different health professions programs and career paths as well as research and teaching experiences.
Duration
One or two year options
Program Highlights
Highlights of the MS in Medical Anatomy program include:
The Medical Anatomy program provides students with professional/graduate education level coursework comparable to what they will encounter in medical school, physician assistant programs, etc.
Our program also provides students with in-depth hands-on learning in the anatomy lab in at least three courses.
Students in the Medical Anatomy program have access to incredible clinical shadowing opportunities as part of their curriculum.
Our faculty provide individualized advising and mentorship for each student. We make a commitment to support students in an advisory capacity not just while they are in our program but until they secure a place in a professional/graduate degree program.
Admission Requirements
Bachelor's degree from an accredited undergraduate institution or international equivalent. A strong science background is recommended.
GPA of 3.0 on a 4.0 grading scale.
GRE, MCAT, or DAT score required.
Official transcripts from all colleges and universities attended.
Minimum of three (3) letters of recommendation.
The non-thesis MS degree consists of 30 credit hours of coursework that can be completed in as little as one academic year (two semesters).
The thesis track can generally be completed in two years.
Careers & Outcomes
The program prepares students to succeed in both academic and clinical settings.
89% of the Medical Anatomy Program graduates have gained admission to professional or graduate programs.
More than 50% of our program alumni have been admitted to professional or graduate school at UNMC.
Several program alumni have pursued careers as educators in the anatomical sciences and teach anatomy at the professional school level.
Most students who complete the Medical Anatomy program go on to medical school or physician assistant programs. Many program alumni are already practicing physicians or physician assistants. However, we have had program alumni also go on to PhD programs, physical therapy school, dental school, and clinical perfusion programs.
Student Testimonials
"UNMC's Masters of Anatomy program was by far the best way that I could have prepared for medical school. It prepared me with a strong foundation for the rigorous basic science & clinical education of med school. The faculty are so amazing and are willing to go out of their way to help you prepare for whichever future professional track you choose."
"Prior to medical school, I didn't have the chance to take classes in Gross Anatomy or Histology. Not only did the MMA program offer me this background, but it gave me the confidence and knowledge to excel as a medical student. If I were to go back in time, I would participate in this program again in a heartbeat."
"The MMA program came up multiple times in residency interviews as one of the best decisions I made to prepare myself for the work of medical school. It allowed me to learn anatomy in-depth and develop effective study strategies that put me in a position to succeed. I am extremely grateful for this experience not only for the education but for lifelong mentors and friendships within my cohort. "
"Being a student in the Masters of Medical Anatomy Program was an invaluable experience in preparing me for medical school. It not only exposed me to challenging content that I would see in medical school but also the supportive, kind faculty who made the program so special."
"The MS Medical Anatomy Program benefited me in ways I could not have imagined. It strengthened my knowledge in clinical anatomy and facilitated meaningful relationships with faculty and peers while catalyzing my involvement in scientific research ."
Related Programs
Students interested in a Master's in Medical Anatomy may want to explore these programs: