UNMC COVID Testing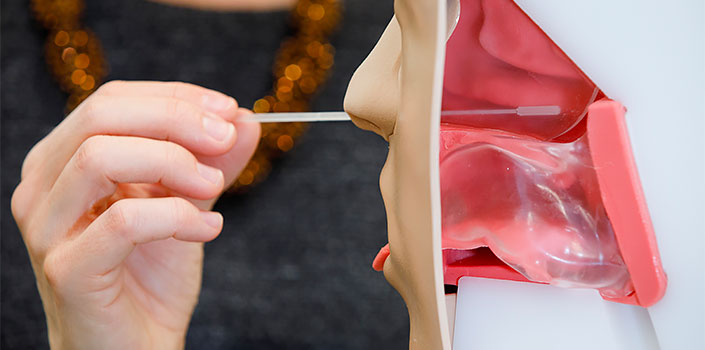 UNMC training model developed to aid accurate COVID testing
Nasopharyngeal swabs -- collecting a specimen in the nose -- have been done millions of times worldwide to test for COVID-19, but they can produce false negative results when not done correctly. Improper swabbing also can injure patients with certain nasal conditions.

The University of Nebraska Medical Center's iEXCEL team have created an advanced model to help improve the skills of those performing the swabs. Five Oral Nasal Pharyngeal Anatomy Clinical Education trainers– called ONPACE – are now available at the Davis Global Center.
Documents
Photos
Click on an image below to download a high resolution version.
Video and audio
Transcriptions of video/audio soundbites
Pronunciation: Nasopharyngeal and pharyngeal (NAY-ZO) (FAIR-N-GEE-ALL)
Christie Barnes, MD, assistant professor and rhinologist in the UNMC Department of Otolaryngology-Head and Neck Surgery
What prompted the development of the Oral Nasal Pharyngeal Anatomy Clinical Education model trainer?
00:00-00:15 | 15 seconds
"In about February-January time when we were faced with this pandemic, we really realized rather quickly that millions of front line workers we're having to learn a procedure that they'd never done before and maybe were not terribly familiar with."

What's the importance to be able to practice on the Oral Nasal Pharyngeal Anatomy Clinical Education trainer?
00:17-00:25 | 8 seconds
"The simulation provides a training opportunity that is safe from judgement and it allows you to practice in a safe space."

How does the Oral Nasal Pharyngeal Anatomy Clinical Education trainer help train frontline workers on nasopharyngeal swabs?
00:26-00:44 | 18 seconds
"I think the keys to a proper nasopharyngeal swab has to do with the trajectory of the swab so the direction in which you are inserting it and the depth. We use a couple of key landmarks for that and the mannikin helps to solidify those key aspects."
Ben Stobbe (STOW-BEE), iEXCEL assistant vice chancellor for clinical simulation, whose team helped develop the Oral Nasal Pharyngeal Anatomy Clinical Education trainer
What is the benefit of the Oral Nasal Pharyngeal Anatomy Clinical Education trainer for learners?
00:48-1:02 | 14 seconds
"The learners have an opportunity to train in a safe environment where they can make mistakes and they can train as many times as they need to enhance that skill set before ever laying hands on a patient."

What prompted the development of the Oral Nasal Pharyngeal Anatomy Clinical Education trainer?
1:04-1:11 | 7 seconds
"It's all about patient safety. It's all about what can we do to enhance the care we're providing individuals."

Basically, how does the Oral Nasal Pharyngeal Anatomy Clinical Education trainer work?
1:13-1:26 | 13 seconds
"So when they do the nasopharyngeal swab, the green light comes on and allow that learner to know they've done the right trajectory, that they've also reached the right spot and to get the right swab for that patient."