Digital Diploma
UNMC teamed up with our vendor Parchment to provide a digital version of your diploma which will make it easy to share your accomplishments with family, friends, and most importantly potential employers. 
Upon completion of degree, Graduates will receive an email to electronically 'Claim' their Diploma. Graduates can get their digital diploma by checking their UNMC email for a message from Parchment and University of Nebraska Medical Center, then follow these 3 simple steps:
Click on the link in their email
Create a password
Share their digital diploma on Facebook, LinkedIn, via a verified link, or download a secure PDF for later.
Graduates can login to their Parchment account at any time to share their diploma again and again. Questions about the Digital Diploma, once you have received it? Email congratulations@parchment.com.
What You Can Do With Your Digital Diploma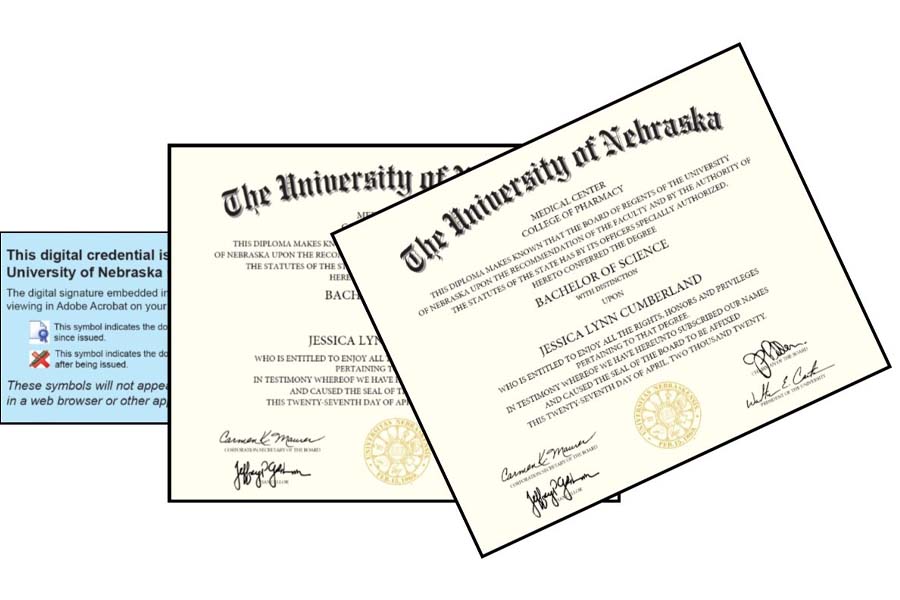 Share your Achievements
Easily share your digital diploma with employers with a secure and verified link

Share on Facebook and LinkedIn
View or Download
Permanent access to view your digital diploma online at any time

Download your digital diploma and save as a PDF
Serve as an Alternative to the Apostille
Many countries recognize digital diplomas. As a signatory of the Groningen Declaration, Parchment Award diplomas are supporting the needs of international credentials.
After claiming your digital diploma, please update your email address in Parchment to ensure you have access to your digital diploma after your UNMC email access has been removed.
To update your email address, you need to add your new email address to your account first and then delete the old one.
Click Profile > Account Settings.
Click Add another email address to this account.
Enter the secondary email address and click Add Email.
Go to the email account of the email address you just added, and open the email that you should have received from us (check your Spam folder if you didn't get it).
Copy the verification code from the email and enter it into the web page that you were
just on.
Click Make Primary. This turns the email address that you just added into the primary email address on this account.
Click Delete next to your old email address.
Click Continue when you get the 'Are you sure you want to delete this email?' message.