Davis Global Center Dedication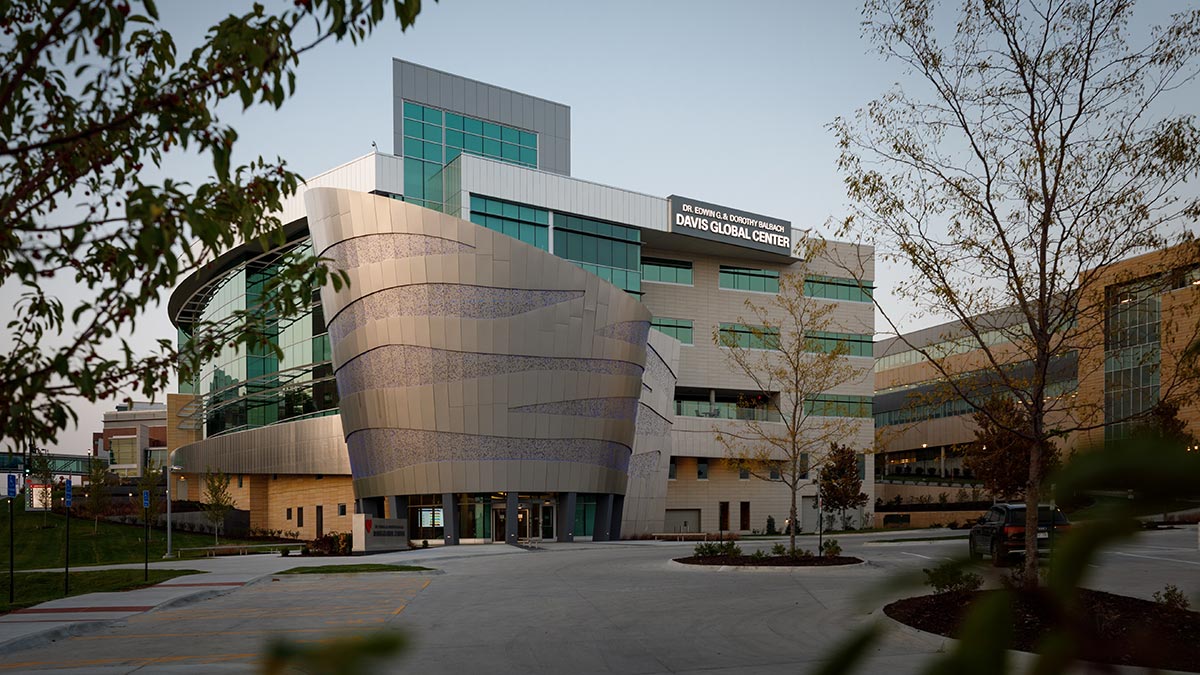 Clinical simulation facility to transform health care education
UNMC dedicates Dr. Edwin G. & Dorothy Balbach Davis Global Center in a virtual ceremony on Oct. 13.
The Interprofessional Experiential Center for Enduring Learning (iEXCEL) at the University of Nebraska Medical Center (UNMC) is a transformative model of health care education, training and research. Incorporating a wide range of simulation and visualization technologies, iEXCEL promotes experiential learning to achieve the vision of Global Leadership in Improving Human Performance and Effectiveness in Health Care. iEXCEL began at UNMC in 2015 as an initiative to enhance patient care through providing training to health professionals. In 2020, the Davis Global Center (DGC), a highly advanced simulation training facility, became the new home to iEXCEL.
On Tuesday, Oct. 13 at 10 a.m. CT, the UNMC community officially celebrated the dedication of this interprofessional simulation facility made possible by public-private partnerships. Due to COVID-19, the ceremony was livestreamed to a global audience. For those who were unable to view the building dedication live, highlights of it are posted at unmc.edu.
Video/audio soundbites
Jeffrey P. Gold, MD, UNMC Chancellor
Pamela J. Boyers, PhD, associate vice chancellor for iEXCEL
Admiral Charles "Chas" Richard, Commander, U.S. Strategic Command
Soundbite 1 (0:41)
Video (mp4) | Audio (mp3)
"U.S. Strategic Command is fortunate to be a partner in the National Strategic Research Institute and with the University of Nebraska Medical Center. The partnership between NSRI, UNMC and STRATCOM is vital to keep our competitive advantage in the dynamic global environment we live in. My command relies on organizations like the NSRI and UNMC to help approach problems and challenges through a different lens. The Davis Global Center, and the iEXCEL program in particular opens doors for more than medical advancements. So I'm eager to see the full potential as the Davis Global Center fosters growth and capabilities well into the future."
Robert Kadlec, MD, Assistant Secretary for Preparedness and Response, U.S. Department of Health and Human Services
Soundbite 1 (0:14)
Video (mp4) | Audio (mp3)
"I want to thank UNMC for being such a terrific partner with ASPR and HHS. The work you do in Omaha improves the entire country's level of readiness."
Gen. John E. Hyten, Vice Chair, Joint Chiefs of Staff
Soundbite 1 (1:07)
Video (mp4) | Audio (mp3)
"The first time Dr. Gold had me come down, I saw some amazing things. I saw the first floor Global Center for Health Security. I saw preparing for dealing with biomedical challenges. I saw the development of quarantine facilities, six beds there, quarantines for 20, all the structure that had to be there to begin to deal with these kinds of problems as you come through. I saw the understanding of biomedical challenges. And then he took me upstairs and I saw what is now called iEXCEL. It was the integration of virtual technologies and high computing technologies to allow not just surgeons to more effectively train and more effectively conduct surgeries but to understand the future of technology in the medical community. All of that is coming to fruition in the together in Davis Global Center. That's just another example of the special place that is Nebraska, the special place that is the Omaha community."
Mike Yanney, community leader and longtime UNMC supporter
Soundbite 1 (0:23)
Video (mp4) | Audio (mp3)
"Look at the incredible difference it makes when the two parties -- when the public and the private sectors -- get together. We multiply the amount of money that can be spent, but we also multiple the incredible talent that comes together and makes it a project far better than what we might have started with."
Soundbite 2 (0:35)
Video (mp4) | Audio (mp3)
"It isn't how big your billfold is, it's how big your heart is and when you do a program like this, it really makes your heart feel good. And ultimately it's what it does for the community, it's what does for the students, it's what it does for the military. This project touches all kinds of lives all over the world and it's a difference maker when it comes to the whole business of teaching medicine."
Soundbite 3 (0:13)
Video (mp4) | Audio (mp3)
"Omaha is exceptional at letting people prove themselves, helping improve themselves and helping elevate themselves."
Chandra Are, MD, Jerald L. and Carolynn J. Varner Professor of Surgical Oncology and Global Health
Soundbite 1 (0:35)
Video (mp4) | Audio (mp3)
"So the way we do it, in surgery there's an old saying that goes 'see one, do one, teach one.' And in my day that's the way you did it. You saw one, you did one and you taught one. We did that all in real patients. Most of the times with good results but sometimes, maybe that wasn't the right approach. So the greatest thing about a sim center like this is that you can see many, do many, get good at it on a manikin, with no harm or damage to the patient and then go do it on a real patient."
Soundbite 2 (0:19)
Video (mp4) | Audio (mp3)
"Well, they become a better doctor because first time they're actually with a patient, they are not doing it for the first time. Yes, there's a difference between a manikin and a human being. But human organs are the same and the simulation technology has improved so significantly."
Soundbite 3 (0:20)
Video (mp4) | Audio (mp3)
"You can take out someone's appendix about 100 times and see how a student is doing on a manikin or a simulator and even make them even go through a test. And once they pass that, then you can say well it's time for you to do it on a real patient under the guidance of the faculty member."
Edson DeOliveira, UNMC medical student
Soundbite 1 (0:28)
Video (mp4) | Audio (mp3)
"In regards to my own medical training for the future, I feel that the Davis Global Center or the iEXCEL center particularly, will allow not only myself but also my classmates the opportunity to learn and see the applicability of these technologies can allow us to improve our skill sets so that once we enter the medical practice we have a better thorough knowledge base as to how to approach patients in their individual clinical situations."
Soundbite 2 (0:49)
Video (mp4) | Audio (mp3)
"I think there is a very large amount of benefit for patients for students to be able to learn in the environment provided by the Davis Global Center just because were able to first and foremost be able to pick up on the things we are learning from our own college from an inter-professional standpoint as you progress further and further along I can see how a speech therapy student or pharmacy student this is their framework or these are the things that they're focusing on—how do I fit in this role so that way I can utilize some of my own skill sets to help the team overall."