How to Apply
SHPEP Application Guide
All applications must be submitted through the national SHPEP application system at www.shpep.org.
Application Requirements
Other Considerations
Important Dates
All students who meet the Summer Health Professions Education Program eligibility requirements are encouraged to apply. Applicants must meet the following requirements:
Be a college freshman or sophomore at the time of application.
Have a minimum overall college GPA of 2.5.
Be a U.S. citizen, a permanent resident, or an individual granted deferred action for childhood arrivals (DACA) status by the U.S. Citizenship and Immigration Services.
Not have previously participated in the program.
Other factors for consideration include that a student:
Identifies with a group that is racially/ethnically underrepresented in the health professions;
Comes from an economically or educationally disadvantaged background; and/or
Has demonstrated an interest in issues affecting underserved populations.
Submits a compelling personal statement and a strong letter of recommendation.
November 1, 2022: Application opens
February 5, 2023: Application closes at 11:59 PM ET (exact date TBD)
March 15, 2023: Admissions decisions released (exact date TBD)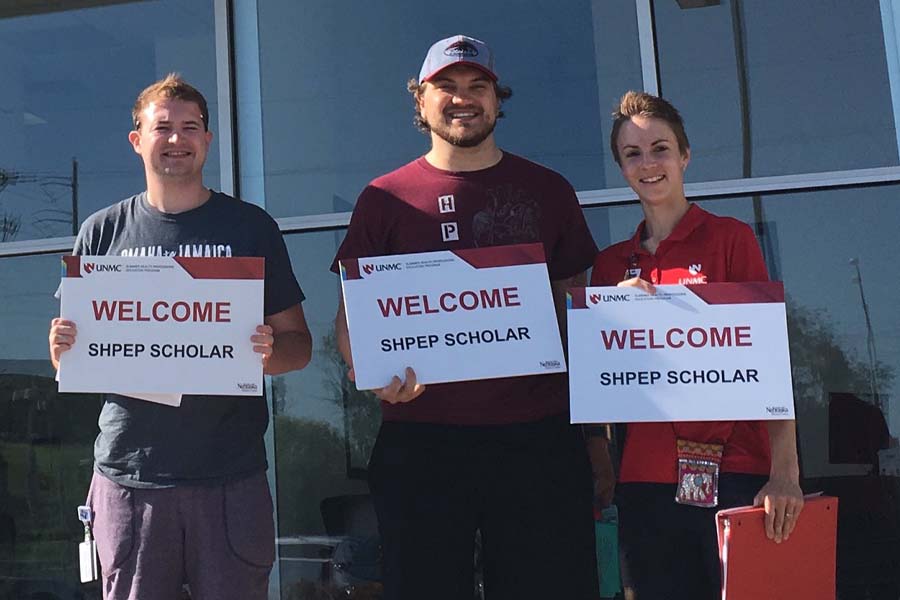 We encourage you to prepare and apply early! All applications must be submitted through the national SHPEP application system at www.shpep.org.
Frequently Asked Questions
I don't know if I am officially a sophomore or a junior. Can I still apply?
Undergraduate students who have completed fewer than 60 credit hours of undergraduate study at the time they submit their application are eligible to apply to SHPEP. If you have completed 60 or more credit hours, you might consider applying for the Summer Undergraduate Research Program.
I have a GPA less than 2.5, can I still apply?
The national program office encourages all interested students who meet other eligibility criteria to apply.
How many students usually apply? How many students do you take each year?
In previous years we have received over 400 applications. An applicant can pick up to three schools and three health profession focus areas to which to apply. UNMC SHPEP has 80 available positions (40 pre-med, 20 pre-dental, 10 pre-nursing, 10 pharmacy).
Who should I pick to write reference letters for me?
Your letter of reference should come from a pre-health professions advisor, a college professor, or from a health professions employer who can speak to your academic strengths and personal character. Occasionally students submit letters from high school advisors or teachers. Be prepared to provide your reference with a current resume, and explain your reason for why you would be an excellent SHPEP Scholar. Always ask if your reference would be willing to provide you with a positive letter of recommendation.
How do I "stand out" among the other applicants? How can I make my application more competitive? What does the admissions team look for in an applicant?
We want to learn more about you and your passion for pursuing a health professions career. Remember, good writing is rewriting. Be sure to spend quality time on your essay and paint a complete picture of who you are. Let other people read your personal statement and give you feedback. Don't be afraid of rewriting your personal statement, good writing takes several attempts and revisions. Consider seeking support from your college or university writing center staff.
Can I bring my car?
Yes, you can bring your car, but you will need to commute to class and other functions together with your peers. For instance, on weekdays scholars will be taking public transit to main campus. For special events SHPEP at UNMC will provide bus transportation. Scholars who bring cars will be provided with a summer parking permit. All scholars will have access to the entire Omaha Metro bus system free of charge with their UNMC ID  badge throughout their time in the program. The Omaha Metro Transit system helps scholars reach many popular area destinations. For more information please visit ometro.com.
Can I commute to SHPEP? Do I have to stay in the dorms for the 6 weeks?
We do require you stay in the dorms throughout the duration of the program. Scholars stay in the Scott Crossing residence hall on the campus of the University of Nebraska Omaha (UNO). Scott Crossing is UNO's newest residence hall located at the heart of Scott Campus.
What does the schedule look like?
The majority of UNMC SHPEP activities are scheduled Monday through Friday between 8 a.m. and 5 p.m. are dedicated to academic enrichment, special projects and workshops. Activities in the evenings and on weekends include journal clubs, community talks and discussion groups, and field trips.
Can I have a job or take other classes during the six-week program?
No. SHPEP is an intense program with required events in the evenings and on the weekends. You will not be able to keep up with a job or with taking other classes. One-hundred percent of your focus needs to be on SHPEP when you are here.
Can I come late or leave early from the program?
No. Unless you have a medical or family emergency, you will need to be here for the entire six weeks.
Do you offer any financial assistance for travel?
Yes. If you travel from more than 40 miles (80 miles round trip) away from Omaha, we provide up to $500 for travel expenses (mileage reimbursement/air fare).
My pre-health, pre-dental and/or pre-medical club would like to know more information about the program. Can someone come and tell us more about it?
Yes, certainly. Currently, we travel to states within our region set by the national office (NE, ND, SD, CO, KS, and MO), but if you are outside this region and still want someone to speak to your group, we can arrange for a Zoom call/Webinar for you.
I do not have health insurance, will I still be able to participate in SHPEP?
A limited number of funds are available to assist scholars in need of financial assistance. Students are required to obtain health insurance for the duration of their time in the program. A short-term student health insurance policy can be purchased through UNMC. The cost averages approximately $250 a month. For more information please visit https://www.uhcsr.com/school-page.
I am not a U.S. citizen, will I be able to apply?
Students must be U.S. citizens, granted permanent residency, or have been granted Deferred Action for Childhood Arrivals (DACA) by the U.S. Citizenship and Immigration Services.
Do we have access to a fitness facility?
Yes. Scholars have access to the Health & Kinesiology Wellness Center on the UNO campus. This state of the art facility provides an Aquatics Center with an indoor Olympic-size pool and spa pool. The Fitness and Wellness Center includes a weight room and cardio machines; spinning rooms; an elevated jogging track; and a golf, fencing, and archery lab.
Will SHPEP help me prepare for the MCAT exam or DAT?
SHPEP does not have an exam preparatory component. However, the program's basic science curriculum covers content that is included on most entrance exams. Please review our UNMC SHPEP summary document for more information!