How to Apply
SHPEP Application Guide
All applications must be submitted through the national SHPEP application system at www.shpep.org.
Application Requirements
Other Considerations
Important Dates
All students who meet the Summer Health Professions Education Program eligibility requirements are encouraged to apply. Applicants must meet the following requirements:
Be a college freshman or sophomore at the time of application.
Have a minimum overall college GPA of 2.5.
Be a U.S. citizen, a permanent resident, or an individual granted deferred action for childhood arrivals (DACA) status by the U.S. Citizenship and Immigration Services.
Not have previously participated in the program.
Other factors for consideration include that a student:
Identifies with a group that is racially/ethnically underrepresented in the health professions;
Comes from an economically or educationally disadvantaged background; and/or
Has demonstrated an interest in issues affecting underserved populations.
Submits a compelling personal statement and a strong letter of recommendation.
November 1: Application opens
February 5: Application closes at 11:59 PM ET 
March 15: Admissions decisions released 
March 18: Begin admitting waitlisted applicants.
Frequently Asked Questions
I don't know if I am officially a sophomore or a junior. Can I still apply?
Undergraduate, including community college students who have completed fewer than 60 credit hours of undergraduate study at the time they submit their application are eligible to apply to SHPEP. Advanced placement credits obtained in high school do not count against the 60 credit limit. Occasionally SHPEP at UNMC does consider applicants with a higher number of credits completed. These applicants sometimes are marked as waitlisted and get in when a seat becomes available.
If you have completed 60 or more credit hours, you might consider applying for the Summer Undergraduate Research Program.
I have a GPA less than 2.5, can I still apply?
The national program office encourages all interested students who meet other eligibility criteria to apply. The SHPEP at UNMC prioritizes applicants with lower GPAs as the intention of the program is to offer academic enrichment to undergraduate, including community college students from disadvantaged backgrounds.
How many students usually apply? How many students do you take each year?
In previous years we have received over 400 applications. An applicant may select up to three sites, and apply to different health profession focus tracks offered at each. UNMC SHPEP has 80 available positions (40 pre-med, 20 pre-dental, 10 pre-nursing, 10 pharmacy).
Who should I pick to write reference letters for me?
Your letter of reference should come from a pre-health professions advisor, a college professor, or from a health professions employer who can speak to your academic strengths and personal character. Occasionally students submit letters from high school advisors or teachers. Be prepared to provide your reference with a current resume, and explain your reason for why you would be an excellent candidate for participation in SHPEP. Always ask if your reference would be willing to provide you with a positive letter of recommendation. Many colleges and universities offer support with resume development through writing resources centers.
How do I "stand out" among the other applicants? How can I make my application more competitive? What does the admissions team look for in an applicant?
We want to learn more about you and your passion for pursuing a health professions career. Remember, good writing is rewriting. Be sure to spend quality time on your essay and paint a complete picture of who you are. Let other people read your personal statement and give you feedback. Don't be afraid of rewriting your personal statement, good writing takes several attempts and revisions. Consider seeking support from your college or university writing center staff.
Can I bring my car?
Yes, you can bring your car, but you will need to commute to class and other functions together with your peers. For instance, on weekdays scholars will be taking public transit to main campus. For special events SHPEP at UNMC will provide bus transportation. Scholars who bring cars will be provided with a summer parking permit. All scholars will have access to the entire Omaha Metro bus system free of charge with their UNMC ID  badge throughout their time in the program. The Omaha Metro Transit system helps scholars reach many popular area destinations. For more information please visit ometro.com.
Can I commute to SHPEP? Do I have to stay in the dorms?
To get the most out of your SHPEP experience, we require scholars who come through our site to stay in the Scott Crossing residence hall on the campus of the University of Nebraska Omaha (UNO). Scott Crossing is UNO's newest residence hall located at the heart of Scott Campus. Scholars with extenuating circumstances, such as childcare, have been granted special permission to commute to daily SHPEP activities. Participation in all scheduled activities is required. This includes social activities planned on evenings and weekends.
What does the schedule look like?
The majority of UNMC SHPEP activities are scheduled Monday through Friday between 8 a.m. and 5 p.m. are dedicated to academic enrichment, special projects and workshops. Aside from some pre-scheduled evening speakers, activities in the evenings and on weekends are reserved for SHPEP student advisory board meetings and socials, as well as field trips/exploration of greater Omaha Metro attractions. Many scholars who have come through our site have enjoyed visiting the UNO Health and Wellness Center outside of scheduled activities.
Can I have a job or take other classes during the six-week program?
SHPEP is a full-time commitment. The SHPEP at UNMC courseload comes with a number of assignments and special projects. You will not be able to keep up with a job or outside coursework. It is an expectation of the program that you participate in all scheduled activities to get the most out of your SHPEP experience.
Can I come late or leave early from the program?
No. Unless you have a medical or family emergency, we expect your full participation in our hybrid program (2 weeks virtual, 4 weeks in-person/on-site). Our support staff takes close notes and tracks the level of engagement and participation of each scholar.
Do you offer any financial assistance for travel?
TRAVEL 
Airfare & Baggage: SHPEP at UNMC will cover the cost of one round-trip airfare* from the scholar's city of origin to/from Omaha. Unless baggage is included in airfare, scholars may request reimbursement for one checked bag. Scholars are required to follow respective air carrier baggage policies. SHPEP at UNMC advises scholars to leave room in their bags for items they will acquire during on-site programming, such as swag and course materials. Scholars should not book their own airfare. All air travel must be booked through Fox World Travel (FWT), the University of Nebraska travel management company. Once our cohort is finalized and after we have received responses from all scholars to our pre-participation form, we will initiate our group booking request with FWT. Instructions for how to make your reservation will be shared as soon as FWT has set up our group booking code. In the past this step has taken 3 to 4 weeks to complete. 
*If a scholar is returning to a different location and the cost is higher than to the original city, the scholar will be responsible for the additional cost. For example: 
We will pay: Orlando, Florida to Omaha, NE back to Orlando, Florida = $750 
If scholar is requesting Orlando, Florida to Omaha, NE to Albuquerque, NM = $1,000 
Scholar will need to pay $250.  
Driving vs Flying: When a scholar decides to drive over fly to Omaha, NE, an airfare comparison is required if the departure/arrival destination is outside of Nebraska or more than 400 miles one way. The airfare price will be obtained from FWT. The lesser of cost between the two modes of transportation will be reimbursed. 
Driving: Scholars who travel to SHPEP at UNMC by car from a distance greater than 40 miles (one-way) may request mileage reimbursement. Similar to scholars who fly, mileage will be reimbursed from/to the address of origin at $0.34 per mile. The University of Nebraska does not reimburse for fuel as that is factored into the mileage reimbursement.  
Meals: Scholars who travel more than 400 miles from Omaha will receive a meal stipend in the amount of $35 total.  
Lodging: SHPEP at UNMC will only reimburse scholars for lodging during their trip to/from Omaha in special circumstances, such as canceled connecting flights that may leave them stranded overnight.  
Airport Shuttle/Taxi: SHPEP at UNMC will reimburse scholars for transportation to/from their home airport. Transportation from the Omaha airport to/from the residence hall is provided.  
Reimbursement Form: All scholars requesting travel reimbursement should fill and sign the top portion of this form in advance of program conclusion.  Forms should be submitted to the Division of Student Success Administration Office in William Science Hall, room 3.0.031A. 
Receipts: Scholars are responsible for collecting and submitting respective receipts needed to complete their request for travel reimbursement. Scholars should retain all of their receipts until all travel reimbursement processes are complete. Scholars will be required to scan and submit signed reimbursement requests, along with all needed receipts, to tammy.post@unmc.edu by no later than August 15th. 
My pre-health, pre-dental and/or pre-medical club would like to know more information about the program. Can someone come and tell us more about it?
Yes, certainly. Currently, we travel to states within our region set by the national office (NE, ND, SD, CO, KS, and MO). We also offer virtual 1:1 meetings with prospective students, and webinar sessions.
Does your site offer health insurance to SHPEP scholars who do not have coverage?
At this time we are unable to invite visiting scholars to participate in our student health insurance program. 
I am not a U.S. citizen, will I be able to apply?
Students must be U.S. citizens, granted permanent residency, or have been granted Deferred Action for Childhood Arrivals (DACA) by the U.S. Citizenship and Immigration Services.
Do we have access to a fitness facility?
Yes. Scholars have access to the Health & Kinesiology Wellness Center on the UNO campus. This state of the art facility provides an Aquatics Center with an indoor Olympic-size pool and spa pool. The Fitness and Wellness Center includes a weight room and cardio machines; spinning rooms; an elevated jogging track; and a golf, fencing, and archery lab. Scholars also have access to a hotel style gym at the residence hall. 
Will SHPEP help me prepare for the MCAT exam or DAT?
SHPEP does not have an exam preparatory component. However, the program's basic science curriculum covers content that is included on most entrance exams. As we are working on updating training materials for our learning community leads, we are exploring the possibility of integrating topics such as entrance exam preparation.
Can I receive credit for participating?
While SHPEP is an academic enrichment program. SHPEP is not designed to be a pass/fail program and we do not assign grades. Thus, we cannot offer college credit hours.
Is the SHPEP considered a summer internship?
No, SHPEP is an academic enrichment program designed for students from academically disadvantaged backgrounds. A large proportion of our curriculum is focused around academic, professional, and social enrichment experiences.
How much clinical exposure does your site offer scholars?
While we continue to monitor uncertainties around COVID-19, we are currently able to offer one 2 to 4 hour shadowing experience per scholar. All shadowing requests are reviewed and processed by the UNMC Office of Health Professions Education. Due to limited capacity, compliance, and safety regulations, scholars are not permitted to schedule additional shadowing opportunities directly with providers. Aside from shadowing, scholars interact with faculty and staff of their respective health profession college as part of health profession focused Friday activities. Friday sessions largely consist of interactive, hands on exploration which takes place in both clinical simulation and other college specific lab or classroom setting. Additionally, SHPEP at UNMC reserves one day for simulation and exploration of our state of the art iEXCEL facility. Scholars also benefit from the support of peer mentors who can assist scholars with identifying shadowing opportunities in their home community.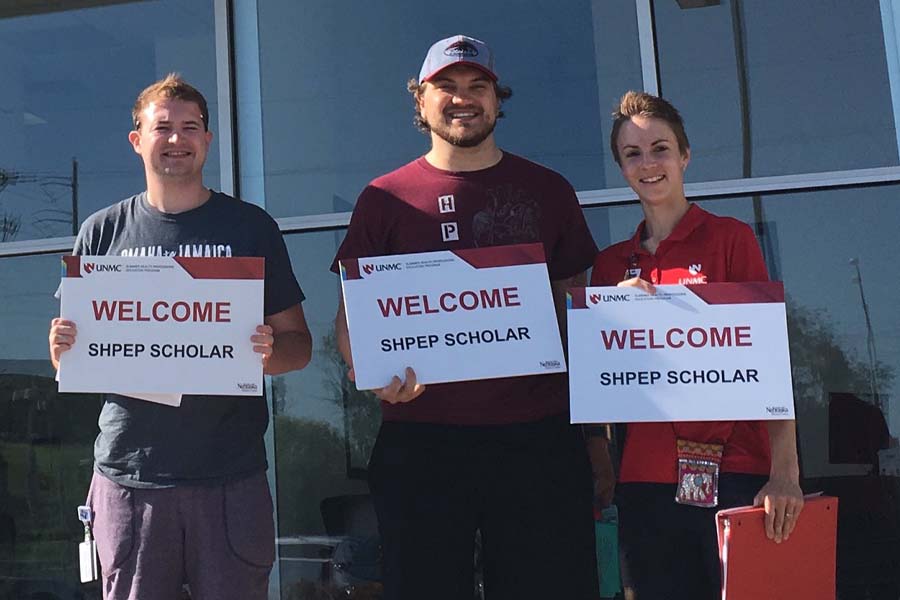 We encourage you to prepare and apply early! All applications must be submitted through the national SHPEP application system at www.shpep.org.