UNMC Student Senate
The UNMC Student Senate exists for the purpose of influencing University policy and promoting the interests of all students attending UNMC. As the official representative of the student body, the Senate consists of senators from each educational unit of UNMC.
The UNMC Student Senate office is located on the second floor of Williams Science Hall. Meetings are held monthly and are open to all students and to the public. If you have questions about the Student Senate, please contact the current president or faculty advisor.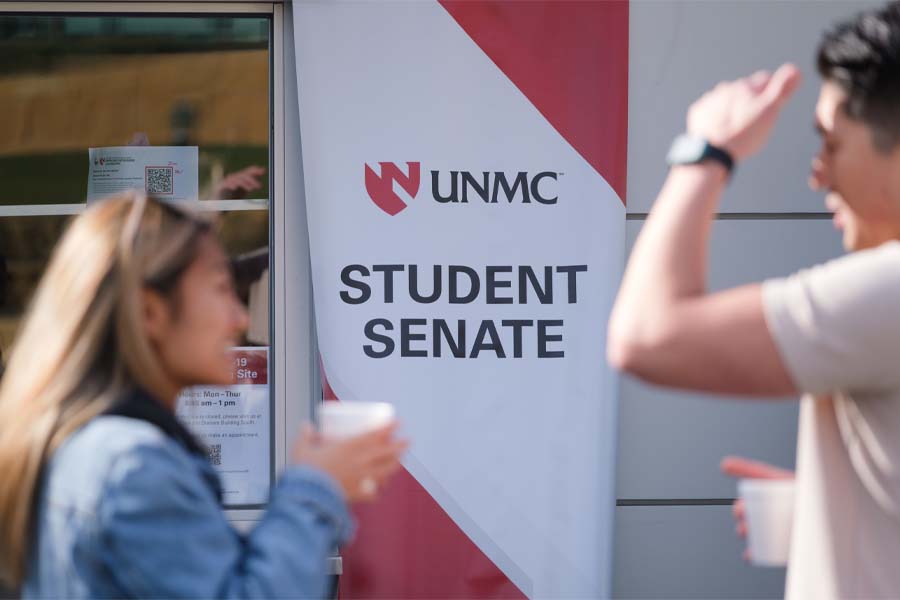 The UNMC Student Senate wants to hear from you! Contact us with your ideas, concerns, comments and questions.
Get Involved with Student Senate
Become a Senator
BOSS Proposals
Class presidents or vice-presidents automatically serve as senate representatives upon election. At-large senators are elected each year in November by their fellow students in Allied Health Professions, Graduate Studies, Medicine, Nursing, Pharmacy, and Public Health. The president of UNMC Student Senate serves as a non-voting member of the Board of Regents of the University of Nebraska.
Student Senate BOSS Proposals: NOW OPEN!
BOSS Grants are for students and student organizations to help fund activities, events, and materials that will impact a diverse population of students. Proposals are accepted and reviewed on a rolling basis; submit yours here!
Student Senate Leadership
2022-2023 UNMC Student Senate
Senators from the College of Allied Health Professions

 

Kyle Carey
Senator At-Large

 

Matthew Scarlett
Senator At-Large

Senators from the College of Dentistry

Casey Jurczewsky
Senator At-Large

Joshua Madsen
Senator At-Large

Case McNally
Senator At-Large
 
 

Senators from the College of Medicine

Matthew Ballweg
Senator At-Large
Madison Bierman
Senator At-Large
Pranita Devaraju
M2 Class President
Aubree Ford
Senator At-Large
Samuel Frankel
Senator At-Large
Susan Greni
M4 Class President
Hannah Nelson
Senator At-Large
Jill Ziegenbein
M3 Class President

Senators from the College of Nursing

 
Sara Lawless
Senator At-Large
Sara Rahmanzai
Senator At-Large

Senators from the College of Pharmacy

Theodore Blum
P2 Class President
Kimberly Gollhofer
P4 Class President
Skyler Maclean
P3 Class President
Morgan Schenck
Senator At-Large

Senators from the College of Public Health

Emmanuel Nazaire Essam Nkodo
Senator At-Large
Marissa Hardin
Senator At-Large

Senators from the Graduate College

Jerrod Anzalone
Senator At-Large
Nidhi vinay Dwivedi
Senator At-Large

Abigail Hall
Senator At-Large

Abbey Klein
Senator At-Large

Elizabeth Klug
Senator At-Large

Lacey Merica
Senator At-Large

 
William Miklavcic
Senator At-Large

Katie Muilenbirg
Graduate Student Association President
Gisele Tlusty
 
 
Phil Covington, EdD
Associate Vice Chancellor, Division of Student Success
Faculty Advisor, UNMC Student Senate